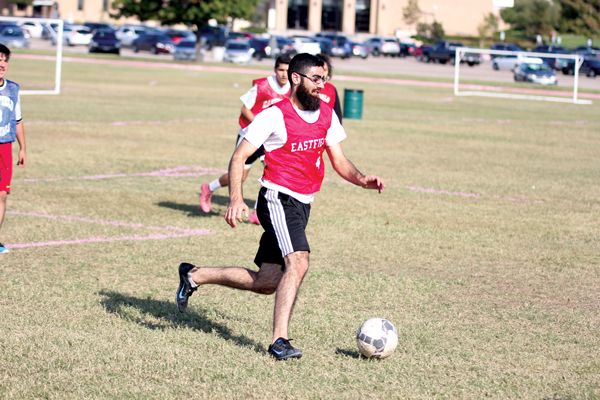 By RODRIGO MENDOZA
@RigoMendozaETC
The Rec Fest intramural sports program has expanded beyond typical basketball and volleyball to include activities such as chess and Zumba.
"Participation from first-year students this semester in our activities has been through the roof," intramural coordinator Jide "JC" Carew said. "This semester, we have done two events per month, and, depending on the demand, next semester we may have to look into having some activity as often as every day."
The Office of Student Engagement and Retention is recruiting students into the program through the Eastfield app and new student orientation. Students involved in nonacademic activities are more likely to stay in school, college administrators say.
[READ MORE: DIFFERENT COUNTRIES, IDENTICAL OBSESSIONS]
"In order to be able to retain students, you have to be able to engage them," Service Learning Coordinator Larry Jefferson said. "Without that engagement piece, you lose the students."
History major Geovaun Andrade signed up for soccer and basketball.
"The REC Fest hasn't necessarily helped me on the academic side of things, but the activities have helped me meet new people," he said.
Activities in the fall included chess and Yu-Gi-Oh tournaments, card games, five-on-five soccer, three-on-three basketball, tennis and Zumba classes. Additional activities are planned for the spring semester.
"JC has built a good rapport with the students because he participates with the students," Jefferson said. "His ideas surpass some of the things I was thinking of, and he makes things more accessible for students by having students register online to see their stats."
[READ MORE: 'DIVINE FEMININE' SHINES, REPRESENTS TURNING POINT IN MAC MILLER'S CAREER]
Winners receive customized medals and bigger trophies, and a champions banner will hang in the Pit.
Carew, who is in his final semester at the University of Texas at Arlington, said his goal is to enhance the college experience for community college students.
"I want you to get a four-year experience for a two-year rate," Carew said.
For information, visit eastfieldcollege.edu/oser/intramural-sports/ or email Carew at [email protected].