Women's soccer squad has sights set on conference, national championships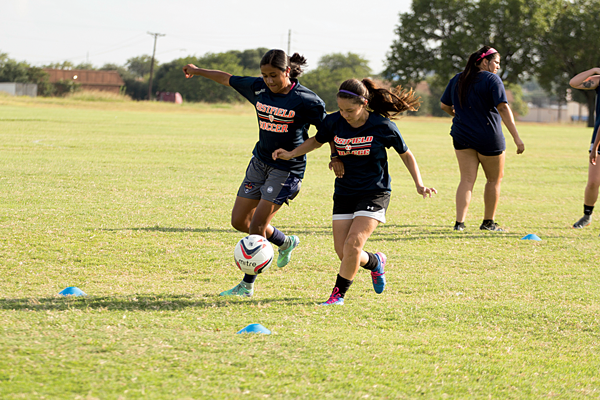 By JULIO VEGA

@JulioVegaETC
With a new season looming, the Eastfield women's soccer team is hoping to once again compete for the Metro Athletic Conference title and make a run at nationals.
The Harvesters have come close the past two seasons. They won the regular-season title in 2015 before losing 4-3 to Richland in the conference tournament finals. And they reached the tournament semifinals last year, playing to a scoreless draw with Brookhaven before ultimately falling 3-2 on penalty kicks. Eastfield coach Dustin Stein said he hopes to continue the team's competitive runs and try to win its place in the national tournament.
"We have a very tough conference," Eastfield coach Dustin Stein said. "Probably 3 of the best 5 teams in the country are in this same conference. We'll just get ready for those conference games and see where the chips fall when conference starts. If we make it through our conference, we'll see if we can make a national championship run."
Sophomore Emily Juarez, who was a key player on last year's team, scoring 12 goals and assisting on 11, has set her sights even higher this season.
"I want to be the top goal-scorer and assister, and score in both Richland games," Juarez said.
She emphasized that the team will look to play possession-based soccer and be more efficient.
"[We need to play] as a unit instead of just kicking everywhere like some other teams," Juarez said. "Stay all together and pass, with no long balls."
Freshman Joy Carlock took a one-year hiatus from soccer after high school before making the team this season.
"I decided I want to find a place where I could get back into it all, and I felt like Eastfield would be a good place for me to start out," Carlock said.
Stein said the team has been working hard to start the season on a positive note. He hopes to use the preseason to get the best out of his players for conference play.
"We've put together a pretty tough non-conference schedule," he said. "We're playing a lot of four-year schools, with juniors and seniors, which we don't have. [They'll have] some bigger players, some faster players and scholarship players. … We'll get experience, and that gets us ready to play a team like Brookhaven or Richland."
[READ MORE: EASTFIELD, DISTRICT HAVE MADE STRIDES IN STUDENT RESOURCES]
Stein said the Harvesters will rely heavily on freshmen this season, but the sophomores will be counted on to lead with their experience.
"I've been really impressed with the leadership of some of our sophomores," he said. "Some of them, I didn't quite know that had that leadership. We have some key returning sophomores and some freshmen who are coming in ready to play."
Stein said he likes the way the team has worked together and competed, noting that players won't be able to coast through and expect to be in the starting lineup.
"There's competition for every spot," Stein said. "Right now, there's still 17 or 18 girls competing for a starting spot, and that just really brings up the level."
Juarez said she wants to use this season to grow as a player and as a leader so she can take the next step and hopefully play soccer at a university.
"I want to help myself get better," Juarez said. "I know my coach will help me do that to succeed later on."
Eastfield will open the season at LSU Shreveport on August 22. The Harvesters' first home game will be against Hill College on August 25.
Carlock said the preseason has brought the team closer together.
"It's been good so far, and I think we will connect really well," Carlock said. "We have a good chemistry so that just makes it easier when we're out on the field."