Three players sign to Texas A&M-Texarkana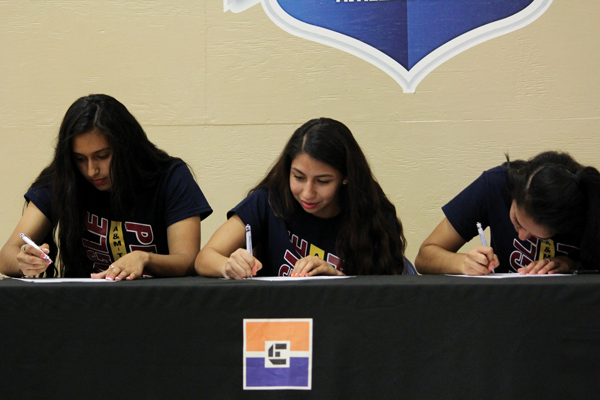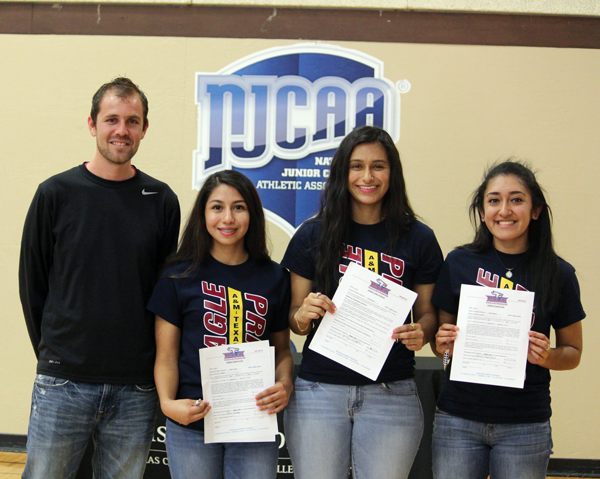 By Brianna Harmon
Three soccer players signed Thursday to continue their careers at Texas A&M-Texarkana.
Forward Hazel Espinoza, defender April Rodriguez and midfielder Liliana Cardozo were some of the first players that coach Dustin Stein recruited when he came to Eastfield 2013.
Stein says that these three women will forever hold a special place in his heart.
"They are a coach's dream of what you want," Stein said. "It's kind of crazy that they are already leaving. It seems like just the other day we were recruiting them."
Cardozo scored four goals in her career as a Harvester. She also was named second team all conference. Stein calls her his most consistent player and said he never had to worry about what kind of performance he was going to get from her.
"Whoever steps in her spot is going to have some big, big shoes to fill," he said. "I'm not sure how I'm going to replace her. Lily is a very consistent midfielder. She never turns the ball over.
"She really does all the work that goes unnoticed. She is probably the most underestimated player in our conference."
Cardozo said that she will miss spending time with the team.
"They are like a family to me," she said. "We had a lot of fun on road trips and singing in the van."
Espinoza scored the second most goals in the 2015 season on the team, finding the back of the net nine times. Her favorite was when she made a penalty kick against Richland, which gave the Harvesters the first win over Richland in program history.
"I felt good, like all this pressure of beating Richland was finally gone," Espinoza said. "Then when we beat them at home 4-1, it was even better."
At the end of the season Espinoza was named first team all conference and Metro Athletic Conference player of the year.
"The biggest thing about her that stood out to me was her ability to take players on 1 v 1," Stein said. "Anytime she got the ball, she was lightening fast and she would really take people on. That is a attribute most girls don't have."
Rodriguez was a big role on defense for the Harvesters.
"She has ridiculous ball control," Stein said. "She is an all-around phenomenal player. If everything clicks for her she can go in and dominate at the four-year school."
Rodriguez says she is blessed to continue her soccer career because that wasn't her original plan. She will also be the first person in her family to attend a university.
"I didn't plan on going to a four-year university," she said. "I didn't even plan on continuing to play. But I'm pretty excited for this new beginning."
Stein sets his expectations high as players come and go from the program.
"They are leaving big shoes to fill," he said. "I always tell recruits when they come on campus that it is my job to replace you, and your job is to make my job impossible."
Stein said that the sophomores have taken the program to a new level. With them being gone, he is going to reload not rebuild.
"They are the ones that really turned this program around and put us on the map," he said. "We wouldn't have been ranked nationally or won a conference championship if it wasn't for these girls."
The Harvesters finished 14-2 overall and 10-2 in conference after losing to Richland in the championship game of the MAC conference tournament.