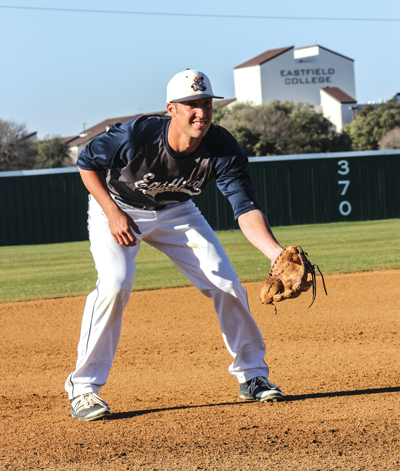 By Brianna Harmon
Growing up watching his father risk his life as a police officer, Connor Scruggs learned many lessons about leadership.
Scruggs is a sophomore third baseman on the Harvesters baseball team and has played a key role in the team's success.
Head coach Michael Martin describes Scruggs as the "silent leader" of the team.
"He is not so much vocal, but if you sit and watch our practices or a game, he is a kid you will notice," said Martin. "He is relentless. He leads by example every day he comes out here. There is no bigger compliment that I can pay you to him than that."
Scruggs said that to be a leader, you have to lead by example. When Scruggs is on the field, he doesn't say much, he keeps to himself and gets his work in. Scruggs wants to inspire his team members to go out and work hard everyday like him.
"I want them to take after me," he said. "I play hard; I want them to notice that. I want to instill working hard into them. Coach Martin and Coach Travis Graves, they preach every day coming and giving your best and working hard."
In the baseball community, everyone plays with or against one another at some point in their career.
Scruggs' father, David, played with Martin on the Dallas Scorpions select team when they were teenagers. Martin's father, George, coached the team.
David Scruggs said that was some of the best baseball he has ever played.
"A lot of stuff I learned was from Michael's dad, George," he said. "It was just great that I could pass some of that knowledge on to my son at a younger age than I got it. It was kind of like laying the foundation for him to see if he wanted to pursue that sport."
After the season, Martin and David Scruggs, who lived in different cities, lost contact.
David Scruggs had no idea that Martin was the coach at Eastfield.
"When I found out Connor was playing at Eastfield, it was just a little research when I looked at the Eastfield baseball program. I kind of went, 'What? I recognize that name,' and then I looked at his picture and I knew who it was," David Scruggs said. "So I emailed him to just touch base with him and just told him what a small world it was."
Scruggs is working on getting an associate degree in science. He said he would like to do something in kinesiology or become a firefighter if that doesn't work out.
"I want to give back to the community," he said. "If I wanted to be a coach, I would give back to the players like the coaches help me — helping the community or helping young players develop."
Scruggs' desire to help the community dates back to watching his father as a cop while growing up. His father, who lost his leg in an off-duty car accident, has worked for the Garland Police Department for almost 30 years.
But for now, baseball is the only thing on Scruggs' agenda. He wants to make it to the national tournament.
"I want to keep playing baseball," he said. "Baseball is my whole life. It is what I've done ever since I was little."
Scruggs said one of his favorite memories playing at Eastfield was his first collegiate home run. It was at the end of the season, and it helped the team win the conference championship against North Lake.
The Harvesters were ahead 3-2 with no runners on with Scruggs at the plate. The Harvesters needed insurance runs to guarantee a win.
Scruggs worked himself into a 0-2 count, taking a pair of fastballs down the middle.
"The coaches would probably get mad at me for that," he said.
Scruggs continued to fight at the plate and got himself back to a full count.
The next pitch was another fastball down the middle. Scruggs turned on it and drove it to the left center field gap.
"My teammates were excited. Parents after the game were excited. It was a positive atmosphere," he said.
Martin said the team needs consistency, and Scruggs brings that to the team.
"He gives you that every day," Martin said. "He bounces around in the middle of the lineup. It just kind of depends who is swinging the bat hot, and he has been."
Scruggs is hitting .366 with a .490 on base percentage and 14 RBIs in the 13 games the Harvesters have played since Jan. 30.
Shortstop Casey Maack said Scruggs is his best friend on the field.
"Just being on the field with him is awesome, just seeing his passion to the game," Maack said.
Maack agrees with Scruggs' mother, Amy, that on the field Scruggs is quiet and straight to business guy, but off he is very energetic.
"At home he is not quiet," Amy Scruggs said. "Only when he gets away from home, unless he knows them real well, will he show his real self. At home he is an aggravator. He picks and he will not be quiet."