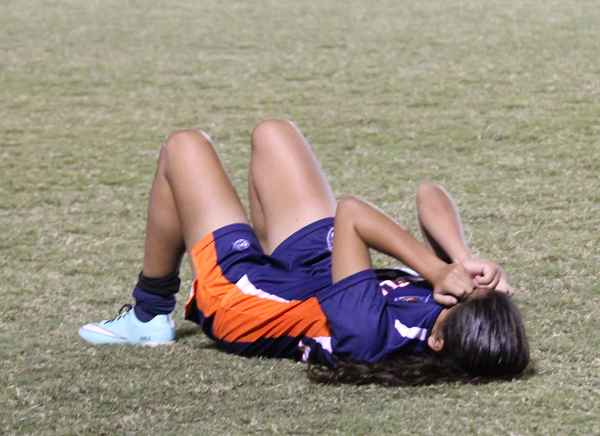 By Brianna Harmon
A week after Eastfield's season-ending loss to Richland in the championship game of the Metro Athletic Conference Soccer Tournament, the Harvesters were still in shock.
"I felt like my heart had just been ripped from my chest," freshman defender Tori Sayman said of the Oct. 29 loss, which allowed Richland to advance to the national championships in New Jersey. "We worked so hard all season long, going undefeated, winning conference. The better team doesn't always win."
Eastfield beat Richland twice for the first time in program history this year in regular season conference play. A goal from Richland's sophomore forward Yarely Orona in the 85th minute gave Richland the 4-3 win.
Going into the game Eastfield was a bit beat up. The Harvesters played without second-leading scorer Hazel Espinoza, who was still recovering from a concussion.
Two-time player of the week and sophomore goalkeeper Abbi Cantrell played despite a serious hand injury. Cantrell had several fractures in her hand and muscle tissue damage that increased as the game went on, causing her to have to have surgery the day after the game.
"I'm blown away by Abbi. She is tough as nails," Eastfield coach Dustin Stein said. "The fact that she was able to play through it says a lot about her. She didn't want to let those girls down. Abbi said she wanted to go, and I wasn't about to take it away from her."
Richland took an early 2-0 lead, scoring twice in the first nine minutes of the game. Freshman midfielder Karla Gutierrez said the two quick goals were like a "slap in the face."
"When they got that second goal, my mindset was 'please God, just let us get to halftime just down 2-0 so we can reset'," Stein said. "Our girls had every opportunity to give up, roll over and die. They showed a lot of character and a lot of maturity because that is not how you want to start a game."
After the two initial goals Cantrell shut out Richland for the remainder of the half.
"When the first two goals happened I got really nervous," Cantrell said. "It was just a total misread of the ball being up in the air."
The Harvesters bounced back from the 2-0 deficient as they found the back of the net three times to go into half with a 3-2 lead. In the 19th minute Gutierrez scored with an assist from Cardozo. Freshman Judith Hernandez scored the next goal on a penalty kick in the 41st minute. Gutierrez registered the last goal in the 44th minute.
"I tried my best. My heart was there," said Gutierrez. "Sadly, it wasn't possible to get a third one.
Two goals against Richland in the finals is something, and for me to do that against a team no one can beat, that was a proud moment for me."
Stein said he was impressed with Gutierrez's effort during the game.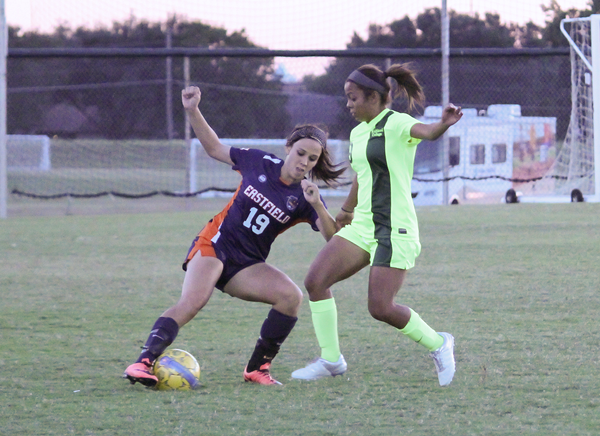 "I think she had a phenomenal game. She created a lot of opportunities for us. She is very dangerous," said Stein. "Karla has a bright future in soccer. She is a special type of player. The scary thing is I don't think she realizes how good she is, and it will be a scary day for teams when she realizes how good she is."
Going into the half Stein had to change his mindset from being down 2-0 to that they were up 3-2.
"I think we felt a little comfortable," said Stein. "I think we felt that Richland was going to roll over and die. I knew that they wouldn't roll over and die; they are the defending champs for a reason. They have a lot of fight in them."
Eastfield remained in charge until the 70th minute when freshman defender Brenda Aguilar challenged Ariane Bersoza in the box and was called for a yellow card. That led to a penalty kick and the game being, tied 3-3.
"I was just hoping she wouldn't score and they wouldn't catch up," Aguilar said. "Now I feel like everything is on me and it is all my fault."
Richland scored the game-winning goal in the 85th minute.
"We had opportunities in the first 10 minutes of the second half to finish it and we didn't," said Stein. "We just couldn't put the ball in the back of the net."
The Harvesters ended the regular season undefeated in conference play and won the conference for the first time in program history.
They finished conference 9-0 and the season 14-2 with 11 shutouts, which ranked third in the nation.
"When I took over this team they didn't win conference games, they didn't win regular season games," said Stein. "It was a joke of a program. I think that stereotype is gone, Richland is not looking forward to playing us."
Eastfield only gave up one goal during regular season conference and only six goals all season.
Stein and his players all agree that the biggest highlight to the season was beating Richland 4-1 at howme earlier in the season.
The team is full of sophomores who are expected to move on to four-year programs.
A few of the freshmen are also leaving due to other scholarship offers. Stein says he is feeling like he is losing his girls.
"And then my wife said 'you're not losing the girls, they will forever be your girls, they are just gone for now'," Stein said.