Eastfield's season ends as North Lake makes nationals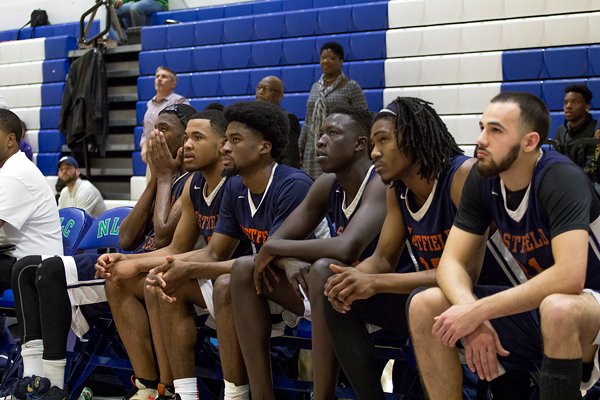 — Video by David Silva and Julio Vega
The Eastfield men's basketball team fell to the North Lake Blazers 88-76 in the Region V Championship match Feb. 26.
The loss ended the Harvester's season and sent the Blazers, the defending national champions, to the National Junior College Athletic Association Division III tournament in New York.
The Harvester's finished with a 24-8 record.
The team ranked No. 5 in the nation with 96.2 points per game, averaged 43.7 total rebounds per game, had a 3-point percentage of 34.4 and had the fourth-best points per game allowed with 48.6.
Sophomore Guard JJ Murray said the impact of the loss too time to sink in.
"When the clock hit zero, I didn't really process it in the moment," he said. "I just took the loss as any other. When it hit me the next day, I thought about the opportunity that we missed. Being on the team last year, I knew how hard it was to get to that point."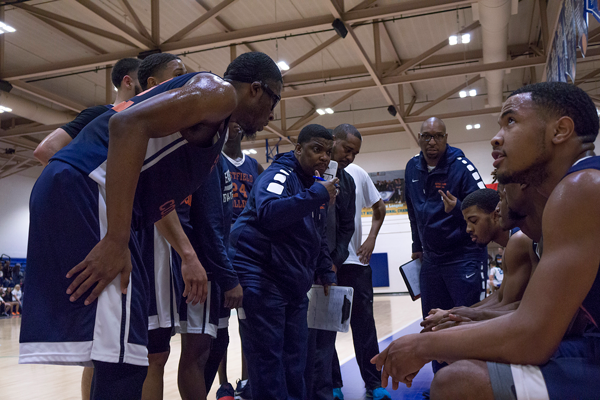 Coach Anthony Fletcher said that despite not making nationals, he still considers the season a success, with the team winning their 22nd regular season conference championship.
"This will fuel us for next season," he said. "No, it didn't end the way we wanted it to end. But we've still got to be men about it."
Murray ended his Eastfield career with 1,062 points and 277 assists, ranking him third-highest in each category. He was also named to the First Team All-Conference for All Region V. He said that despite the accolades and records, the lack of a national title hurts.
"I feel incomplete because I really wanted to bring a national championship here," Murray said.
Other sophomores Sean Odum, Adovante Johnson and Kuol Arup also ended their careers as Harvesters.
Standout freshman include Rashaun Coleman, Anthony McGee, DaJuan Ridgeway and Mike Fuller. Coleman was named the Metro Athletic Conference Freshman of the Year. Coleman and Ridgeway were both named into the Second Team All-Conference for All Region V. McGee broke the Eastfield record of most 3-pointers in a single game with 11 and was named to Third Team All-Conference.
Ridgeway said that this new start to college basketball has helped him and his teammates grow into leaders on and off the court.
"Playing basketball at this level is like being a newborn," he said. "It's not like high school. Here, you have to relearn everything to play in a college team."
Fletcher said that in his 13 years as coach, he'd never started three freshmen, but did so this year to great effect.
With the returning players, he believes the team can reach nationals again.
The Harvesters won the national title in 1997. Their last tournament appearance was 2016, when they places fourth.
"Adversity makes us better," said Fletcher to the team in the locker room following the loss. "If you've never had sour, you don't know what sweet tastes like."
Select any photo to begin gallery