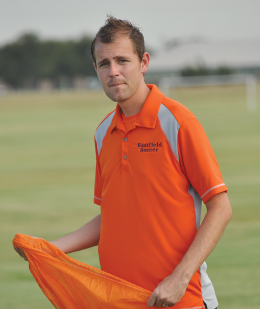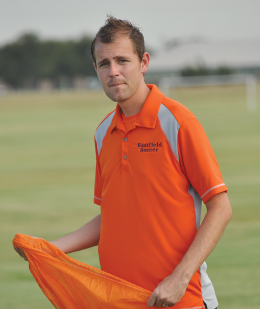 By Kevin Cushingberry Jr., Editor In Chief
Two years after graduating high school, Dustin Stein found himself coaching the same players who were his opponents just years before.
"I was 19 years old as the head coach of a high school program," Stein said. "They had never made the playoffs in school history."
Stein said although the team struggled when he got there, they  progressively improved and achieved success.
"We got dominated that first year because I played freshmen to build their skills," he said. "I stayed there for three years, ended up making the playoffs my second year, and my third year we were ranked No. 1 in the state and made it to the state semifinals."
Stein said he hopes to apply his rebuilding experience to theEastfield program.
"I don't have a single girl on the roster from last year," he said. "There wasn't a recruiting class coming in, so I got here in July with nothing."
The process of compiling a team from nothing was challenging for Stein, and he had to take whoever he could.
"Some of our girls were walking down the hall wearing a soccer shirt and I grabbed them," he said. "Next thing they know,  they're on the team."
Stein didn't have to recruit all the girls on his own. Flyers were posted around the campus and on the school website. Some players found him and asked to play.
"I was on my way to get my ID card for school, and right there in the computer lab there was a sign that said 'Soccer: contact Dustin Stein,'" said freshman Chasity Turner. "I was just like 'Wow, I should definitely call in to that and see what's going on."'
Stein said he has an understanding of the complex balancing act that goes along with college athletes, including work schedules.
"They're balancing full time school, and now a huge soccer schedule," he said. "We've had several that thought they wanted to play but they realized the work and backed away from it."
The grind of college soccer is not new to Stein. He played one year for Southwestern  Christian University and another for Southern Nazarene University.
"We have some girls that can play," Stein said. "I've told all our girls I just need effort."
Even though this season has been difficult, Stein is keeping the girls engaged.
"I tell the girls that their goal should be to convince me to not bring in 30 more girls next season," Stein said. Turner, who Stein said has been the best player in each of the team's games, said she believes the team can find success.
"I think this soccer team will be able to progress to the point where it's something Eastfield is known for," she said.
Freshman Patricia Nava said she didn't get much playing time in the soccer program at Horn High School, and enjoys the chance to showcase her ability and grow within the Eastfield soccer program.
"I kind of like being part of a rebuilding project because we want to do better," Nava said. "We're trying our best, pushing each other and telling each other we can do it. We're not giving it up."