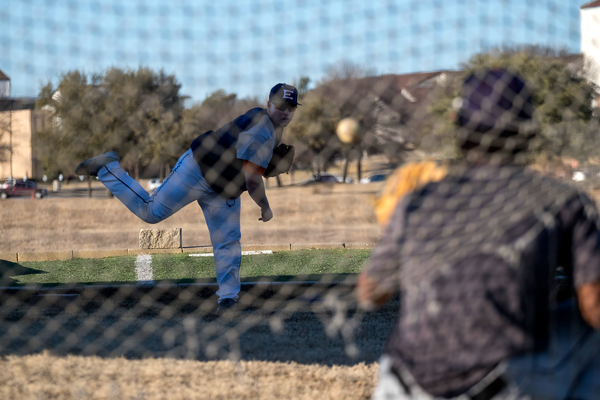 The Harvesters' baseball team hopes to see improved pitching and a better team bond following a weak 2017 season.
The three-time national championship winners went 27-26 overall in 2017, losing their first six games. The team lost 14 conference games, equal to the number of conference losses in the 2015 and 2016 seasons combined.
Coach Michael Martin said the team never properly glued together to work as one unit.
"We were not up to the standards of what we're used to in this program," he said. "I think you can contribute that to a lot of things, but I think one of the biggest things is our team. We didn't really come together as a team last year. I didn't feel like we were as close and cohesive of a team as we needed to be."
The team's pitching suffered throughout the season, recording a 6.12 ERA compared to a 4.22 ERA in 2016.
Martin said that although he thought the team played well defensively, pitching lacked aggressiveness and routinely fell behind on the count.
"When you pitch behind in counts you're pitching in the hitter's favor," he said. "Our pitching philosophy is we want to pitch to contact, but we want to make them hit our pitch at our speed and our location. If we can do that, we can be successful."
Jacob Perry, who will start at shortstop, said the 2017 season's rough start and overall lack of consistency led them to barely scratch over .500.
"We definitely need more focus during the regular season," Perry said. "Everyone has to stay in the game. The bench has to stay in the game. We have to take every pitch, every at bat [seriously]."
The team's starting shortstop, second baseman and first baseman positions were all held by freshmen, a factor Martin said influenced their play. He hopes those same sophomores will be team leaders this season.
[READ MORE: Basketball tops conference table halfway through season]
"I think the maturity level is going to be a lot better," Martin said. "The core of that lineup is going to be guys with some experience. … We expect those guys to carry the load for us."
Martin hopes the leadership of returning sophomores Michael Tamez, Logan Montoya and Perry will help bring the team together and expects incoming transfer sophomore Michael Pilato and freshman pitchers to add depth to the pitching staff .
Tamez, a starting pitcher, said he hopes the Harvesters will encourage and push one another throughout this season.
"I think last year we struggled with being confident," Tamez said. "We have to click at the same time."
Martin said that with improved pitching and continued success at the plate, the season should go well for the Harvesters.
While pitching was lacking last year, the Harvesters managed 32 home runs, the most in the past five years, and a .411 on base percentage.
"Offensively, we swung it pretty well," Martin said. " I expect us to be better this year than last year because we have more seasoning under our belt."
Martin said he expects Brookhaven and North Lake to be competitive, but that he won't know until the team sees the on the field.
"Those teams finished at the top of the conference last year so you expect that they're going to be there again this year," Martin said. "I haven't seen them play and I haven't heard a whole lot about what they've got coming back."
The Harvesters played their first game of the season Jan. 29 after press time. They are scheduled to play their first conference home game on Feb. 23 at 2 p.m.
'They let nothing get in their way': Volleyball team brings home Eastfield's first women's national title