Baseball closes gap on first place Brookhaven, sweeps Lions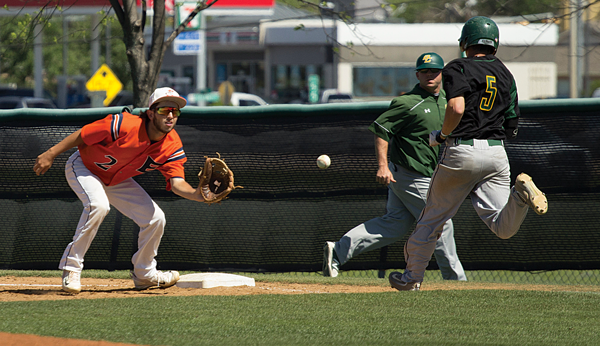 Led by the Metro Athletic Conference Players of the Week for March 26-April 1 Gabe Guzman and Paul Bowman, the Harvesters handed Brookhaven their first series loss of the year while sweeping Mountain View. After struggling early in the year, the Harvesters (12-6) climbed back to second in the conference behind Brookhaven (16-2) and are ranked ninth nationally with 12 games left in conference play.
Eastfield 15, Brookhaven 3
The Harvesters bounced back after a three-game losing streak, scoring runs in bunches to beat Brookhaven in eight innings on March 29. Skyler Black went 3-for-4 with a home run, two doubles, four RBIs and three runs to lead the attack. Blake Seagraves went 2-for-4 with a triple and three RBIs. Guzman added three hits, including a double, and drove in two runs. Paul Bowman (5-1) pitched a complete game, allowing three runs on eight hits while striking out three.
Eastfield 9, Brookhaven 8
Eastfield came out victorious in a close matchup on March 31 behind Guzman's two home runs and five RBIs. Tanner Foy and Black also homered for the Harvesters with Black collecting two other hits. Tyler Foy earned his first win of the season in relief of Mich Tamez, pitching three shutout innings.
Brookhaven 15, Eastfield 8
The Harvesters' pitching staff was dominated by Brookhaven's offense, giving up 15 runs including nine in the eighth inning alone in a game that was tied 6-6 after seven innings. Eastfield's pitchers had a tough time finding the strike zone, giving up 13 walks among the eight pitchers used, four of whom didn't record a single out in the home loss on April 1.
Joseph Sanchez, Guzman and Montoya carried the Harvester offense, driving in two runs each. Sanchez was 3-for-5 with two doubles. Guzman was 2-for-4 with a triple, and Will Crooker was 2-for-4.
Eastfield 10, Mountain View 9
The Harvesters' bats stayed hot as they clawed out a narrow home win on April 5. A four-run eighth inning propelled Eastfield to a victory. Black and Jacob Perry led the charge, driving in three runs each. Black went 3-for-5 with a double while Perry went 2-for-5. Montoya went 3-for-4 with a double and three runs scored.
Ben Simpson (2-0) earned the win pitching a shutout inning in relief of Bowman while Tyler Foy got his first save of the season.
Eastfield 8, Mountain View 6
In a long game that was tied 6-6 going into the 11th the Harvesters came out victorious in their trip to Mountain View on April 7. Jordan Parker led the offensive assault going 2-for-4 with a home run and a double scoring four RBIs. Black hit a two-run home run while scoring two runs.
Simpson earned his third win of the season in relief of Tamez, pitching three and two-thirds shutout innings.
Eastfield 10, Mountain View 1
Eastfield's hitting backed up Seagraves to beat Mountain View in blowout fashion on April 8. Seagraves pitched a complete game, allowing only one run on just two hits, while striking out four.
Black led the Harvesters' offense, going 2-for-4 with a home run and four RBIs scored. Montoya went 2-for-2, drawing three walks and scoring four of the Harvesters' runs.