Athlete clings to soccer after tragedy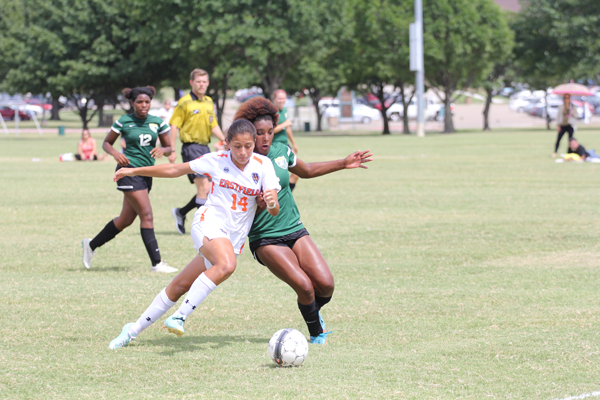 After a successful freshman season on the soccer field, Karla Gutierrez was preparing to move away and further her college sports career.
On April 28 her plans changed, starting with a text message from girlfriend Teresa Balderas.
"If you come over and the top lock is not locked and I don't open the door, then I'm dead."
Gutierrez was skeptical at first, but panic set in when Balderas stopped replying to her messages.
"I went and I was knocking and knocking," Gutierrez said. "I was too scared to go in, but I had to. I knew she had already done it."
The apartment was pitch black as Gutierrez entered, calling her girlfriend's name as she fumbled her way to the bedroom and found a light shining in the closet. There, she saw Balderas hanging by her neck.
"When I saw her, I was crying," Gutierrez said. "I was trying to call everyone. I tried to call my sister. I tried to call the cops, and they put me on hold. So I got a knife and cut her down."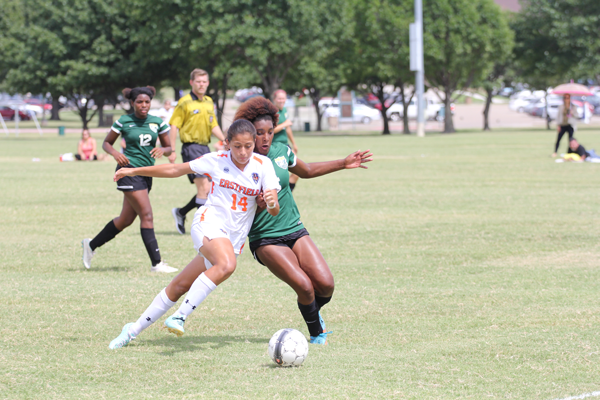 After, Gutierrez called the police a second time and stayed on the phone until they arrived.
Gutierrez wanted to give up on everything after losing Balderas.
"It's so hard every day waking up," she said. "I was going to quit soccer and just give up. But she was always the one to support me and tell me that I was good enough and that I doubt myself too much. Honestly, the only reason I keep playing is to make her proud."
Gutierrez and Balderas hid the relationship from their families.
"Her family tries to blame me," she said. "I considered her son my son. I've known him since he was 1 or 2, and I don't even see him because they won't let me. No one knew about our relationship, so I have to pretend she was just a friend and he was just a regular kid, and he is not."
Balderas wouldn't sit on the sidelines at Gutierrez's soccer games.
[READ MORE: Soccer, volleyball reload rosters]
"She always had to hide because of my parents," Gutierrez said. "But I just knew she was there watching me."
Gutierrez and Balderas met through mutual friends while playing soccer together.
"She really loved soccer," Gutierrez said. "She always wanted to play and get better. Me getting better, playing on that field, making goals and proving everyone wrong made her happy."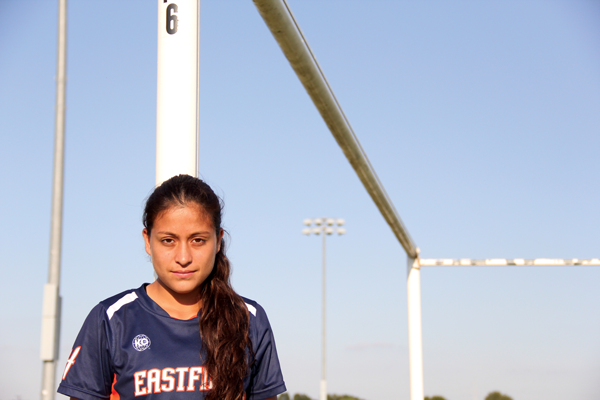 Gutierrez struggled her first year at Eastfield. She wasn't sure if she would play this season.
"My grades last year were complete crap," she said.
She took summer and Maymester classes to increase her GPA and regain eligibility for the soccer team.
Gutierrez is hoping to have a strong sophomore season and pick up a scholarship to a four-year school to continue her academic and soccer career.
"I just feel like giving it my all," she said. "I should give it my all on the field for her. I'm not only going to do good on the field but in class too. We had planned a life together; I was going to get a scholarship far away. Now I don't want that, but I do."
Gutierrez will have a different role on the soccer field for the Harvesters this season, playing goalie in addition to center midfielder. Although she was disappointed when Stein told her about the goalkeeping duties, she eventually accepted the change.
"This is my last year, and I wanted to play on the field and show what I've got as a player, not a goalkeeper," Gutierrez said. "But if he needs me in the goal box, I will play there."
Gutierrez had six goals and three assists last season. She has scored two goals so far this season, both of them against Allen County on Sept 10.
"She is a phenomenal player," Stein said. "She hates to lose, and that is one of the qualities I love about her. She has been really good with these freshman by leading by example and vocally. She is going to finish first in every drill, and that is the kind of work ethic we need to show these freshmen what our expectations are and what the conference is like."
Defender Torri Sayman said Gutierrez is the glue that brings the team together.
[READ MORE: Harvesters end championship bid]
"She has so much heart and is always trying to bring people up," Sayman said. "She is a lot more confident in herself. She is talented in both
positions, and seeing her going from a rock star center mid to being a crazy goalkeeper who has cat-like instincts is amazing."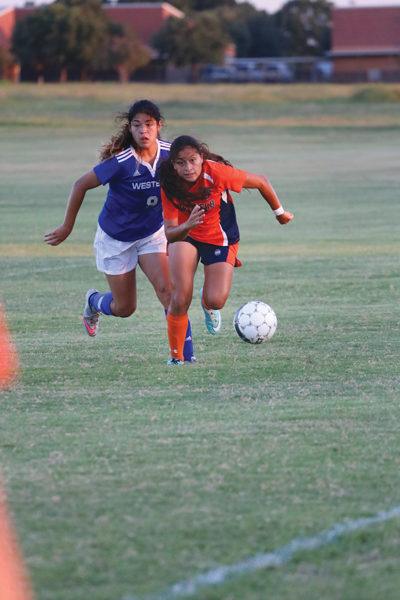 Last season, Gutierrez was hesitant to lead the team, but she has since broken out of her shell. The team only has four women returning this season including Gutierrez.
"Now I'm trying to help others," she said. "I want them to see that even though everyone left last season that we can be better if we push ourselves."
Eastfield's 2015 season ended with a devastating loss to Richland in the Metro Athletic Conference championship game. If the Harvesters had won the game, they would have advanced to the national championship in New Jersey.
She wants to see the incoming freshmen push themselves because she knows they can be successful and make it to the national championship.
"I'm helping you so you can be my competition," she said. "I was a freshman last year and took someone's position, and I want them to see that they can do it too."
One of those freshmen is
Gutierrez's best friend, Karla Corchado. The duo played together at Horn High School, and Corchado said it is a big challenge to compete with Gutierrez.
"She is somebody I honestly do look up to for her passion and striving to get better every day," Corchado said. "We try to make each other better."
Gutierrez still struggles to find the positives in light of Balderas' death, but she continues to push herself.
"Sometimes I don't feel like doing [soccer] anymore," she said. "It's hard to play sometimes. It gets to my head. When I play, sometimes I think about her telling me I'm better than others and that I can go far. She was the only person that believed in me."
[READ NEXT: Harvesters ranked 4th in the nation]
Click any image below to see a slideshow: