Conference Champions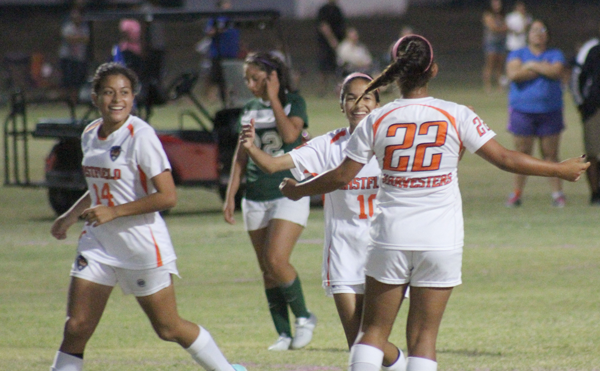 Harvesters dominate Richland on way to winning first MAC title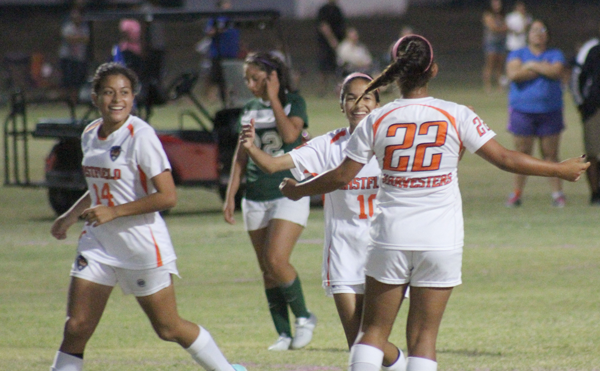 By Gabriel Flores
From the conference basement to the national rankings, the No. 4-ranked Eastfield Harvesters soccer program has made a complete turnaround in the past three seasons.
Now Eastfield has solidified its position as a national championship contender after earning a convincing 4-1 home victory over defending national runner-up Richland on Oct. 13.
Coach Dustin Stein believes his team sent a strong message to future opponents with its second win of the season against the Thunderducks, which helped the Harvesters wrap up their first Metro Athletic Conference championship and the top seed in the conference tournament.
"There's going to be a lot of teams who will see that score and feel intimidated," Stein said. "If we're fortunate enough to make it [to the national tournament], no one is going to want to play us."
In the first matchup of the two teams on Sept. 25, Eastfield edged past Richland 1-0 on a first-half penalty kick by Hazel Espinoza. In the rematch, the Harvesters started slowly again on offense, not scoring until Espinoza's goal in the 42nd minute gave them a 1-0 halftime lead.
The second half was a much different story as Eastfield added a flurry of three goals in a six-minute span to go up 4-0.
"As soon as that second goal went in, Richland completely crumbled," Stein said.
Midfielder Karla Gutierrez started the scoring spree with a goal just three minutes into the second half. Judith Hernandez and Elizabeth Cobar quickly joined the party with goals in the 51st and 54th minutes. In addition to her own goal, Hernandez assisted on the three other scores.
Goalie Abigayle Cantrell said Gutierrez's goal was a catalyst for the rest of the match.
"We were definitely a lot more nervous [this time], but once we scored that first goal [in the second half], it all came naturally," she said.
The offensive blitz gave Eastfield a commanding lead and left the Thunderducks reeling. With the game out of reach, Richland's Briana Dyess and head coach Scott Toups were each given red cards and ejected. Eastfield defender Karlee Hickson was also given a red card and left the game.
The only disappointing aspect of the match for Cantrell was losing the shutout on a late Richland goal that she said she simply misplayed after reacting late.
Cantrell and the Eastfield defense had posted six straight shutouts in conference play and were shooting for 10 this season.
"I don't like getting scored on," she said. "It makes me mad when I don't get a shutout. I take everything personally when I'm in goal."
Stein said the goal might actually relieve some pressure on his team heading into the conference tournament, and Cobar agreed.
"I didn't want to go into the conference tournament not being scored on," Cobar said. "I wanted us to get scored on so we can know, yes we can get scored on, but we can still beat them."
A third matchup against Richland in the postseason seems inevitable, and Cantrell said the Harvesters will be ready. A win could send Eastfield to the NJCAA Division III national tournament in New Jersey.
"I can't wait to see them in the conference tournament," she said.
Eastfield 6, Mountain View 0
The Harvesters dominated at home, piling on six goals in yet another shutout on Oct. 9.
Eastfield came out aggressive, getting first-half goals from Elizabeth Cobar, Liliana Cardozo, Brenda Aguilar and Miriam Mendoza on the way to a 4-0 halftime lead. Forward Hazel Espinoza, nursing a sore ankle, added an unassisted goal in the 70th minute. Then Sierra Gause came off the bench and capped off the night with another late score.
Karla Gutierrez had two assists for the Harvesters, while Gabriela Alva and Sarahi Osorio added one each.
"We've got some girls scoring who don't really score a lot," Stein said. "The depth that we have really helps us. We've played six conference games and I haven't started the same lineup, and we're still winning. We just have that many good players."
The Harvesters' suffocating defense did not surrender a shot on goal until the second half.
Eastfield 3, North Lake 0
After a scoreless first half, Eastfield erupted with three late goals from Gutierrez, Elizabeth Valdez and Amber Burks. Gutierrez's goal was unassisted, but Hernandez and Espinoza assisted on the final two scores. of the game
The Harvesters registered another conference shutout behind Cantrell, who stopped North Lake's only two shots on goal.