Harvesters sweep Mountain View series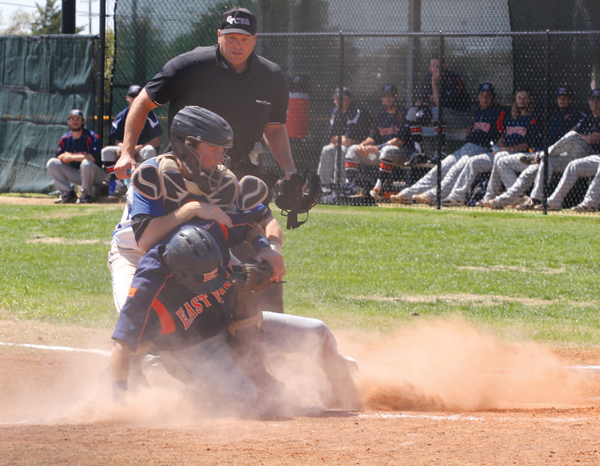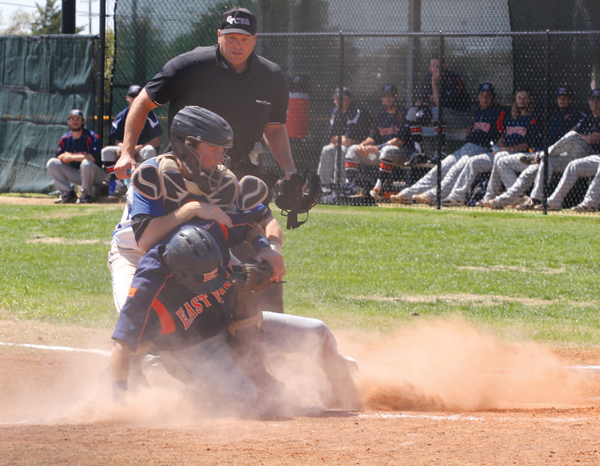 By Juanita Hernandez
Eastfield's Blake Barr didn't get off to the kind of start he wanted against Mountain View on March 28.
After falling behind in the count against the second batter he faced, the freshman pitcher threw a fastball to Angel Rodriguez. Rodriguez took a good swing and belted the ball over the center-field fence, giving the Lions their first run of the game.
But the home run didn't faze Barr. He stepped off the mound, took his cap off, wiped away the sweat dripping down his face, took a deep breath and got back to work.
Mountain View didn't score again.
The Lions didn't even have another base runner until the fifth inning as Eastfield rolled to an 11-1 win to cap a three-game series sweep in a key Metro Athletic Conference road matchup.
"We have to give [Rodriguez] credit. He did what he was supposed to do, and he put a good swing on it," Eastfield coach Michael Martin said. "But Blake went back and attacked the hitters from then on and was able to make them try to hit his pitch."
Barr dominated the rest of the game, striking out 16 of the next 28 batters faced. He struck out the side in the fifth, sixth, seventh and eighth innings and finished with a two-hitter.
"Off-speed pitches were working really well for me," Barr said. "[The home run] just made me want to work harder so we could take the win home."
Eastfield (20-6) jumped out to a 9-1 lead by the end of just the third inning.
Six Harvesters had hits, led by Casey Maack, who went 2-for-4 with a home run, three RBIs and three stolen bases. Jason Serchay went 2-for-4 with three RBIs and a double; Cole Hill went 2-for-4 with three RBIs and three stolen bases; and Blayten Magana, Tanner Dickerson and Cody Duplechin also drove in runs.
"Blake has confidence in the offense just like we have confidence in him," Hill said. "He knows we will go out there and score runs. And when he goes out there and steps on the mound, our team knows that he is going to get his job done."
Barr, who was selected as the Division III National Junior College Athletic Association Pitcher of the Week for March 9-16, is now 5-2 with a 2.58 ERA this season. He has 52 strikeouts in just seven games.
The Harvesters dominated the entire series, scoring double digits in all three games.
In the series opener, Hill went 4-for-5 with a home run, two RBIs and four runs scored to key Eastfield's 20-hit attack in a 14-7 win.
Mason Arasato was 3-for-5 with a home run, three RBIs and two runs; Daniel McConn was 3-for-4 with a double, an RBI and two runs; Cody Duplechin was 2-for-4 with a double, three RBIs and three runs; Casey Maack was 2-for-5 with a double, two RBIs, two stolen bases and one run; Tenner Dickerson was 2-for-6 with a double, a stolen base and two runs; and Jason Serchay was 2-for-6 with a double, a stolen base and two RBIs.
Emelio Gonzalez (1-0) took the win, giving up three runs on four hits while striking out eight batters in 4 2/3 innings.
In Game 2 of the series, nine Harvesters had hits and eight scored runs as Eastfield rolled to a 10-3 win. Casey Maack went 2-for-4 with a home run, a stolen base and three RBIs, and Michael Kister was 3-for-4 with a double, two stolen bases, an RBI and a run scored. McConn, Dickerson, Duplechin and Hill also drove in runs.
Sebastian Murray (4-2) pitched all seven innings to earn the win. He struck out 10 batters and allowed just two earned runs on two hits.