Harvesters open strong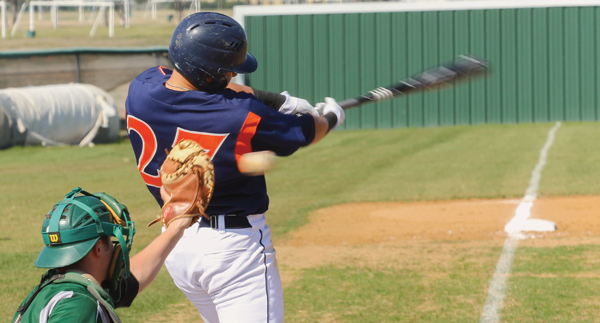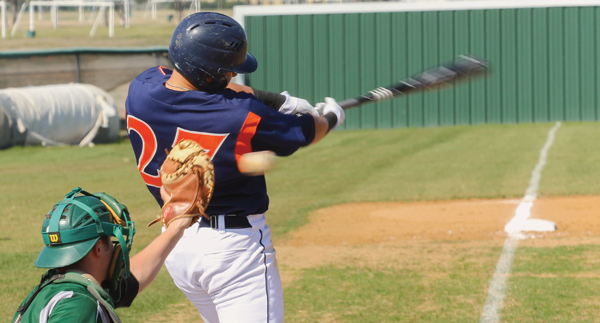 By Brianna Harmon and Juanita Hernandez
The No. 6 Eastfield Harvesters opened conference play Feb. 20 by taking a 2-1 home series win against the Cedar Valley Suns.
The Harvesters (10-2) got off to a sluggish start, losing the first game 3-1. Eastfield had only five hits in the game, with Tanner Dickerson going 2-for-3 and scoring the only run. Blake Barr took the loss despite giving up just two earned runs on eight hits and striking out six in six innings.
Eastfield's offensive struggles changed quickly in the second game when the Harvesters cruised to a 14-4 win over Cedar Valley (2-7) in a game that ended after seven innings due to the 10-run rule.
"I think we had a better approach in the second game than the first," Eastfield coach Michael Martin said. "We were just seeing the ball better."
Casey Maack hit two home runs for the Harvesters in Game 2, including a two-out, two-run shot to right-center field in the bottom of the fourth that gave Eastfield a 6-0 lead. He added a solo homer in the bottom of the seventh to end the game. Maack also doubled while going 4-for-5 with three RBIs and three runs scored.
"I figured I'd try [to get some] base hits and stay on the ball," he said of his approach.
Other leading hitters in the game included Michael Kister, who was 4-for-4 with two RBIs and three runs scored; Dickerson, 3-for-3 with a triple, a double, an RBI and a run scored; Daniel McConn, 2-for-4 with a double and three runs scored; and Cole Hill, 2-for-4 with a double.
Starting pitcher Sebastian Murray (3-1) shut down the Suns, throwing six shutout innings before Cedar Valley got on the scoreboard in the
seventh.
"My curveball was really working for me," he said. "I was focused on hitting the zone."
Murray finished with seven strikeouts while giving up eight hits and two walks.
"He got ahead early in the count, which allowed us to be more selective with his pitches," Martin said.
Offense was the story in Game 3 as Eastfield rolled to a 20-10 win on Feb. 21. The Harvesters took an early 11-4 lead, then put the game away
by scoring seven runs in the fourth inning.
Hill went 3-for-6 with a double, three RBIs and three runs for the Harvesters. Maack was 2-for-4 with a double, two RBIs and four runs; Cody Duplechin went 2-for-3 with two RBIs and four runs; Blayten Magana was 3-for-5 with two runs and an RBI; and Jason Serchay went 2-for-4 with two RBIs and a run scored.
Robert Russell (2-0) earned the win in relief of starter John Bodine. 
Eastfield 5-7, KCKCC 10-1
Pitcher Blake Barr gave up one run on five hits with seven strikeouts in a complete-game victory in Game 2, helping the Harvesters earn
a doubleheader split with Kansas City Kansas Community College in Mesquite on Feb. 14.
Zach Red went 2-for-2 with a double, an RBI and two runs scored for Eastfield. Other offensive leaders included Dalton Smith, who was 2-for-3 with a double and two runs scored; Connor Scruggs, 2-for-2 with an RBI; Cole Hill, 1-for-3 with two RBIs and a run scored; and Cody Duplechin, 1-for-4 with a triple and two RBIs.
In Game 1, Eastfield jumped out to a 3-0 lead in the first inning, but KCKCC scored five runs in both the third and fourth innings to take control.
Casey Maack went 2-for-4 with two doubles, two RBIs and two runs scored for the Harvesters. Scruggs also doubled twice while driving in
a run and scoring another.
Sebastian Murray took the loss, giving up five runs on four hits in 2 1/3 innings.