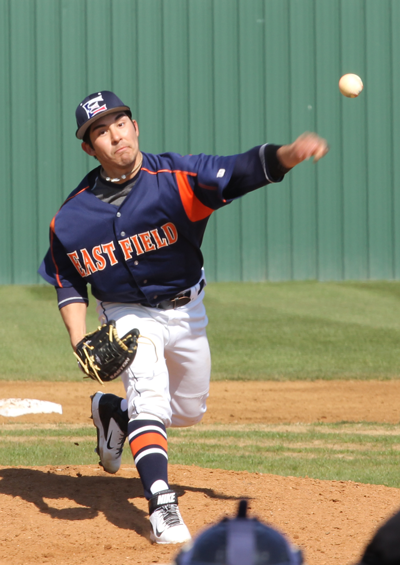 By Brad Watkins
This season, the Eastfield Harvesters baseball team is focusing on defense and a team-first mentality. Its preseason rank is sixth in the National Junior College Athletic Association Division III.
Head coach Michael Martin has had control over the Harvester's baseball program since 2001. The team has had a track record of success under Martin's tenure.
Martin believes his team is ready for a national ranking,
"We want to go out and win the Metro Athletic Conference and put ourselves in a position to be in postseason play in the District C Tournament and on to the National Tournament," he said.
The team has several returning players. The position players are virtually the same while there are some new pitchers on this team.
"We have a pretty good nucleus of kids coming back off last year's team," Martin said, "That should carry this team well."
There are a few impact newcomers on this year's team who Martin expects to contribute on this team.
"We do have a couple that were in our program that redshirted for various reasons, whether it's medical or etc., that will be playing this year, some for the first time, some re-entering, that should make an impact on our team," Martin said. "One of those is shortstop Casey Maack. The other one is our catcher, Daniel McConn. Both of them were in our program last year and weren't able to play."
As of press time, the team has started the season 6-0 while scoring at least six runs in every game.
Martin thinks he has a well-rounded team.
"There is promising sides to our pitching staff," he said. "Hopefully we keep developing there and get better as the year goes on. That's one area I feel like we need to improve at. If you look at our stats from last year and what we have coming back from last year's team, we've got a chance to be a strong offensive team."
Sophomore pitcher Bryan Martin agrees and hopes to improve his game to help promote the team-first mentality in the locker room.
"Our team's strengths are definitely hitting, our defense is solid, pitching is doing pretty well right now, so collectively as a group we're playing pretty well," he said. "I'd just like to contribute to my team, do my best and get my team to the World Series. That's where we all want to go. Everybody's been doing their part, playing well and up to the expectations. We started off undefeated, and we look to continue that role."
Newcomer pitcher John Bodine is trying to improve, learn and promote the team.
"I just think we all do our part. We all practice every day and support each other. I think that's most important when it comes to playing baseball," Bodine said. "I'm just hoping to get better and learn from the best. We have a pretty good team."
Before the Harvesters get to the postseason, they must make it out of the Metro Athletic Conference.
"It's tough," Martin said. "We've got several good teams in the Metro Athletic Conference who compete well. You know every weekend you are going to get a team's best game. The competition from top to bottom in the Metro Athletic Conference is really tough."
The Harvesters start their conference play Feb. 20, at home against the Cedar Valley College Suns.