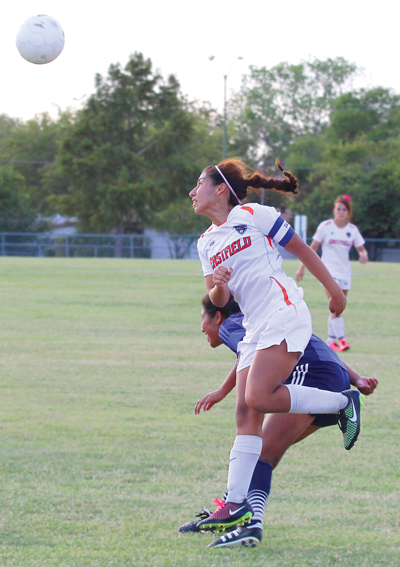 By Tony Neese
The Eastfield Harvesters missed an opportunity to grab sole possession of second place in the Metro Athletic Conference soccer standings, battling North Lake to a 0-0 tie Oct. 10 for the second time this season. Entering this week, the teams remained tied for second place, two games behind Richland with two regular-season games remaining.
"Winning these tight games is all about taking advantage of opportunities," Eastfield coach Dustin Stein said. "We have been doing a lot of finish drills. … Right now, we just have to finish one of these opportunities."
The Harvesters (6-6-3, 5-1-2 MAC) had a solid scoring opportunity with 20 minutes left in the game when freshmen midfielder Liliana Cardozo sent a screaming shot off the goalpost. Midfielder Evelyn Robles dropped to her knees in disappointment as the game remained tied.
Eastfield had a total of five shots on goal in the game. Cardozo had two, while freshman midfielders Hazel Espinoza, Heidee Perez and Miriam Mendoza added one each.
Harvester freshman goalkeeper Abbi Cantrell made six saves and finished with her sixth shutout in the past eight games.
"We came out to play today," Cantrell said. "North Lake is one of the harder teams to beat. We were really hoping for the win. … That one shot that hit the goalpost, that was our opportunity. … We will see them again."
Eastfield assistant Kendra Wallace said Cantrell's vocal, active play has been critical for the Harvesters this season.
"The goalkeeper tends to be the captain of the team because she has the best view of the whole field," Wallace said. "So she can tell her teammates what's going on and where they should be."
The Harvesters ran a 3-5-2 defensive alignment against North Lake (5-1-2, 4-1-2). There are five players across the center, but the outside-mids play defense.
"Our most constant formation is the 3-5-2 because it helps us get into attack," Stein said.
One concern for Stein after the match was injuries. Sophomore forward Meagen Raburn and freshman defender Karlee Hickson both suffered lower leg injuries.
"We have a couple that might be out a couple of weeks, unfortunately," he said. "We will get them into our team doctors and wait to hear further results from that."
The Harvesters were scheduled to play a critical game at Richland on Tuesday, and will host last-place Cedar Valley on Friday.
These games will determine seedings for the conference tournament that starts Oct. 30.
UPDATE OCT. 23: Since the above story was published, the Harvesters lost their Tuesday game to Richland 4-1 and slipped to third place in the MAC conference.
Eastfield 2, Mountain View 0
Mendoza and Raburn each scored a goal and Cantrell made three saves to post her seventh shutout of the season as the Harvesters beat conference rival Mountain View 2-0 on Oct. 14. Raburn's goal came at the 39:53 mark of the opening half on an assist from Gabiela Alva and April Rodriguez. Mendoza made it 2-0 with her goal at the 83-minute mark of the second half as Rodriguez picked up her second assist of the game.
Eastfield 3, Brookhaven 2
Raburn scored a pair of goals to stake Eastfield to a 2-0 lead, and the Harvesters held on for a 3-2 conference road win at Brookhaven on Oct. 17. After Brookhaven pulled to within 2-1 at the 63-minute mark of the second half, Perez answered with another goal. Rodriguez added an assist in the win. Eastfield had 15 shots on goal, while Brookhaven had five.