Harvesters look to catch North Lake, Brookhaven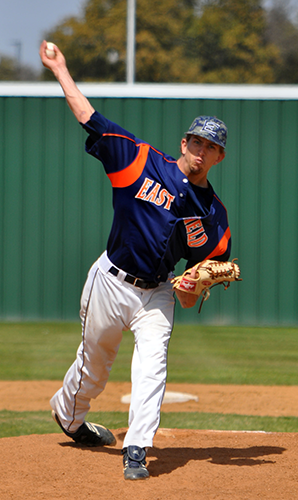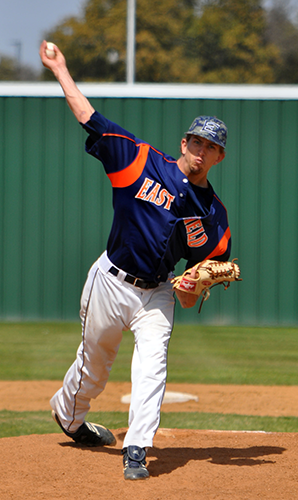 By ANAHI PEREZ
Heading into April, the Eastfield Harvesters baseball team has compiled a 27-7 record and is third in the Metro Athletic Conference behind the North Lake Blazers, and the No. 2 team in the nation, the Brookhaven Bears.
The Harvesters lead the nation in four offensive categories: runs scored (274) doubles (79), home runs (19) and runs batted in (234). The pitching staff has compiled a 2.99 earned run average with 249 strikeouts. Freshman outfielder Jason Serchay leads the team with five home runs and a .466 batting average.
Head coach Michael Martin said the team is fighting hard to move into first place in the conference standings.
"We hope to win our conference, that is our first goal right now," Martin said. "Our main goal is to finish in the top two, but obviously, we want to win this conference and go on and win the district tournament."
The Harvesters (10-5 in MAC) are two games behind North Lake (11-2) and one game behind Brookhaven (10-3).
Assistant coach Travis Graves said the team has been doing well offensively and improving defensively. He said he's seen improvement in both areas, but said some of the team's losses were hard to swallow.
"I feel like we've given some games away," Graves said. "Some of our losses, I don't necessarily think teams have beaten us as much as we've lost the game."
However, Graves said the Harvesters are pitching well, playing good defense and hitting the ball.
The Harvesters got the best of the Bears earlier this season, taking two out of three games in a March 7-8 series. Serchay had four hits in the series, while sophomore pitchers Will Birge (2-0) and Brody Toal (3-0) both picked up victories.
Two weekends later, the Harvesters took on the Blazers and won another three-game series, 2-1.
In Game 1, Serchay and sophomore outfielder Eric Gilstrap  each had three hits. Sophomore pitcher Paul Atwood (2-0) got the win.
In Game 2, sophomore pitcher  Weston Sims (3-2) lost a 4-1 game in which Eastfield produced only five hits.
Game 3 was a bounceback game for the Harvesters. Just three hours after losing a noon game, the Harvesters pulled out a 6-3 victory behind the arm of sophomore pitcher Matias Terrones (2-0), who pitched eight shutout innings.
Eastfield has 15 conference games left  including a series at Brookhaven  on April 18-19 and a home series against North Lake on April 25-26.