Harvesters show muscle against Brookhaven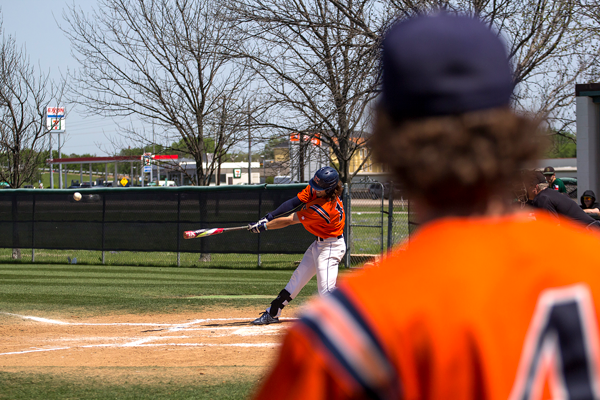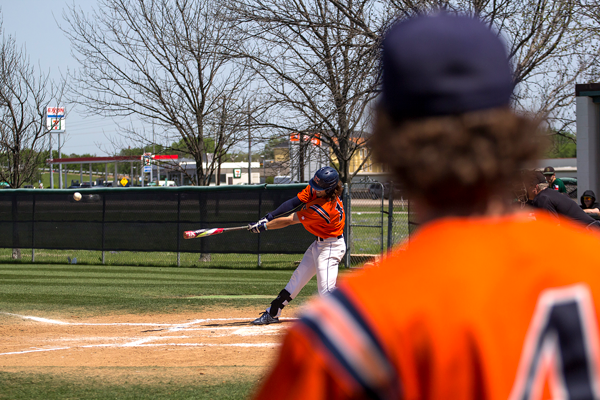 Back-to-back 14-run games elevated Eastfield baseball to win their series against conference standings leader Brookhaven.
The Harvesters, who are ranked No. 6 in the nation, were swept during the teams' last three-game series in early March, but won two out of three to take the series last week.
Solomon Klimech's 11 strikeouts and Eastfield's three home runs sank the No. 4-ranked Bears 14-6 on April 11.
"Solomon went out there and threw well again for us," Coach Michael Martin said. "He gave us a chance to win."
The team followed that up with a second 14-run performance on April 13, stopping the game 14-4 in the seventh inning behind shortstop Jacob Perry's two home runs.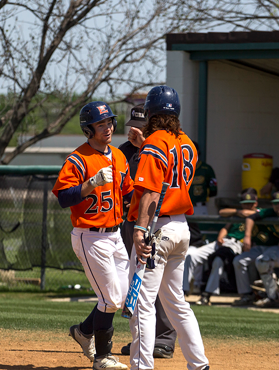 Brookhaven avoided the sweep with a 5-2 win on April 14 behind pitcher Antony Orta's 13-strikeout day.
In game one, Eastfield trailed 2-1 in the third inning when Perry jump-started the offense after drawing a walk from Brookhaven pitcher Jeremy Hammer.
Perry, who leads the nation in stolen bases, stole second and landed on third following a sacrifice fly.
"I just know they can't throw me out," Perry said. "I try to go early and often. I'll go on first pitch just to see how it is. That's usually the best pitch to go on, when they're sleeping."
Left fielder Jordan Parker, the nation's RBI leader, doubled to drive in Perry and set up a two-run homer by Tyler Lusher. Eastfield's offense gave Brookhaven's pitchers trouble the remainder of the afternoon before breaking away with five runs in the sixth inning and three in the eighth, including a Caden Bennett three-run home run.
"Hitting is kind of like a domino effect," Parker said. "One guy starts hitting, then the rest of our team starts hitting really well."
Parker pushed his home run total for the season to eight, placing him fourth in the nation. With 12 games left in the season, he is halfway to breaking the school's home run record. Perry ended the game with two stolen bases.
[READ MORE: Harvesters start their season with a dominant stretch]
Klimech, who leads the nation in strikeouts, struggled when the teams met in March. In that game, Klimech surrendered seven runs and didn't make it past the third inning before needing relief, putting the Harvesters in an early hole.
"I gotta keep my offense in it and they'll keep me in it," he said. "Brookhaven beat me last time I came out. I was definitely motivated this time to come out and not let them beat me again."
In Wednesday's game, Klimech survived a shaky fourth inning to take control of the game before Mike Tamez took over for the final two innings.
In the fourth, Klimech allowed a hit, a walk and a bunt that loaded the bases with no outs. However, the Harvesters cleaned up the bases with a double play, and Klimech struck out the next batter to end the threat. Klimech surrendered five runs on 11 hits through seven innings and struck out 11 hitters.
Eastfield coach Michael Martin said that the three home runs caused his players to get too comfortable down the stretch.
"I felt like there were a couple of guys who were giving some at bats away there because we were up by eight or nine runs," he said.
Martin believes that gave the Bears a chance to fight back late. In the ninth inning, Tamez gave up a home run to Kyler Grimsley on the first pitch, and loaded the bases with two hits and a walk.
"Shoot, I'm trying to end that game," Martin said. "Not give them an opportunity."
In game two, Martin's team traveled to Brookhaven and closed the game out early with another explosive offense showing.
Perry led the way for the Harvesters, going 3-for-5 with six RBIs and two home runs.
[READ MORE: Baseball aims to revamp pitching after mediocre season]
The game looked to be competitive early on, with the two teams tied 4-4 going into the sixth inning. Six runs in the sixth inning and four in the seventh put the Harvesters ten runs over the Bears, causing the end of the game due to the ten-run rule.
Jordan Parker, Trenton Dowley and Caden Bennett added to their RBI totals. Mason Krantz tallied three RBIs.
Pitcher Trevor Wiegel played a complete game for the Harvesters, surrendering six hits and striking out five hitters.
Game three was a defense-heavy match for both teams, with Brookhaven edging out the Harvesters 5-2.
Tyler Stone gave the Harvesters a chance, surrendering nine hits in seven innings and striking out ten hitters.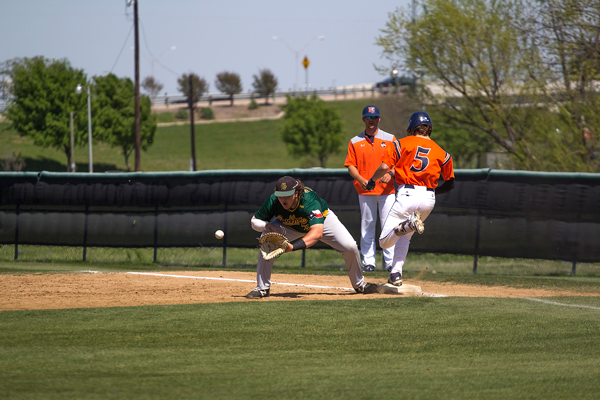 However, Brookhaven's Antony Orta, who is second in the nation in strikeouts, played a complete nine-inning game and struck out 13 hitters.
Martin, whose team is still three games behind the Bears in the conference standings, said he wants his players to quickly reset for the next game.
"That's a great win," he said. "That's a team that's ahead of us in the conference. We need to win. We need to beat them to get where we need to go, but that one we need to forget about it."
The Harvesters will take on Mountain View at home Wednesday, April 18 at 2 p.m.