Freshman guard finds motivation in NFL brother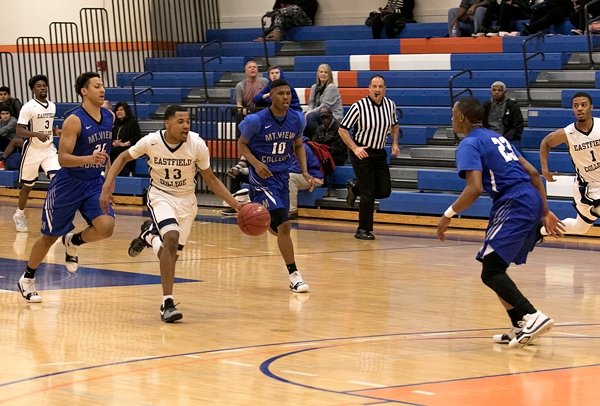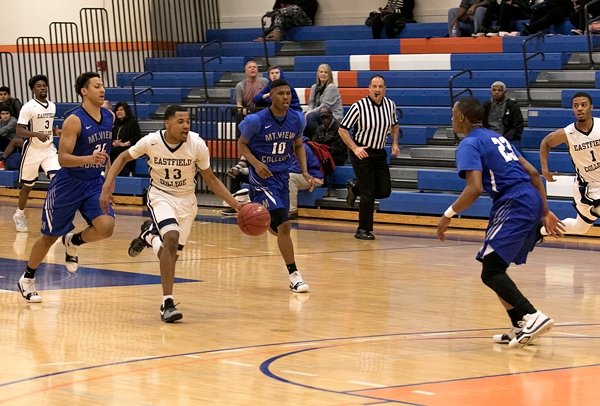 By JULIO VEGA and COLIN TAYLOR
@TheEtCetera
Freshman guard DaJuan Ridgeway passes the ball to his teammate Kuol Arop to bring the play to life on the offensive baseline. Ridgeway darts away from an opposing Richland player as the play builds up, with Sean Odum feeding Ridgeway the ball on the right side.
His moves into space as he hits a 3-pointer to start off the game.
"He just has a drive that other kids don't have at this point," associate coach Antonio Richardson said. "Normally a lot of freshman tend to shy away, but with his athletic DNA, a lot has trickled down into him."
That athletic DNA is also in his half-brother, Demetrius Harris, 26, a tight end for the Kansas City Chiefs. Harris played college basketball at Mineral Area College in Missouri and later club football at the University of Wisconsin in Milwaukee.
He was signed by the Chiefs as an undrafted player in 2013 for the practice squad and was in the senior squad by the next year.
Alex Smith finds @BreadWinner084 for a @chiefs TOUCHDOWN! #KCvsNE #ChiefsKingdom pic.twitter.com/did8wxcfkb

— NFL (@NFL) September 8, 2017
Harris often tweets about Ridgeway's progress at Eastfield, sharing videos and tweets by Fletcher after having put in a solid game. He's even had the chance to see a game in person, having visited for Eastfield's away loss to Richland Feb. 3.
"I'll support him any chance I get," he said. "I know how passionate he is for the game and I know how bad he wants it. When I was at a juco, him and my mama and brothers, they'd come to my games and when I was Milwaukee, too."
Ridgeway has helped the Harvester basketball team go 6-2 in conference. The team is in prime position to win the regular season title. With 12.5 points per game, 38.6 percent on 3-pointers, and a 42.5 percent from field goals, he's been a solid contributor to the team this season.
Ridgeway was a three-year varsity starter from Jacksonville High School basketball team in Arkansas when he was recruited by Richardson at a basketball showcase at Texas A&M in Commerce.
Richardson said the saw great traits in Ridgeway at the showcase, such as "his size, tenacity, leadership and athleticism."
Fletcher said he and Richardson know what players are the best fit for the program, and called Ridgeway a talented and dynamic athlete.
"Normally true freshmen don't make the team or get to play a lot," he said. "This kid is starting and playing well. He can control the ball, pass, shoot, defend, and do it all well."
Richardson wants to see Ridgeway become more aggressive. He believes Ridgeway is special, and that his strong-willed mindset will help him become a leader on the team. Fletcher said his versatility as a left-handed player "changes the game."
[READ MORE: Basketball tops conference table halfway through season]
Ridgeway said he credits his work ethic to Harris and his mother who raised five kids.
"He's the one always motivating us, so if the family was always down, he was the one trying to pick us up. I want to have his drive," Ridgeway said. "My mom is always trying to keep everyone's head on straight. She plays the 'soccer mom' role, be a team mom and make sure we are all good."
The youngest of five siblings, 18-year-old Ridgeway is following a similar path Harris took by attending a junior college. He said he's learned a lot from his older brother about the challenges of aiming to be a professional athlete.
"He showed me that it doesn't matter what college you go to in the world," Ridgeway said. "If you're good enough, somebody's gonna find you."
Growing up with Harris, Ridgeway said the two were always close. Ridgeway was a part of Harris' Amateur Athletic Union team and traveled to various locations to compete.
When he was younger, Ridgeway would occasionally suffer from seizures, and Harris acted "like it was the end of the world."
"He would panic and have a sense of urgency to get help," Ridgeway said. "He cared for me so much because I was his baby brother."
Harris said the episodes would worry his family, but they don't occur anymore.
"We'd always have to be alert with them," Harris said. "He'd probably have one about once a week. But luckily, we figured out what to do. We'd put him on his side, put a cold towel on his head, and then he'd be fine. I was young, so I didn't know what was going on. But it was tough seeing him go through."
Harris also helped Ridgeway's passion for sports. "Ju," as he is often called, has been playing basketball and baseball since he was about 4 years old. He also played football in his preteen and early teens years.
"I used to always see him play sports, so I want to be like him in sports," Ridgeway said. "My mom would say when we were at his peewee football games, I'd be running up and down the sidelines."
Harris said he deeply cares for Ridgeway and is constantly looking over his progress. Harris is always making sure Ridgeway isn't "around the wrong crowd."
"You have someone to look up to going in the right direction," Harris said. "I try stay on him, make sure he's on top of all his stuff, school work, and of course, basketball. I do my best to keep him focused. I want only positivity around him."
Over the summer, Ridgeway accompanied Harris for his NFL offseason workouts.
"It was fun having him around," Harris said. "It feels good knowing you have a little brother look up to you and you show him a successful path and have him around a lot of successful people."
Ridgeway said having a brother like Harris has help him grow, and he's motivated and compelled to exceed on the court.
"He was something like a father figure but at the same time, my best friend," Ridgeway said. "But I have to work harder because … people expect more out of you. Your family tree shows that someone in your family made it to that level, and you've got potential. It's a big weight on my shoulders."