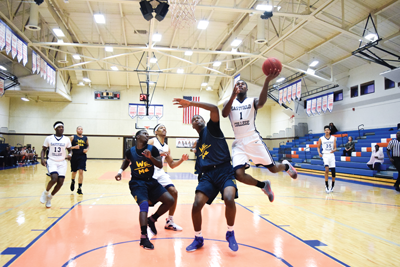 By BRIANNA HARMON
@BHarmonETC
Managing Editor
After starting their season 11-1, the Harvesters basketball team has moved to No. 1 in the nation.
The Harvesters now lead the nation in points scored (1,486) and average points scored per game (123.8).
Eastfield is second in the nation for assists and rebounds, averaging 27.8 per game and 51 per game, respectively.
Their only loss was to Temple Junior College, 121-118. Temple, a Division I school, has also played against fellow Dallas County Community College District college Richland, who lost to them 95-81 on Nov. 18.
[READ MORE: NEW BASKETBALL TEAM ANTICIPATES RETURN TRIP TO NATIONALS]
Shooting guards D'Angelo Streeter, who leads the team with an average of 17 points per game, Zack Duncan, who averages 13.8 points a game, and Ishmael Hook, who scored 28 points in a single game Nov. 22, have each been named Metro Athletic Conference Players of the Week.
Streeter is shooting 50 percent from the field.
"I feel like after all the work I put in, it's finally showing," he said. "I think there are places I can improve at like rebounding. [I take it] one day at a time and try to make the best out of every practice."
Duncan is shooting 46.5 percent from behind the 3-point arch.
"I'm really excited about this year," Duncan said. "We are playing well as a team. I'm a leader on the team. I will do whatever the team needs. I feel like we need communicate better and work on our defense."
The team leads the nation in 3-pointers attempted with 33.4 a game.
"They are playing great basketball," coach Anthony Fletcher said. "They are shooting the three ball really well. Probably the best since I've been here percentage-wise and also in makes."
[READ MORE: ANDERSON REPRESENTS EFC IN ALL-STAR GAME]
The Harvesters are full of guards. On any given night, Fletcher can start five guards.
"Guard play is big for us," Fletcher said. "If we start five guards, a team will have to guard a four or five man. And who is tough enough to do that? Guys can get more minutes [playing] by being tough enough."
Conference play starts at Eastfield against North Lake College at 2 p.m. Jan. 14.