Pride despite defeat: Eastfield finishes fourth in tournament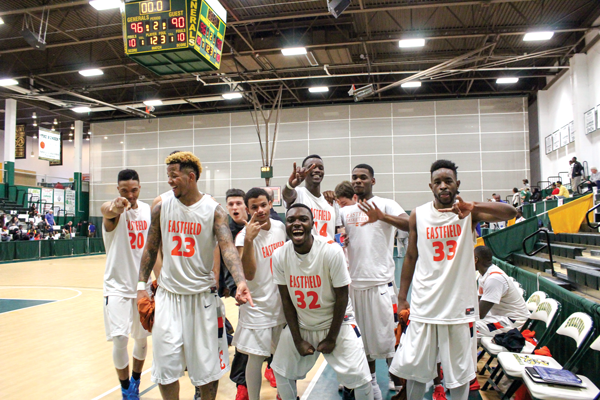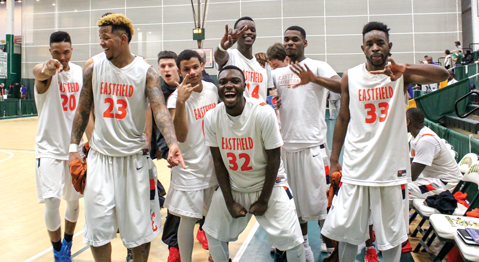 By Brianna Harmon
LOCH SHELDRAKE, N.Y. — After a first-game loss in the National Junior College Athletic Association Division III national tournament, the Eastfield Harvesters basketball team rallied with back-to-back victories to finish fourth in the nation.
Eastfield lost its tournament opener to Nassau Community College from Garden City, New York on March 10 despite a record-breaking performance from shooting guard Ed Williams.
The Harvesters followed up the loss with two wins against Bunker Hill Community College from Massachusetts and Mohawk Valley Community College from New York to finish their season with a 26-8 record. The win over Mohawk Valley, 96-90, was in overtime.
"This tournament can be a life-changer for different people in different situations," Eastfield coach Anthony Fletcher said. "It's about the experience they receive from here. It's all stuff for the basketball resume and experience resume."
Fletcher was named Region V Coach of the Year at the pre-tournament banquet, and former Harvesters coach Bob Flickner was inducted into the NJCAA Men's Basketball Coaches Association Hall of Fame.
Williams made the all-tournament team, broke the Eastfield record for most 3-pointers made in a game (10) and finished first in the nation in 3-pointers made (123) in a season.
Williams said he would do whatever it takes to help the team win.
"I accomplished my goals coming into the year by making it to New York and getting on the all-tournament team," he said. "I wanted to be No. 1 in the nation [in 3-pointers], and I accomplished that. I can put that on my resume. I can tell people I'm a big-time shooter."
Williams hit eight 3-pointers and finished with a season-high 39 points in the tournament opener, but it wasn't enough as the Harvesters lost to Nassau 97-86.
The Harvesters fell behind with five minutes left in the first half and trailed Nassau the rest of the way.
"I'm so hurt," Williams said after the game. "I feel like I left it all on the court. I wanted to win so bad that I felt I had to make every shot."
After the game, Williams was almost sent to the hospital for severe muscle cramps.
Danzel Whitemon scored 23 points against the Hawks, adding 14 rebounds and five assists.
"Always being the underdog growing up and being overlooked motivates me," Whitemon said. "I think I ended my [junior college] career great. I was relentless. I wanted to leave some kind of legacy at Eastfield."
The trip marked the first time that some Eastfield players had ever traveled on a plane, and many had never been to New York. They were surprised to find themselves in the middle of the Catskill Mountains, about two-and-a-half hours north of New York City.
On the bus ride to the Villa Roma Resort, the players joked that it was like they never left Texas because they were still in the country.
"When I saw that we were staying in the country, I was honestly shocked," forward LeTron Manning said. "Naturally, anyone from Texas, when you think New York, you think the city. I did not expect New York to have any country cities because they are on the East Coast."
Though the team was so far from home, they still had fans in the stands.
Executive Vice President of Academic Affairs and Student Success Michael Gutierrez, Dean of Science, Technology, Engineering and Mathematics Gretchen Riehl and Assistant to the President Sharon Cook joined the team in New York.
Army Capt. Marcus Thomas, a forward who played for Eastfield in 2001, also came to support the team. Thomas' Harvesters lost in the championship game that would have given the team a ticket to New York.
After the Harvesters lost to Nassau, Fletcher told his players not to give up because so many former Eastfield athletes, like Thomas, had fought to make it to the tournament but fell short.
"We still want to go out and win games," Fletcher said. "I told them let's do it for Flickner, do it for Marcus Thomas. … This is history. We are a family."
Statistically, the Division III national tournament is the toughest championship to qualify for. Only 6.9 percent of teams make it. Fletcher said he is proud of his team for persevering after losing the nation's leading scorer and a key reserve midway through the season.
He said he feels like a NJCAA veteran now because it was his third time coaching in the national tournament.
"You are very calm and confident coming into it," he said. "You've been in those locker rooms before. You've been to those practices before. We see some of the same people. The first year, you walk in like, 'It's awesome to be here.' The second time you walk in, it's like 'I want to know more about this place.' And the third year, you walk in like you own it."

Read additional stories about the Harvester's adventures in New York at etceterasports.wordpress.com.
Harvesters beat Bunker Hill, advance to fourth place game in national tournament
Harvesters drop tournament opener despite big game from Williams