Harvesters win fourth in national tournament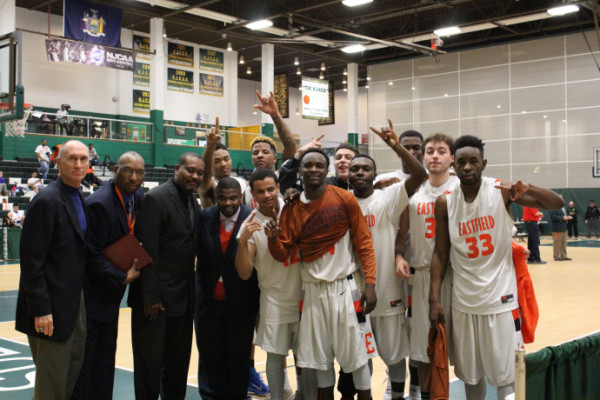 By Brianna Harmon
LOCH SHELDRAKE, N.Y. — The Harvesters finished fourth in the national tournament after beating Mohawk Valley Community College of Utica, New York, in overtime 96-90.
Ed Williams led the team's victory by scoring 29 points. Williams also racked up 14 rebounds in the tournament and 17 assists. Throughout the tournament Williams scored a total of 81 points and was named to the all-tournament team. He also broke the school record for most threes made in a game and finished first in the nation for 3-pointers made.


"I feel good," Williams said. "I ended the tournament good. I ended the season good. … I accomplished my goals coming into the year by making it to New York and getting on the all-tournament team. I wanted to be No. 1 in the nation and I accomplished that. I can put that on my resume. I can tell people I'm a big time shooter."
Danzel Whitemon followed Williams lead by scoring 23 points against the Hawks, adding 14 rebounds and five assists.
"I was just playing basketball," Whitemon said. "Always being the underdog growing up and being overlooked motivates me. I think I ended my (junior college) career great. I was relentless. I wanted to leave some kind of legacy at Eastfield."
Mohawk Valley's Janeel Frith was ejected from the game after hitting Whitemon in the face with the ball.
The Harvesters win over Mohawk Valley was decided by free throws late in the game. Mohawk Valley's Ahmet Bademkiran fouled out along with the ejection.
Other leaders for the Harvesters were LeTron Manning with 13 points and Donald McBride, Zack Duncan and Tre Anderson finished with 8 points a piece.


The Harvesters finished the season with a 26-8 overall record and an 8-2 conference record.
Fletcher is proud of the team and how they ended their season.
"This tournament can be a life changer for different people in different situations," he said. "It's about the experience they receive from here. It's all stuff for the basketball resume and experience resume."