Former basketball coach selected for Hall of Fame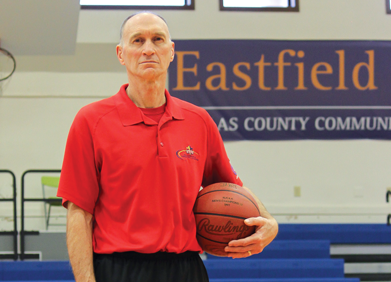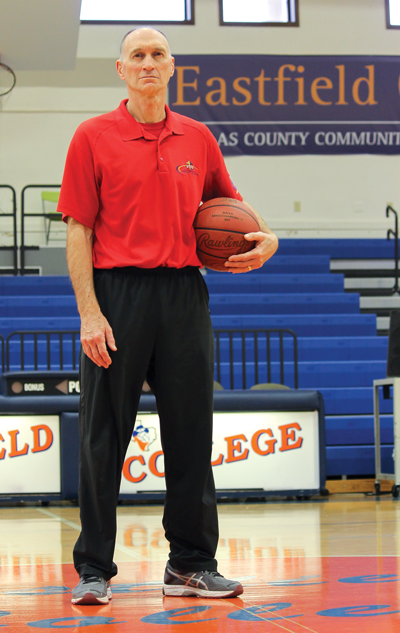 By Brianna Harmon
After 23 seasons as head coach, 15 conference titles and one national championship, former Eastfield basketball coach Bob Flickner has been selected to be inducted into the National Junior College Athletic Association Men's Basketball Coaches Association Hall of Fame.
Flickner had just birdied his last hole and was walking off the golf course when his phone rang. It was Eastfield basketball coach Anthony Fletcher giving him the good news.
"I was in shock and very humbled and thankful," Flickner said. "It's due to all these players over the years and their work. I basically just drove the bus and kept it between the ditches."
Flickner gives all of the credit to the athletes he's coached.
"Over the years, we have had hundreds of players and they deserve the credit for this award. I don't," Flickner said. "What is neat now is looking back and seeing where they are at now."
Flickner's greatest memory was coaching his son at Eastfield. Blake Flickner graduated high school early in December and came to Eastfield mid-season in spring of 1994. The first game he played was in Kansas, and he said he would never forget when his son came into the game and made his first 3-pointers. Blake Flickner is now head coach at Dallas Baptist University.
Another player on the 1993-94 Eastfield team was Mesquite High School basketball coach Brian Curts. That team was a small eight-man squad that ended up winning the conference championship.
Curts says that Flickner was a calm and fair coach.
"The way that he coached me helped me be a better coach," said Curts. "Just being in the atmosphere at Eastfield, the winning tradition, and the work ethic helped me a lot coming out of college when I did decide that I wanted to teach and coach."
Fletcher calls Flickner a great Christian man with strong values and one of the founding fathers for the Eastfield athletics program.
"I want to hang banners in the gym like he did," Fletcher said. "I know he didn't start the program, but he was here for so long and did such a great job."
He led Eastfield to 12 consecutive conference championships and 15 in a 16-year span. His teams routinely played in the national tournament between 1986 and 1998, winning in 1997.
Flickner served 14 years as the director of athletics on campus and was the NJCAA Region 5 representative for several years.
Flickner is still a physical education professor on campus. He was honored at the spring convocation ceremony for 40 years of service to the district.