Hoopin' for success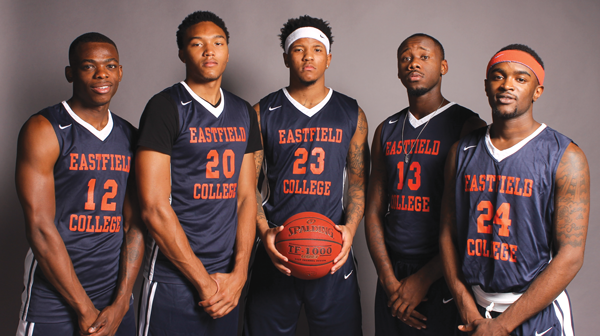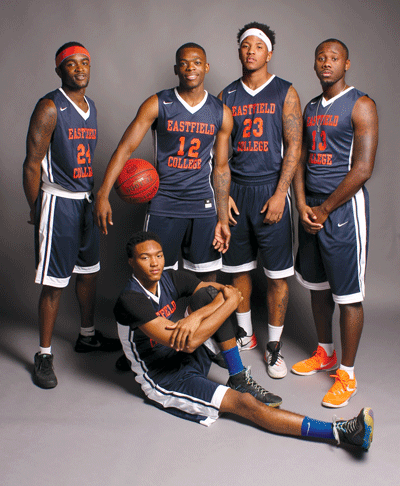 Harvesters return strong behind veteran 'Glue guy'
By Gabriel Flores
The Eastfield Harvesters men's basketball team has retooled and is determined to restore the program's winning ways.
Last year Eastfield finished with a 19-11 record but was just 3-7 in Metro Athletic Conference play and lost in the opening round of the Region V Tournament. That was a tough blow for a team that had captured back-to-back MAC regular-season and Region V tournament championships and advanced to the national tournament in 2012-13 and 2013-14.
The Harvesters have a strong basketball tradition, boasting the second-most national tournament appearances with 13, the most MAC championships with four, winning the national title in 1997, and finishing as the national runner-up three times, most recently in 2013. It's a tradition that sophomore guard Tevin Corprew knows first-hand, having played on the 2013-14 team that finished fifth in the nation. And he is determined to lead Eastfield back into the national spotlight.
"I think I'm the 'glue guy,'" Coprew said. "I keep everybody together. Guys will get down on themselves and I'll have to tell them, 'It's OK, move on to the next play. I've got to be a leader on this team to get us back where we were two years ago."
Corprew's performance that season helped him earn a scholarship to play at Collin College, but an injury has landed him back at Eastfield under the familiar tutelage of coach Anthony Fletcher, with one season of eligibility remaining.
"He's a special player," Fletcher said. "He has some great ability. I honestly think Tevin is a Division I player. I've seen him with my own eyes. I've seen him match up with those guys."
That ability was on full display in a preseason intrasquad scrimmage where Corpew stuffed the box score with 44 points. He went 7-for-9 from 3-point range and 11-for-13 from the free-throw line. His ability to score inside and out impressed his teammates.
"Tevin's got a really high basketball IQ, and playing with him raises your IQ," said forward Tre Anderson, a transfer from Our Lady of the Lake University.
Along with Corprew, forwards LeTron Manning and Danzel Whitemon also return, hoping to bounce back from last season's disappointment. Whitemon was voted Newcomer of the Year for the Harvesters in 2014-15, and he earned the title "Junkyard Dog" from his coaches and teammates for his tenacious defensive play and relentless rebounding.
The three returners hope to bring a veteran presence to a team with an influx of young talent that includes players like Scott Garriaga, a 6-foot-5 power forward from Wylie who has good hands and agility for his size, and 6-7 forward Myron Wright of Houston Conroe.
"This is probably our best big, skilled, true freshman class," Fletcher said. "We've got some size that we may not have had in the past. We don't need a 7-footer to win a national championship."
Fletcher enjoys the luxury of reaching deep onto his bench, which plays into the up-and-down style of the high-scoring team.
"I think we've got guys that can come off the bench and produce," Corprew said. "When starters leave the game we won't have to worry about who's going to score. It definitely takes pressure off the starters not to have to score all the points. … We could play 10 on 10."
Fletcher has also taken notice of his veterans' progression as leaders.
"I think Manning is doing a good job trying to be a vocal leader and trying to get the young guys to the right places at the right times," he said. "[Corprew, Manning and Whitemon] have been in the program. They know what we expect. They know what we want. They know what we need."
That sort of leadership extends off the court as well, and Fletcher said his players often respond well when they're held accountable by their own teammates.
"It's good to hear from a cohort instead of a supervisor, a coach, a teacher," he said. "There's somebody else that's the same age saying, "Hey, man, coach is right. We've got to come on."
The returners will help newcomers like Tre Anderson, a four-year transfer student from Our Lady of the Lake University in San Antonio get acclimated to Fletcher's fast-paced, free-flowing "Freedom Offense.
"I love it," Anderson said of his new offense, "I'm a transition player. That's where I get most of my points."
Last year Eastfield averaged nearly 95 points a game, shooting 42 percent from the field and 31 percent from beyond the arc. The Harvesters are off to another good start this season, topping the century mark in each of their first three games.
"It's freedom." Corprew said with a smile. "If you think you can take your man, take him. It makes you play better because you can really play your game. When I went to other schools it was like you're a robot. You have to make seven passes before you can do something with it."
However, the Harvesters have plenty of room for improvement on the other side of the court.
"Second-level defense needs to step up more," Anderson said. "We just need to communicate more. We also need to move with the ball and not be reactionary."
As the season approaches there is still time for the Harvesters to sharpen their game in anticipation of a grueling schedule that includes 10 competitive MAC games. Seven of the last 10 national championships have featured a team from the Harvesters' conference.
"If you get out of Dallas you have a great shot of playing for a national championship," Fletcher said. "You are battle tested. It's brutal. It's a battle every night in conference. Whether you're in first place or last place, you can get beat."