Harvesters' winning streak ends with 3-point loss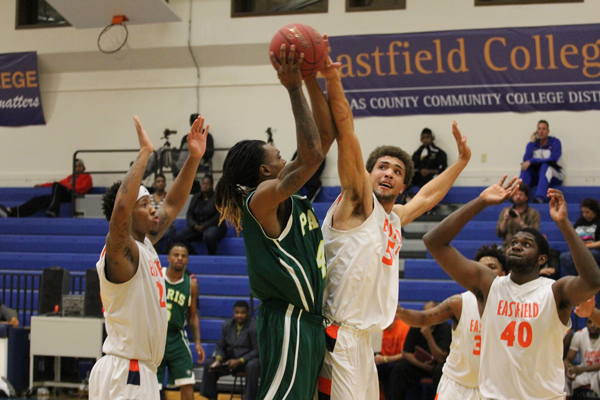 By Tony Neese, Brad Watkins and Carolina Catalan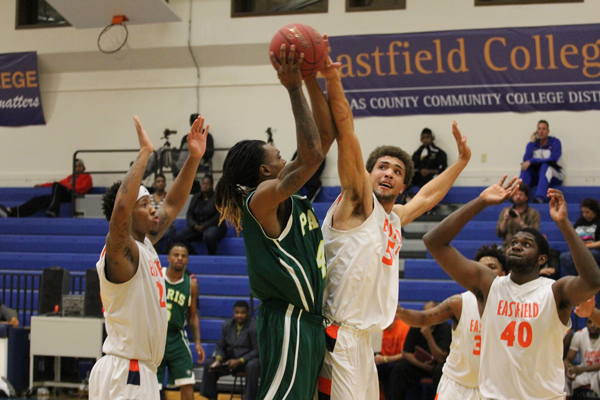 After winning 11 games, the Eastfield Harvesters lost their first game of the season Nov. 25 against Paris Junior College and are now 12-1. The following is a roundup of the Harvesters' games played during the past two weeks.
Eastfield 101, Southeastern Oklahoma State JV 92
With a team-high 31 points, 13 rebounds and six steals from guard Danzel Whitemon, the Harvesters picked up a road win over Southeastern Oklahoma State University in Durant, Okla., on Nov. 17.
Eastfield held on in the second half after only leading 49-42 at halftime. Majycal Howard (22 points), Walter Bell (20 points) and Chadd Dansby (10) also scored in double figures. Forward Youssef Kaoud controlled the boards with 11 rebounds.
Eastfield 97, Tomball JC 84
After holding a slim 39-38 first-half lead, Eastfield outscored Tomball 58-46 in the second half Nov. 20.
Once again, Eastfield spread the ball around, with all five starters ending the night scoring in double figures. Kaoud had a double-double, scoring 21 points on 10-of-14 shooting and grabbing 17 rebounds. Howard contributed 17 points and eight assists; Bell had a team-high 22 points; Earnest Matthews had 15, including four 3-pointers; and Whitemon added 11.
Eastfield 108, North Harris 74
Guard Donald McBride came off the bench to lead the Harvesters in scoring for the first time this season with 22 points as Eastfield went to Houston and defeated North Harris Junior College by 34 points Nov. 21.
Reserve forward Mark Caldwell also had his best game of the season, posting a double-double with 18 points and 11 rebounds, and Jonathan Frazier scored nine points off the bench by shooting 3-for-4 from behind the 3-point line.
Eastfield dominated the boards with 64 rebounds and shot better than 40 percent from 3-point range.
Eastfield 96, Tomball JC 88
Eastfield won its 11th game in a row, but had to fight back from a 46-41 halftime deficit on the road to do it Nov. 22.
Six Eastfield players finished in double figures, led by Howard's 20 points and Whitemon's 17 points and 12 rebounds. Matthews added 16 points, Bell and reserve Paris Yerry had 12 each and Kaoud had 10 points and seven rebounds.
Paris Junior College 102, Eastfield 99
Eastfield saw its five-point halftime lead disappear in the second half as Paris outscored the Harvesters 63-55 in the second half to take a narrow three-point victory in Mesquite.
Howard led five Eastfield players in double figures with 23 points. He was followed by Whitemon with 21, McBride with 16, Matthews with 11 and Letron Manning with 10. The Harvesters committed 20 turnovers in the game compared to 12 for Paris.
Eastfield 137, Texas Wesleyan JV 105
Seven players scored in double figures, including all five starters, as Eastfield shot 58 percent from the field and rolled to a 32-point home win over Texas Wesleyan's junior varsity Nov. 26.
Kaoud led the way with a double-double, scoring 25 points on 10-of-16 shooting and pulling down 14 rebounds. Whitemon chipped in 21 points on 9-of-11 shooting. Also in double figures were Howard with 18 points, Matthews and Bell with 17 each, Williams with 11 and Dansby with 10.