'Not one … not two …' – LeBron James, 2010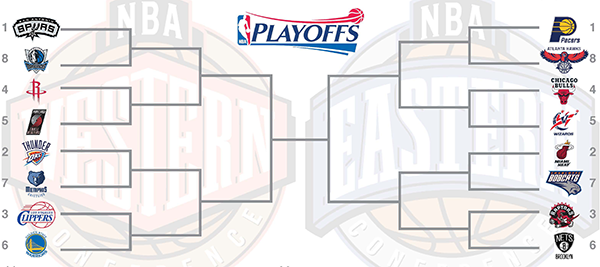 Editor in Chief Kevin Cushingberry Jr. takes a look at the first-round NBA playoff matchups and LeBron James' quest to fulfill his promise to win multiple titles for the Miami Heat. As the playoffs continue, look for updates/reactions on each series as well as our postseason awards on eastfieldnews.com.
Western Conference


No. 1 San Antonio Spurs (62-20) vs.

No. 8 Dallas Mavericks (49-33)
No matter how much Mavericks fans believe in Dirk Nowitzki (deservingly) and minnie-mite guard Monta Ellis, they have little to no chance of beating their Southwest Division rival, the No. 1-seeded Spurs in a seven-game series. These teams share five of the last 15 NBA titles and are led by future Hall of Fame power forwards Tim Duncan and Nowitzki. But the difference is the Spurs have four titles to the Mavs' one, and although he coached Dallas to its only championship, Rick Carlisle isn't exactly Gregg Popovich.
Prediction: Spurs win in 5


No. 2 Oklahoma City Thunder (59-23) vs.

No. 7 Memphis Grizzlies (50-32)
Last spring, the Grizzlies pulled off one of the biggest upsets in recent playoff history with a 4-0 sweep of Kevin Durant and the Russell Westbrook-less Thunder. Westbrook missed 37 games this season after suffering a torn meniscus against the Rockets in the first round of last year's playoffs, and Grizzlies all-star center Marc Gasol also was sidelined 24 games with a knee injury. I expect Durant and Westbrook's motivation to land them in the conference finals, fighting for a 2012 rematch against the Heat.
Prediction: Thunder in 6


No. 3 Los Angeles Clippers (57-25) vs.

No. 6 Golden State Warriors (51-31)
All-star point guards Chris Paul (Clippers) and Stephen Curry (Warriors), who both were among the league leaders in assists this season, will go head to head in Curry's second career playoff series. Curry takes on more of a scoring role for his team, while Paul is focused on creating and getting the ball in his teammates' hands. Supporting casts will play a big part in this matchup of stellar point guards.
Prediction: Clippers win in 7


No. 4. Houston Rockets (54-28)) vs. 

No.  5. Portland Trail Blazers (54-28)
This matchup is going to be run and gun. The Rockets are led by sharpshooter James Harden, who scores 25 points per game. At the end of the day, Harden is the best player on the court for either team, and his teammate, Dwight Howard, is the best big man in the league when he wants to be. The Blazers' all-star duo of Damian Lillard and Lamarcus Aldridge are among the best in the league, but  they'll be inferior in this tag-team showdown.
Prediction: Rockets win in 7

Western Conference champion prediction: Spurs win in 7 games over the Thunder
Eastern Conference


No. 1. Indiana Pacers (56-26) vs.

No. 8. Atlanta Hawks (38-44)
On April 9, the Hawks took a 29-point win over the No. 1-seeded Pacers. No one outside of the city of Atlanta thinks the Hawks can dominate the Pacers in a seven-game series, but on that night you could have talked me onto the Hawks bandwagon. The story here is about the Pacers' struggles to finish the end of the season. Every once in a while, when Paul George calls an iso-play, you'll catch one of his teammates looking at him like "what the hell are you doing?" This is followed by a turnover or a missed off-balance 19-foot fadeaway. The Pacers might get it together to win this series, but they won't beat Miami in the conference finals.
Prediction: Pacers win in 6


No. 2. Miami Heat (54-28) vs.
No. 7. Charlotte Bobcats (43-39)
Talk of Durant breaking LeBron James' MVP streak will likely light a fire under James, whose Heat are the two-time defending NBA champions. Dwyane Wade started just 52 games, his lowest number since the 2007-08 season. Despite Wade's injuries, the Heat should advance past the Bobcats.
Prediction: Heat win in 4


No. 3. Toronto Raptors (48-34) vs.

No. 6. Brooklyn Nets (44-38)
The Nets sat their starters on the final day of the season, avoiding the Chicago Bulls (who beat them in the first round of last year's playoffs) in favor of a matchup with the Atlantic Division champion Raptors. Trading away Rudy Gay helped open things up for the Raptors on the offensive end, and the Nets' acquisitions of Paul Pierce and Kevin Garnett brought a veteran leadership presence to the Brooklyn locker room.
Prediction: Nets win in 6


No. 4. Chicago Bulls (48-34) vs.

No. 5. Washington Wizards (44-38)
I'm not sure if Noah's ark in the Bible had bulls on it, but Joakim Noah has definitely carried the Chicago Bulls through the storm this season. When Derrick Rose went down with yet another knee injury and all-star forward Luol Deng was traded mid-season, Noah never wavered (and got my vote for defensive player of the year). Despite Noah's galiant effort, the Wizards just have too much offensive firepower, even though Noah doesn't think so.
Prediction: Wizards win in 7

Eastern Conference and NBA champion pick: The Heat beat the Pacers in 5 games in the conference finals and edged the Spurs in 7 in the Finals.