Final Four experience was an amazing feeling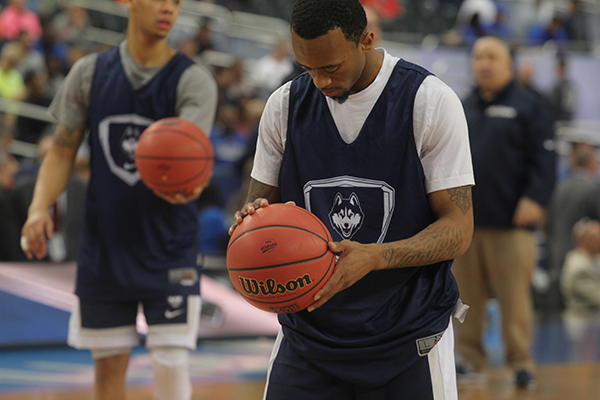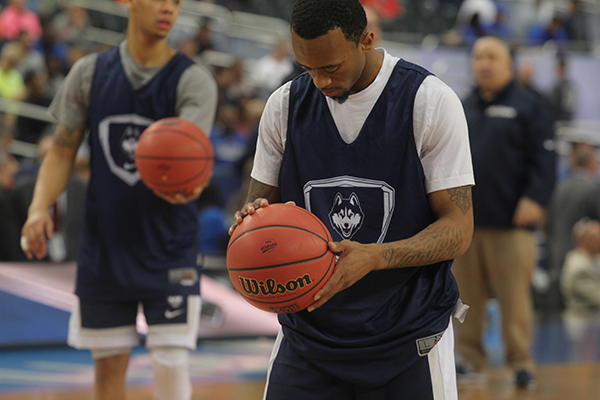 By Kevin Cushingberry Jr.
I could hardly sleep the night before. I tweeted out my excitement, writing "Big day tomorrow," but little did I know just how big the day would be.
I woke up bright and early. Well, really, it was just 6 a.m. April 4 but that's about six hours earlier than my ideal wake-up time.  I had to be at AT&T Stadium, affectionately dubbed "The Jerry Dome," by 8:30 to pick up my all-day media pass. That would give me full access to each of the Final Four practices, news conferences and the Reese's All-Star Game.
I made it through security and soon was introduced to Malcolm Moran, the director of the National Sports Journalism Center at Indiana University and organizer of the United States Basketball Writers Association's 2014 Full Court Press Sportswriting Seminar. I gave Moran a hometown Dallas welcome, and he thanked me for my southern hospitality.
Before I knew it, students from all over the country were piling into the conference room in the press box. I made time to take a photo of the court below. It was a mind-blowing moment.
ESPN's Dana O'Neil, Pat Forde of Yahoo! Sports and Jim O'Connell of the Associated Press spoke at the seminar, which lasted about an hour.
All were in Arlington to cover the Final Four, and they talked about their experiences covering sports professionally.
O'Neil, a woman in a male-dominated industry, talked about the tough skin it takes to be a female journalist, or any journalist for that matter. Forde, a former columnist for the Courier-Journal in Louisville, Ky., and now a featured ESPN columnist, talked about how sports writers can't worry about people hating or loving them because they're not always going to say the popular thing.
O'Connell, who became the national college basketball writer for the Associated Press in 1987, talked about how practice makes perfect. He encouraged journalists to write as many stories as possible and compare them to professionals. He also talked about how the media has changed since he covered his first Final Four in 1987.
Following the seminar, the USBWA Oscar Robertson Player of the Year award was presented to Creighton's Doug McDermott. I sat alongside journalists from national media outlets at the press conference and asked questions just like they did.
Afterward, I met Oscar Robertson. For me, a kid who grew up enthralled with sports and learning about the all-time greats, meeting Robertson was like meeting a former U.S. president.
I kept thinking, "Wow, this is the only player ever to average a triple-double."  He is arguably the greatest point guard ever.
Later, the moderator told us that University of Connecticut coach Kevin Ollie and his players would be available for comment. Ollie's demeanor was amazing. He talked about how each member of his coaching staff was a former UConn player, and how UConn stood for something. I'd want to play for him, I thought to myself.
After the press conference, I followed the other journalists to the court. I showed security my badge and was able to walk right onto the court with my camera and laptop.
It was an amazing feeling being in the middle of the stadium where the Cowboys play, and being under that video board hoping it didn't drop.
As I was taking pictures of UConn's Shabazz Napier, rubbing elbows with photographers from publications ranging from the  Orlando Sentinel to Sports Illustrated, I looked to my right and saw former NBA stars  Grant Hill, Steve Kerr and Greg Anthony talking to former Huskies coach Jim Calhoun. It was a crazy scene.
I had been a Kentucky fan since John Calipari left Memphis to coach the Wildcats in 2009. Getting to interview Calipari and the Fab Five 2.0 was a great experience. As I sat in that press room alongside reporters from ESPN, CBS and MSN interviewing the top college athletes, I felt a sense of belonging.
Although I'm the editor of a community college newspaper, and my writing has been published for a couple years, I never had confirmation that this whole journalism thing was for me. I got that from covering this Final Four. I walked away knowing I'll be writing about college basketball for years to come.