Shockey looks to finish his career on a high note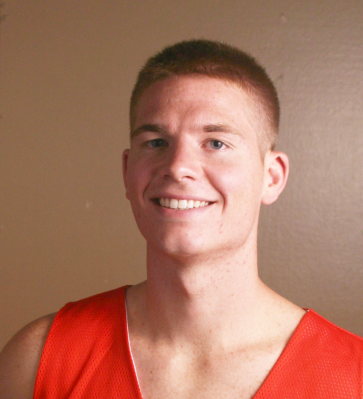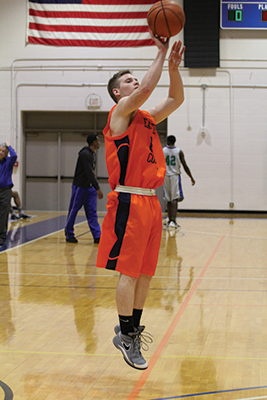 By Kevin Cushingberry Jr., Editor in Chief
A win was on the line every night in the Shockey family's front yard in Haltom City. The one-on-one basketball battles became so competitive, twin brothers Josh and Aaron hung a poster on their bedroom wall keeping tally of each victory. More than 100 slashes on each side of the poster reminded them just how important every game was.
The basketball court wasn't the only special
place for the Shockeys. From a young age, Mike
and Deborah Shockey instilled faith in their children. The family would charter buses to take students from local schools to Fellowship Church in Fort Worth.
"Faith was a big part of my life growing up," said Josh, now a guard on the Eastfield basketball team. "Since my redshirt year, I pray with the team after every team event. That's a big thing for me."
While redshirting, Shockey transferred from Fellowship Church's Fort Worth campus to a satellite site in downtown Dallas. There, he became an intern under Pastor Kevin Batista, leading more than 40 volunteers every Sunday.
"Josh is a young man of great character," Batista said. "He's a leader, and it takes a lot for a 21-year-old to lead a group of adults. That definitely says something about him as a person."
Former Harvester all-American Semar Farris suggested that Shockey play for Eastfield  after they met at 24 Hour Fitness. Shockey contacted head coach Anthony Fletcher and joined the team in fall 2011.
"It's always helpful when one of your players recommends a guy," Fletcher said. "Depending on the situation, some of those guys can help out a lot, and Shockey turned out to be one of them."
Following summer workouts in 2012, Shockey became a team captain alongside Farris and another guard, Brock Hunter. The 2012-2013 team went 29-5, including 9-1 in the Metro Athletic Conference, and advanced to the national championship where they would lose by six points.
Shockey still remembers the sting of watching Brookdale accept the championship trophy.
"When we were on the other side of the court, the whole time I was thinking it's time to move on to next season," Shockey said. "It felt so bad to lose such a close game. I knew we had to work harder than ever to come out on top."
Fletcher said he sees passion in the returning players' eyes whenever they talk about making it back to New York and competing for a national championship.
"We were inches away from the top of the mountain and didn't get there," Fletcher said.
"We came back hungry, starving, thirsty … You want it so bad because you felt the experience of falling short."
In his second season as captain, Shockey has helped Eastfield to a 22-5 record while averaging 10 points a game and shooting 40 percent from behind the 3-point arc. The Harvesters have sustained a top 10 national ranking throughout the season and Shockey has improved his career record to 29-4 when playing at home.
"He's a true leader," Fletcher said. "He's a guy that's going to be side by side with his teammates and always try to do things that's best for the team."
In January, Shockey was announced as one of six Eastfield athletes named to the Chancellor's Award list, having maintained at least a 3.75 GPA throughout the fall 2013 semester. With just one class left on his associate's degree plan, and one semester of eligibility, Shockey's time at Eastfield is coming to a close.
The Harvesters are tied with Richland for the lead in the Metro Athletic Conference and if they advance, will be only the second team in school history to make back-to-back national championship runs.
For Shockey, after this season he hopes to play basketball at a four-year university while finishing up work on his bachelor's degree.
After college, Shockey wants to have his own business. His coach thinks possibilities are endless.
"Sky's the limit for Josh," Fletcher said. "He's motivated, he's smart, and he's a hard worker. He can go anywhere he wants to go. He can do anything in his life he wants to do. He just has to go out there and do it.