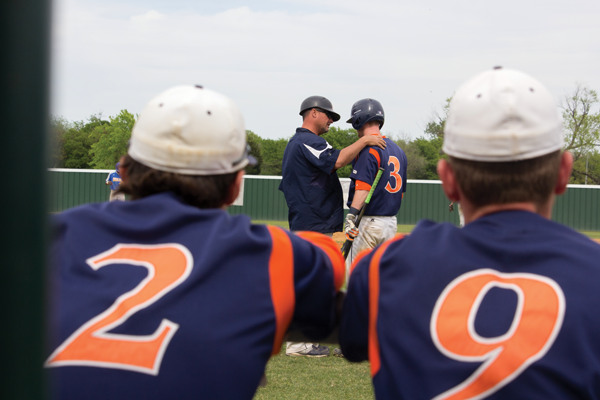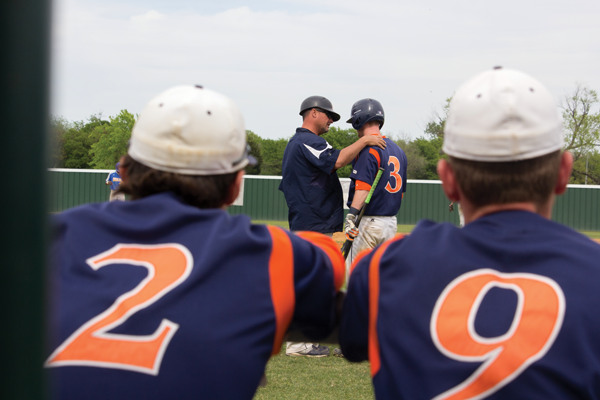 By Gabriel Flores
The warm spring sun beats down on the damp infield dirt and stretches into the outfield, creating a reflection across a sea of tapered blades of grass. There is a rhythmic crackling of metal spikes on the cement floor of the dugout as, one by one, the Eastfield Harvesters trot onto the field and into position for pregame warmups.
Coach Michael Martin stands just outside the dugout, tossing a handful of David's sunflower seeds into his mouth, cracking down on them and spitting out the shells. He is positioned so that any player walking out the left side of the dugout has to pass him.
"Hey, nice hair," Martin cracks at one of his players. "Did you get that permed?"
Whooping laughter pours out of the dugout just minutes before the Harvesters' game against North Central Texas College. Although things will soon turn serious, Martin's demeanor has the team loose and relaxed.
"Coach Martin is a tough teddy bear," said Eastfield assistant coach Travis Graves, who pitched for the Harvesters under Martin in 2007 and 2008. "He gives off the persona that he is tough and in your face and hard-nosed, but deep down he's got a heart of gold."
Martin has been the face of Eastfield College baseball for the last 15 years, leading the Harvesters to seven Metro Athletic Conference championships, seven Region V championships and two NJCAA national championships.
But for all the wins and championships Martin has enjoyed in his nearly 30 years as a player and coach, what matters the most to him are the meaningful relationships he has formed with his players.
"You hope that you make some kind of impact on these guys," he said. "I tell them all the time that the ones I'm proudest of are the kids that have gone on and made something of themselves in life. Or when they say things like, 'Hey, coach, I met a young lady and we're getting married and expecting our first child.' "
Family first
Martin's emphasis on success in life and family was instilled in him early on by his parents.
He grew up in Duncanville, the youngest of five children. His mother Marie was a physical education teacher who had played college softball, and his father George taught history and coached baseball at Crozier Tech High School in Dallas.
All of the Martin children played multiple sports, and Michael and his older brother Maury went on to play college baseball. During his junior season at Louisiana Tech, Michael played nearly every position before settling into the closer role. Maury was a catcher at Texas A&M. The two teams played each other a few times, but the brothers never faced each other at the plate.
Martin spent much of his early years with his father's teams, playing in the dugout and running around the field. He even remembers meeting country singer Charlie Pride in the stands once.
When Martin was 8 years old, his father gave up coaching to make more time for his family and to help his sons on the baseball field. Even then, he still had to make some difficult choices.
At the age of 12, Martin's team qualified for the American Amateur Baseball Congress World Series in Hapeville, Georgia. His mother joined him on the trip, but his father had to stay home to take Maury to another tournament.
So George Martin called each night, asking for details of every pitch Michael threw, every at bat and any other detail that Marie, the self-proclaimed encyclopedia of the family, could remember. Then father and son would talk strategy, discuss what he did well and, of course, where he could improve.
Martin's team went on to win the championship. When they landed back home at DFW Airport in the early morning hours, Martin sleepily walked through the gates. Much to his surprise, the first person he saw was his father. The memory still makes Martin tear up today.
"I knew how much he wanted to be there at those games and couldn't," he said.
Living on two teacher's salaries taught Martin the importance of hard work, family and an education.
"As a parent, you see life like a ladder," George Martin said. "My parents never went to college, and even though I went, I wanted my kids to have a better life than me. Out of all the baseball games and championships, my biggest thrill was watching him walk across that stage [with a college degree]."
A history of success
Family would also play an important part in Martin's decision to attend Louisiana Tech University in Ruston, Louisiana. The school's small-town feel reminded him of home.
In his three years (1987-1990) as an infielder and later a relief pitcher for the Bulldogs, Martin became the school's all-time leader in saves with 14, a number that still ranks third all-time 26 years later. During the 1989 season, he finished with a 5-0 record, a dominant 2.00 ERA and eight saves, a school record that stood until 2000. Martin was awarded the team Most Valuable Pitcher award at the end of that season.
"I don't think he ever lost a game," George Martin said. "They just ran out of innings."
After graduation Martin was offered an opportunity to stay with the team as a graduate assistant. A year later he was hired as a full-time assistant coach and spent the next four years as a pitching and infield coach before a head coaching change left him without a job.
At that point, Martin began second-guessing his coaching career and the direction of his life. He was 27 years old and didn't know if he could be successful in coaching.
He found himself back at his parents' house searching for answers and a possible career change. A friend offered him a job at Nation's Bank in Dallas, and Martin was seriously considering it. The drive home from the bank gave him plenty of time to think.
Rush hour had brought traffic on Interstate 35 South to a standstill. Rows of cars were lined up for miles, bumper to bumper, and the smell of gasoline and hot asphalt coated the air. The 20-minute drive back to Duncanville turned into an hour.
And then Martin's decision was made.
"I can't do this," he told himself. "I can't be a banker. I can't be in this traffic. I can't be stuck commuting day in and day out. I need to be on the baseball field. I need to be outside. I need to be working with kids."
Martin eventually accepted a head coaching position at the University of Arkansas-Monticello in 1997. He left UAM as the second-winningest coach in the school's history before coming to Eastfield in 2001.
Since taking over the Harvesters' program, he has helped produce six NJCAA first-team All-Americans, and 35 of his players have gone on to play at four-year colleges. He was also named the NJCAA Division III Coach of the Year in 2005.
"I've won over 400 games here," Martin said. "I'm probably coming up on 500, I don't even know. Those are some pretty big milestones as coaches, but for me it's more about how many can I win in one year with one group of guys so they can experience as much success as they can and go as far in baseball as they can go. That's what it's about."
An open door
Martin does more than just win games. He acts as confidant and mentor to his players.
"There's so many of those guys who just sit in his office just to vent," Graves said. "His door is always open."
Sophomore pitcher Evan Rodgers remembers a difficult conversation he had with Martin about his grades.
"Rodgers, I know you're a smart guy," the coach told him. "You talk politics all the time on the field."
It was exactly what Rodgers needed to hear.
"He challenged me and made me want to be the person I wanted to become," he said.
Pitcher Brandon Saddler said Eastfield's players appreciate their coach's open-door policy.
"It's something that you don't get everywhere," he said. "Coach Martin is completely different, in a good way. I'm so thankful to be able to play for him."
Sometimes the mentoring sessions happen after their playing careers are over. After receiving his bachelor's degree from Delta State, Graves returned to Eastfield and was an assistant coach on the 2011 national championship team. Following that season, he was faced with the decision of accepting a graduate assistant position at Southern Mississippi or continuing to coach with the Harvesters.
Graves dreaded the thought of returning to school, but Martin assured him that a master's degree would open the door to future coaching positions and possibly other opportunities. He also assured him he would still have a job after graduate school.
"You've got your whole life to work," Martin told him. "Go back to school. Your baseball career is going to end, and when it does, you will have to have something to fall back on."
Graves called that the best decision he's ever made. He returned to Eastfield in 2012 after earning his master's degree and is grateful for Martin's advice.
"I think as baseball coaches we get so caught up in wins, losses, recruiting and the daily grind that we forget that we have a mom and a dad, a girlfriend or a wife and kids, stuff outside of baseball," Graves said. "One of the things he taught me is to not take those things for granted. Coach Martin is there to say, 'Hey, take a step back and see that there is a bigger scope to this thing than just baseball.' "