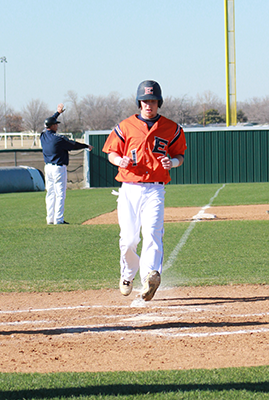 By Kevin Cushingberry Jr., Editor in Chief
Just six months ago, one swing of Michael Fredoboelling's bat clinched the regular season Metro Athletic Conference title for the Eastfield Harvesters baseball team. The win against Richland rewarded the Harvesters with their fourth consecutive conference title. They finished with a conference record of 21-9 and were the No. 1 seed in the Region V postseason tournament.
Little did they know that at the time, the hit would be the last one of the season for the Harvesters. Because a player was found academically ineligible, Eastfield forfeited six wins and dropped to fifth in conference with a 15-15 record. Only the top four teams advance to the regional tournament.
"I wasn't at practice that day because I was sick," catcher Taylor Empkey said. "My roommates came back and they let me know. They told me something was up because Coach Martin and Coach [Travis] Graves had to leave practice early to go to a meeting. That was weird because that never happens."
Martin said the fact that an off-field issue ended the season was disappointing because the Harvesters never reached their full potential. He believes it will be a learning experience.
"Hopefully, it will help us if we face adversity in the future," he said. "If we take a tough loss somewhere down the road, we'll have last year's adversity and that will help us overcome those situations. The only way you can look at it is to take some positives out of it and move forward."
The Harvesters return 16 players from last year. Martin said many still have a bad taste in their mouths. One key player returning is center fielder Gavin Gregory.
"My first response was anger," Gregory said. "I was mad because we put in so much hard work to win the conference, and then found out our season was done."
Gregory took a month off from baseball activities at the end of the season. He then turned his focus toward weight training.
"The offseason was a time for growth for me," Gregory said. "I got bigger, I feel stronger. I'm ready to get the season in full swing."
Sophomore pitcher Will Birge, who Martin said will contribute greatly from the mound, said he feels good about new teammates that have joined him and the other 15 returning players.
"I feel good about our team, everyone's real excited and expects to go all the way coming off of last season," pitcher Will Birge said. "Coach Martin went out and recruited well to add to the guys coming back."
Gregory said this team is solid.
"We're going out and we're winning it this year," he said. "I want to put a ring on my finger, and then my ultimate goal as an individual is to become and all-American. "Empkey said the chemistry is equally important to him.
"A national championship would be phenomenal," Empkey said. "The way I really look at it though is how awesome is it to get to meet all these guys. You're in college for four years generally, ideally playing baseball all four years so you meet a lot of cool guys. Personally, meeting guys and building relationships is huge for me, that's what I'm all about."
So far, the team is 2 – 0 after starting the season off on the right foot, winning a doubleheader against Bossier-Parish. Freshman Dalton Brewer said the team's chemistry has been great.
"With this team there's just a bond," Brewer said. "Everybody gets along, everybody's best friends with each other. If I make an error or something, they might mess with me but then they'll tell me to fix it. That really helps me out. We all are here for each other. I'm excited for the season."