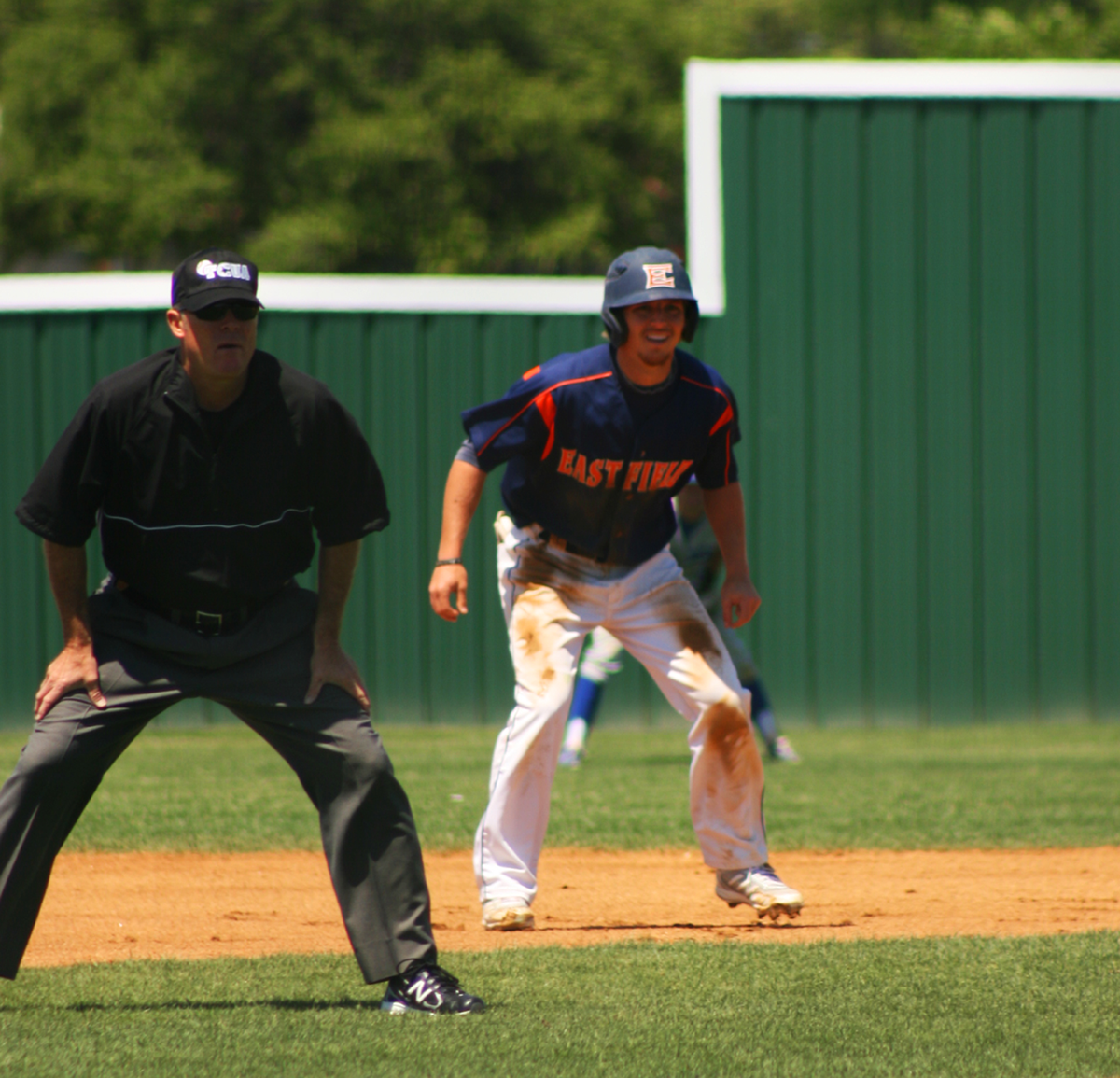 BY KEVIN CUSHINGBERRY JR., EDITOR IN CHIEF
Last fall, freshman center fielder Gavin Gregory was flying around the football field as a safety for the L.D. Bell Blue Raiders. Now, he's using his speed on the base paths to help the Eastfield Harvesters baseball team contend for a title.
Coach Michael Martin said Gregory's playmaking ability on the football field has contributed to his performance on the diamond.
"I can see it in his game," Martin said. "He's got great instincts. He's a natural athlete."
Gregory has already stolen 28 bases, more than any player in the Metro Athletic Conference and the third-most in the nation. He also leads the MAC in hits, doubles and runs scored. Eastfield (25-18, 16-7 in the MAC) is ranked eighth in the nation and first in the MAC.
Gregory was recruited by several colleges after earning second-team all-district honors in football and first-team all-district recognition in baseball. He decided he would play the latter in college.
"I've been playing football and baseball all my life," he said. "I had a couple offers to go play football, but I couldn't see myself not playing baseball."
However, Gregory still had to decide which school he would attend.
"I actually verbally committed to North Central Texas College, but they ended up dropping my scholarship," he said. "That's when I got a call from Coach Martin."
Martin said Gregory made a strong impression on him during a recruiting trip to L.D. Bell.
"We actually were recruiting [freshman catcher Taylor Empkey] from his high school," Martin said. "I happened to see Gavin. He could run, hit and he had a decent arm. I felt like he'd be a good fit for our team."
Martin said Gregory has delivered on that potential this season.
"He's met every expectation," Martin said. "He's our leadoff hitter, he gets on base, and he's stolen a lot of bases for us. He's been a leader for us, too. It's not just statistically what he's done for us. He comes to practice, he works hard and sets an example by how he goes about his job out there. It's been a pleasure having him."
Sophomore pitcher Miguel Saaverda said Gregory's faith and leadership have inspired his teammates.
"He lifts us all up," Saaverda said. "He's a leader as a freshman. There's only a few sophomores, so that's a pretty big role that he's taken on."
Gregory hopes to build on the success the Harvesters have enjoyed in recent years.
"My first goal is to win the MAC, and then our ultimate goal is to win a national championship," he said. "I want to win a ring."
Saaverda said Gregory's presence at the plate, on base and in the outfield has helped him this season.
"Having a player like Gavin gives me more confidence as a pitcher," Saaverda said. "Knowing that I have someone who can do what he can on the defensive and offensive side of things really helps out."
Gregory said his first year at Eastfield has been everything he could have wanted.
"It's surpassed my expectations," he said. "I love this team, love this program. College ball is so much different than high school ball. I'm having an absolute blast."