Volleyball maintains perfect record in conference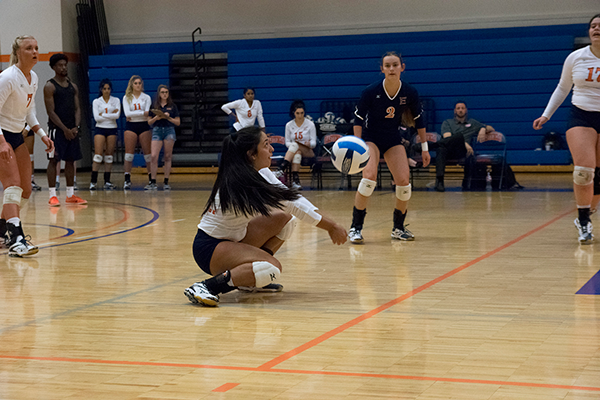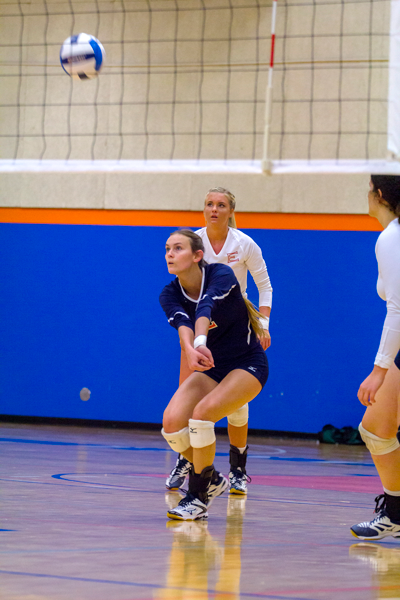 The Eastfield women's volleyball team has not dropped a single set in conference play on their way to being No. 3 in the nation.
Coach Brandon Crisp attributes the success to the entire team's effort during practices and praised the depth and talent across the entire roster.
"It takes everyone on the team to get where we are at," he said. "If our A-group is No. 1 in the country, then the team on the other side of the net during practices better be the No. 2 team in the country. So since we're ranked No. 3, the team on the other side better be No. 4."
Outside hitter Keishla Reyes continues to lead the nation with 76 service aces and leads the team with 234 kills while Kerstin Fredrickson adds a further 205 kills. Fredrickson said the team seems stronger compared to last season.
"We don't have any weak positions," she said. "Last year we weren't always the best on the right side or other certain spots. I think every person this year makes an extremely good contribution to the team."
Libero Alyssa Tomlin has made a team-leading 396 digs, with fellow libero Maura Munoz adding another 305. Munoz said the team must keep its focus and not let their guard down, no matter the team.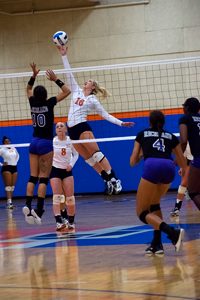 "We need to act like every game and every point is the last one," she said. "Sometimes we play teams that we know we're better than them and already in our head, we think, 'Oh, we got it. We don't even have to try our best and we got it.' We have to step into the shoes of playing all out for every point."
Crisp said the team put itself through a more vigorous schedule, playing more high-level teams and participating in an extra tournament at to improve the squad.
"Part of it is we want to test them because I know we did very well last year," he said. "I want to make sure that we're prepared to finish conference."
Crisp also believes that the depth the squad has helped the players find their roles and benefitted the entire team, saying this team was "more well-rounded than last year."
"Yeah, we've won 12 matches, but we've had so many different lineups this year," he said. "We've had at least five or six different lineups. You can't say it's been one person."
Despite the favorable record, players have stated that there are still areas where the team can improve. Fredrickson said she needs to be more consistent in serving, having made more service errors, 38, than service aces, 32.
Middle blocker Chloe Hope both stated that a lack of communication at times has cost the Harvesters points during matches.
Setter Kalli Caddell said the team's best aspect is how close and energetic everyone is with each other.
"We don't let each other get down on ourselves," she said. "It keeps us up and keeps us positive the whole time. If a mistake happens, let's always be encouraging to a teammate."
Tomlin said the team expected losses but knows how to deal with them.
"I know we've lost a few games at the beginning of this season against some really tough teams," she said. "But it didn't bring our morale down. We can't go undefeated the whole season. Once we got past that, we kept going and now where not losing so nothing is going to stop us."
The Harvesters played North Lake Oct. 2, after press time. They start their latter half of conference play hosting Mountain View College Oct. 9.
Crisp said the Metro Athletic Conference opponents will keep getting better every year and repeating another undefeated conference season will be difficult for Eastfield.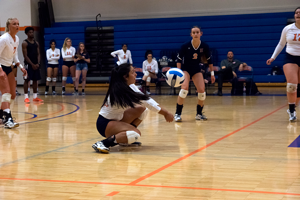 "Things can shift every year in conference," he said. "I'm looking forward to all the games we play. There's not one match that stands out to me."
Many of the team members have stated their alleged "rivalry" with Brookhaven and Cedar Valley. However, Tomlin said she's looking beyond their conference.
"I'm looking forward the most to the national championship because I really think that we can make it this year," she said. "I think we're going to make all the way past regionals and all the way to nationals."
Nothing out of reach: Women's soccer goalie Gabriela Roa ranks second in the nation in shutouts despite size