Twins return for second chance after injuries during freshmen year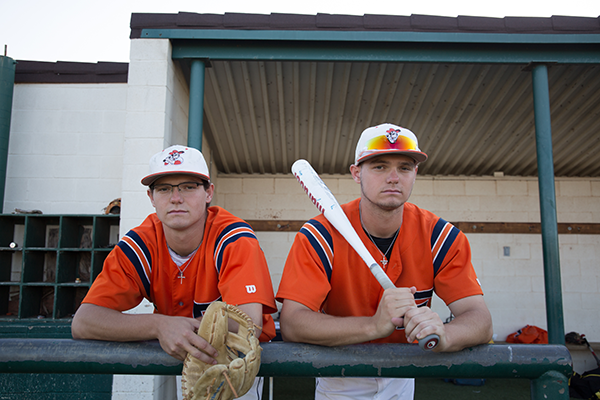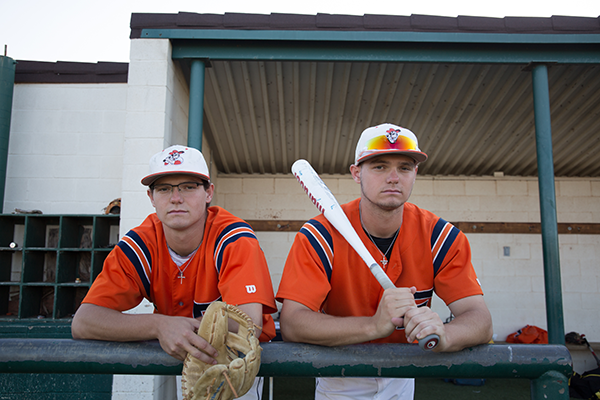 Identical twins Tyler and Tanner Foy were 7 years old when their grandfather introduced them to baseball. Many afternoons were spent playing catch, and their love for America's pastime only grew as they got older.
"My husband's father played college baseball, and he loved it," their mother, Karen Foy, said. "He started working with Tyler and Tanner out in his front yard, and they were just naturals."
Everything about them screamed baseball: their upbringing, their passion and their physicality. Eastfield coach Michael Martin saw this.
"You look at them and they're 6-foot-3, probably about 200 pounds," he said. "They're pretty athletic, and both of them can run pretty well. What first drew us to those guys was that they were some pretty physical specimens coming out of high school."
Moving from Venus, Texas, to Mesquite in 2015 was a big jump for the Foy twins. But they knew that playing for the Eastfield Harvesters, a team with three national titles, would be worth the journey.
As seniors at Venus High School just the year before, they made history by advancing to the regional semifinals, one game within the state round.
Everything seemed to be going well for the Foys. Then the injuries happened during the Harvesters' 2015-2016 baseball season.
Early that fall, Tyler tore the ulnar collateral ligament in his right elbow. His pitching arm was no longer useful, and his season ended before it began. He underwent the Tommy John surgery soon after.
Tanner cemented his place as a starter at first base, but his season was also cut short after just six games when he suffered a fractured femur.
[READ MORE: Editorial: Campus lacks events]
The brothers knew they would lose a year of eligibility if they didn't step down, so both opted to medically redshirt themselves. Now, as college sophomores, they are getting a second chance to play college ball, again as freshmen athletes.
Martin said that both their injuries set them back emotionally, and now they want to make up for lost opportunities.
"It took a toll on both of them because they wanted to come out and play," he said. "They wanted to perform. It took a little while for them to get over that."
Despite their injuries, their love of the sport gave them hope for the future.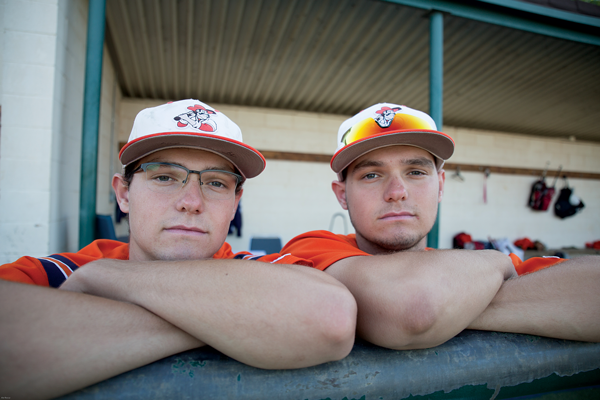 "Baseball has always been a huge part of our lives for the past 12 years and changed the way I look at life," Tyler said. "If you work hard, you'll have good outcomes, even if things don't go that way at first."
Karen said baseball defines them now, but they were actually pursuing a different sport when they were younger.
"We started them out in soccer," she said. "We thought they would probably be bored with baseball. They were really good in soccer. They played on an indoor select soccer team for just a little bit."
After their grandfather introduced them to baseball, their ties to the sport never faded.
Tyler hit his first Little League triple when he was 7 and threw his first-ever no-hitter at 15.
Tanner's father, David Foy, bragged about his son's consistent hitting record.
"Tanner has come through with clutch hits his whole life when a game was on the line," David said.
Tanner only began playing on first base as a high school sophomore, being an outfielder prior to the change.
"They needed a first baseman, so the coach started teaching me first base from there," he said. "Ever since then, I've been playing first base."
The Foys now room with starting pitcher Paul Bowman, whom they consider a brother.
The twins deliver pizza for Domino's on the weekends while in season. Juggling school, baseball and work has often been hard for them, but they said they would always support each other.
Karen said their bond as brothers helps fuel their competitive side and feels they are better when on the field together.
"They have always [played] together," she said. "They drive each other and help each other. If one is struggling at the plate, the other can tell what he's doing wrong, so they fix each other when they're having problems pitching or hitting. They coach each other."
Both twins want to major in business administration and entrepreneurship. Their goal is to one day own their own fast food chain.
Tanner said it's great having someone who shares the same goals in life as him, but they do have their differences.
"He's more of the one who gets into stuff," Tanner said. "I'm kind of the one who sits back and watches. We definitely have two different personalities."
Their parents know exactly how different they are with their father referring to them as "night and day."
"Tanner is quiet, shy and kind of laid back," Karen said. "Tyler is 'all about me' and likes being the center of attention."
Martin said he would like for both to be more vocal. He believes they can become leaders for the team this season and maybe the next.
"They're guys who have been in this program now going on two years," he said. "They know what the expectations are from us as a coaching staff. That's invaluable to some of these freshmen. They have that experience that they could set that example for the rest of our program and demand some work ethic out of our other guys."
[READ MORE: So What Music Festival Review: The Human Experiment]