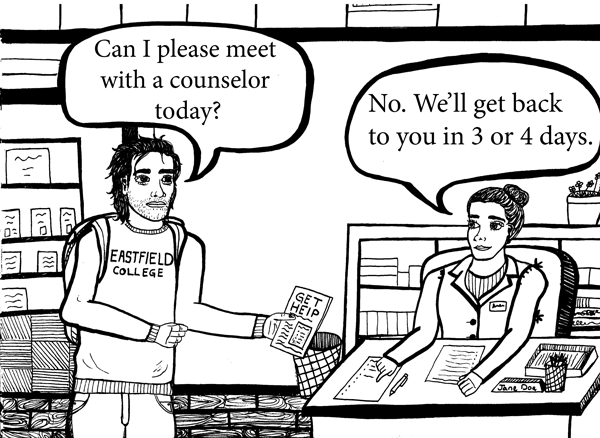 In the chaos of campus life, students are especially susceptible to drug and alcohol addiction.
Whether they're popping pills to stay awake through finals, smoking to calm their nerves or drinking alcohol for the first time, college is where many people are introduced to addiction.
A support system is vital in reducing the damage, but despite being the only Dallas County Community College District campus to currently offer a drug counseling certification program, Eastfield offers no specialized counseling services to addicts.
A 2015 survey conducted by the University of Texas at Austin found that 26 percent of students from two-year and four-year institutions across the state were abusing prescription drugs, while 25 percent reported using illegal substances such as marijuana or opiates.
Campus officials insist there is no drug problem on campus, but with all students living off campus and no direct resources for addicts, the problem doesn't necessarily have to manifest on Eastfield grounds to impact students.
Enrollment, student retention and graduation rates are all at risk for struggling students, making this a problem for the college itself.
Additionally, Eastfield police have made five arrests related to drugs or alcohol in the past four months.
Three of the five offenders were registered students, two arrested for possession of marijuana paraphernalia and one for public intoxication. All three were released shortly after.
We commend Eastfield for offering free general counseling services, but appointments must be scheduled days in advance and may not be timely enough for students looking for an outlet. Additionally, a mere two licensed counselors are currently available for a student body of nearly 15,000.
Steps are rightly being taken to offer services to addicts with plans to implement online surveys to help students identify possible addictions, and Eastfield counselor Katie Neff has plans to bring Alcoholics Anonymous and Narcotics Anonymous meetings to campus.
But the problem should be addressed more thoroughly at the administrative level.
Hiring more counselors can cut waiting times for the counseling office, and hiring substance abuse counselors, perhaps even some educated by Eastfield, can only improve life for students struggling with addiction.
Most people come to college to improve themselves. An easily accessible support system for addicts and addicts-in-the-making cannot only improve the quality of life on campus but potentially save lives as well.