Volleyball season ends in 3-0 loss to Brookhaven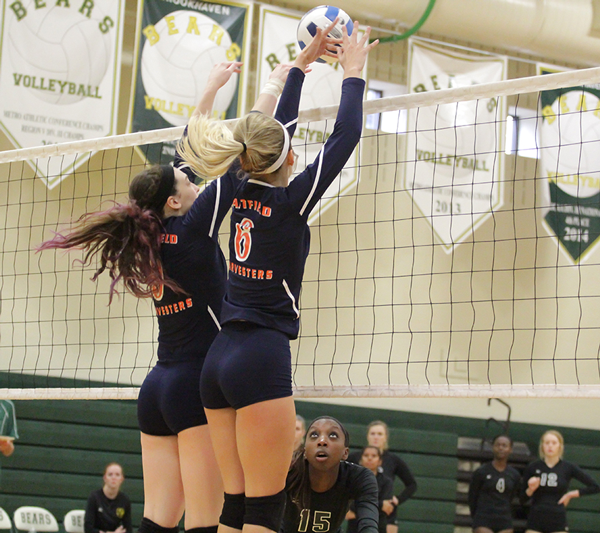 By Brianna Harmon
The Lady Harvesters' volleyball season ended Oct. 31 in the Metro Athletic Conference tournament championship match with a 3-0 loss to top-seeded Brookhaven College.
Eastfield came into the game without any preparation beating North Lake 3-0 in the semifinals the night before.
The Harvesters were also missing outside hitter Cailey Clogston due to a discipline issue during practice.
"If Cailey [Clogston] had played, we would have won," captain Mckayla Petters said. "She was our starter. If we were down, she could bring us up."
The Harvesters started the first set off slowly, falling 25-12.
Coach Brandon Crisp believes nerves were to blame for the rough start. The team had 11 errors in the first match, which is more than the Harvesters had the rest of the night.
"I think every game we played we had a bad first set because you're still getting warmed up," freshman outside hitter Myka Morehead said. "It happens every game on both sides."
The second set was much closer, ending 25-20.
Offense has been Eastfield's weak spot this season said Crisp. Crisp gave credit to Brookhaven's defense that it is very strong, and that it is hard to score on.
"The hardest thing to do was put the ball on the floor," Crisp said. "Unless we can score points, it is going to be hard to win."
The third and final set ended 25-10.
The athletes felt like it was over in the final set and that there is nothing else they could do to get the win.
"I feel like we were trying, but it got to the point where there was nothing else we could do," Morehead said. "After the second set, it was all downhill. We were still pushing, but it felt pretty helpless."
Outside hitter Karina Lay had four kills and 21 digs during the match. Right side hitter Megan Murphy added five kills and nine digs.
"I did the best I could helping out," Lay said. "I just wanted them to know I did the best that I could for them."
Eastfield ended the season ranked fourth in the nation with 2,152 digs and second in the nation with an average of 21.96 digs per set.
The Harvesters were also fifth in the nation for total attacks with 3,715.
"I'm proud of us as a team," Petters said. "Even getting recognized as a Division III and being up there in the ranks is absolutely amazing."
The team finished with a 16-13 overall record and an 8-3 conference record.
"We had a really strong bond, and that is what won most of our games for us," Petters said.