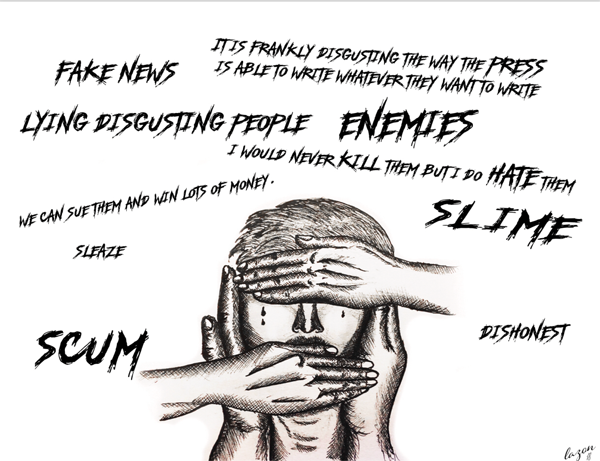 The most criminally underused right we have as Americans, aside from the power to vote, is the usage of our free speech to open meaningful and intelligent dialogue.
While there are many channels to express our right to freedom of speech, the right to a free press and free speech works hand in hand to hold politicians and the government accountable in the eyes of Americans.
With this in mind, it's strange to see that according to a recent Ipsos survey, 26 percent of Americans agree, "the president should have the authority to close news outlets engaged in bad behavior."
Ipsos conducted the survey with the American public to learn more about how Americans view the modern press and public support for suppressing "anti-patriotic" journalism.
We at The Et Cetera, who've railed on and on about the importance of freedom of speech and freedom of the press, are shocked, and frankly, disappointed to see that about a quarter of Americans want to strip themselves of one of their own fundamental rights.
With the recent news of the death of foreign journalist, Jamal Khashoggi, President Donald Trump was critical of the deception and loss of integrity the Saudi Arabian government pulled off. It was reported he was considering sanctions as a response.
We were almost happy with this news. For a brief moment, the president seemed like he was going to make a true turnaround with his thoughts about American journalism.
It was a naive assumption. On the night of Oct. 18, president Trump joked about an incident in May 2017 where House of Representatives Republican candidate Greg Gianforte body-slammed Guardian reporter Ben Jacobs.
Trump joked with a campaign rally crowd in Missoula, Montana, where he praised Gianforte for the incident: "Any guy that can do a body slam, he's my kind of guy."
We do not intend to say that journalists should be treated with reverence or be free of criticism, but with these negative sentiments still in the forefront, we feel it's important to point out the significance of the freedoms of press and speech.
These freedoms have educated, compelled and held people in power responsible.
The national Free Speech Week celebration is a reminder of the importance of speech throughout our country's history.
Despite this celebration often focusing on treasured journalist and activists, there is massive potential in every person when they utilize their free speech.
Free speech is important because it can be used in several forms, not just on a large scale.
Drawing awareness to institutional faults or wrongdoings helps increase the accountability for local government and public schools.
Simply questioning the status quo of our society is important to social and intellectual progression.
We encourage you to not only recognize the impact free speech and a free press have had on our country, but also to stand by in protecting those freedoms and exercising your ability to speak out.