Eastfield volleyball keeps win streak live, bringing it to six games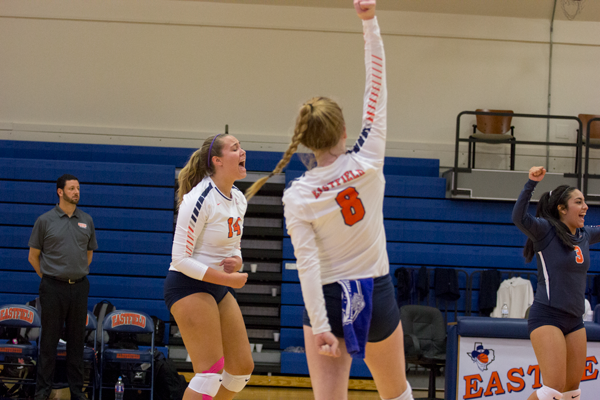 The Eastfield volleyball team beat Richland College 3-0 at their opponent's home court Sept. 24, keeping their win streak alive with six victories.
While each set got off to a rocky start, the squad rebounded to sweep the game. The first set ended 25-14, the second 25-13 and the third 25-14 again.
Richland struggled against the Eastfield servers. The Harvesters had 16 service aces. Sophomore outside hitter Keisha Reyes was particularly strong in service, scoring 8 aces.
Overall the team played well, with head coach Brandon Crisp utilizing a deeper lineup than he had used in the previous conference matches.
Some of the team's non-starters performed well. Freshman setter Gabriella Mize had 11 assists to go alongside her one kill and a solo block. Freshman right side hitter Skylar Fowler had three kills and a block in her debut set of the conference season. Kylie Cobb, another freshman right side hitter, had a kill, a service ace and three digs.
To go along with her 8 aces, Reyes also had four kills, three assists and seven digs. Four kills is low for Reyes, but that's mainly due to the outstanding performance from teammates Chloe Hope and Catherine Mudd. Sophomore middle blocker Hope had 11 kills on the night, teaming up well with sophomore setter Kalli Caddell, who had 22 assists to go with a kill, two service aces and five digs. Freshman outside hitter Mudd had a team leading 13 kills, one service ace, five digs and a solo block. Sophomore libero Maura Munoz was all over the court defensively, getting 15 digs and scoring off a service ace. Alex McPherson finished with four kills, an assist and a block.
Richland held in each set, with freshman outside hitter Lorena Perez keeping Richland alive early. Perez had 10 kills and 12 points on the night, but otherwise Richland struggled to get points on the board, receiving minimal contributions from the rest of the team.
Richland started particularly strong in the second set, trailing only 12-10 before Reyes began serving, busting the lead open to 19-10 and ultimately finishing the set 25-13. Richland also kept the third set close, including a point with a 7-7 tie. Eastfield substitutes took a 7-7 tie and turned it into a 25-14 victory.
The women look to take their six game win streak to Mountain View on Sept. 27.