Eastfield volleyball starts new season as defending national champions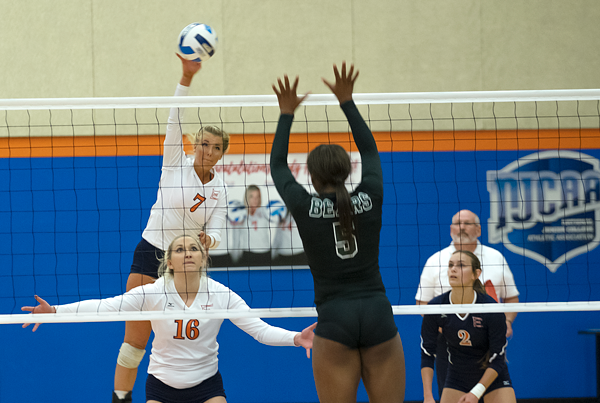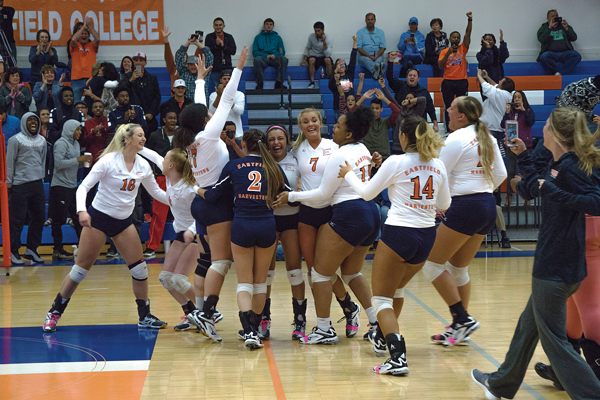 The Lady Harvesters volleyball team kicks off its season with a No. 1 national ranking, a veteran squad and a national championship to defend.
The team, which claimed the NJCAA Division III national title last November, began their preseason with a 3-0 sweep at Paul Quinn College on Aug. 22, followed by their participation in the Vernon College Classic after press time on Aug. 24 and 25.
With eight returning players, two of whom are national stat leaders, the Lady Harvesters know they have a target on their backs.
Outside hitter Keishla "Kiki" Reyes, who led the nation with 118 aces last year and was named the national tournament's most valuable player, said the team has to prepare for opponents bringing out their best efforts against them.
"We have to take it even more serious this year," she said. "We have more people who know our name who are going to try to beat us."
Head coach Brandon Crisp said despite the talented squad, repeating as champions will be a difficult task.
"It's almost easier to get there [the first time]," he said. "It's gonna be harder to keep it there and keep doing that same thing, especially because everyone is gonna be going after you… I believe that they have the potential to be better than last year's squad, but it's only potential. It hasn't been realized yet."
A year ago, the Lady Harvesters dominated their conference opponents, not dropping a single set until their 3-2 win over Cedar Valley during the Region V semifinal. When the team reached the national tournament, the only dropped set came against Harper in the championship match.
Setter Kalli Caddell, who made the all-tournament team at nationals with her 100 assists, said that the celebratory energy coming off of last year's win settled when two-a-day practices began.
"It was still kind of in my mind like 'oh my gosh that's so exciting,' but at the same time, the first day of two-a-days you have to step back and [realize] this is a brand new team," she said.
The new team lost key players Faith Faulkner, Kerstin Fredrickson and Payton Costlow to graduation. However, the team is bringing in 11 promising freshmen, a group that Crisp began scouting and recruiting at the UIL state tournament the week following the national championship match.
"As far as getting ready, it started when we got back from the championships," he said. "We got back [and] I hit the road recruiting."
That puts 19 players on Eastfield's roster, the most that Crisp has ever had during his time as head coach.
Other returning sophomores, in addition to team captains Reyes and Caddell, include middle blockers Alex McPherson, who led the nation in hitting percentage, and Chloe Hope, left blocker Maura Munoz, setters Naisjah Rivera and Mica Turner and right side hitter Jade Turner.
In the offseason, Crisp wanted to add depth by recruiting players with athleticism, in-game ability and a high volleyball IQ. Then, he looks at the intangibles.
"You try to make sure they're the right fit for the program," he said. "What's their personality? Are they good kids? Is this someone who we want to join our family?"
Crisp said that visitations with potential recruits run as long as three to four hours to evaluate their potential on the team.
"I ask the players, 'Hey, what do you think of them?'" he said. "Because we really want to make sure we get the right people coming into our family."
[READ MORE: Volleyball team brings home Eastfield's first women's national title]
This family mindset has resonated with new and returning players alike.
Many hangouts and activities after practice are done as a group, and some of the players are even roommates.
Caddell said that in comparison to last year, this team's strong relationship on and off the court is evident even early in the season.
"We can all rely on each other, especially in times of stress," she said. "I think the bond is already a lot stronger."
Freshman right side hitter Skylar Fowler said the reason she chose to join the Lady Harvesters is because she felt welcomed to the team even before she committed to Eastfield.
She said she still sees her teammates' efforts to constantly build each other up.
"When you're down they always pick you up," she said. "No one on the team makes you feel bad. We're all like 'Hey, you got the next one.'"
Freshman outside hitter Shelby Browning said she was surprised at how quickly she was accepted as a new teammate.
"I expected them to have an attitude and understand that they were better than us," she said. "They didn't at all. They all took us in."
Browning said that the commitment by her teammates pushed her in the early days of the offseason.
"Coming in as a freshman and doing college two-a-days is pretty difficult," she said. "[The sophomores] helped us understand that that's where we want to get to if we want to be national champions. This is how we're going to have to play and going to have to practice."
Browning said that going into the season, the leadership of captains Reyes and Caddell are important in distinct ways.
"Kalli leads by being that strong person on the court, that stable person that knows what's going on at all times," she said. "Kiki leads by her actions, just showing us how to play and how to be a good teammate. Seeing her makes me want to play better."
As they eye their first home game on Aug. 28 against Navarro College, the Lady Harvesters know expectations are high.
Although they don't have their sights set on a specific win-loss record, Crisp said there's an extra sense of enthusiasm for this season.
"Every day when I'm in the gym [and] we leave practice, I can't wait to get back," he said. "When I came here to Eastfield five years ago, I had a vision for what we could do. From recruiting the right players, to establishing the right culture with the program to having a vision and sticking with it: that we're holding each other accountable every day. I like that we're there. Now we wanna keep maintaining it and keep working even harder."