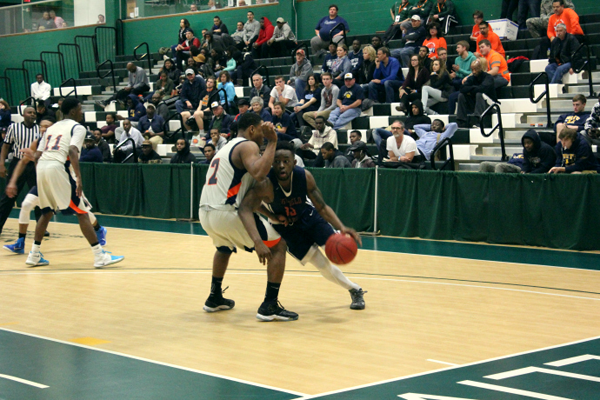 By Brianna Harmon
Ed Williams hit eight 3-pointers and finished with a season-high 39 points, but it wasn't enough as the Eastfield Harvesters lost to Nassau Community College 97-86 Thursday in the first round of the NJCAA Division III Men's Basketball Championships in Loch Sheldrake, New York.
The Harvesters fell behind with five minutes left in the first half and trailed Nassau the rest of the way. With a little over six minutes left in the game the Harvesters were down 78-60 and two of their starters had fouled out. They were able to make a couple of runs, closing the gap to nine points, but couldn't get closer.
"I'm so hurt," Williams said. "I feel like I left it all on the court. I wanted to win so bad that I felt I had to make every shot."
Williams scored only five points in the first half, but his momentum started with a minute left when he slid to make a steal and it turned into a fast break, with Tre Anderson draining a 3-pointer.
Williams' point total eclipsed the 35 points he scored against Southwestern Christian University on Dec. 7. After the game he started cramping up and was almost sent to the hospital.
The trainer on site at SUNY Sullivan will evaluate him Friday to see if he will be able to play in the consolation bracket game against Bunker Hill Community College of Boston at  1 p.m.
"The way I'm feeling, I'm going to play," Williams said. "That's my mentality, I can't just sit there and let my teammates down.
Nassau shot almost twice as many free throws as Eastfield in the game, going to the free-throw line 40 times to the Harvesters' 22. Foul trouble hurt Eastfield down the stretch. Starting guard
Danzel Whitemon picked up his fifth foul with seven minutes left, leaving the game with 11 points and two rebounds.
"I'm going to be up all night because of this," Whitemon said. "I feel it could have been better. We are so used to shooting at Eastfield. We aren't used to those goals. It's something we have got to live with."
Tre Anderson added 12 points for the Harvesters, and LeTron Manning had 10 rebounds.
Coach Anthony Fletcher says the goal hasn't changed has changed for Eastfield and that this is still a business trip. If the Harvesters win their next two games they can finish fifth in the tournament.
"We still want to go out and win games," Fletcher said. "I told them let's do it for [former coach Bob] Flickner, do it for Marcus Thomas, who played here for me in 2001 and is now in the Army. This is history. We are a family."