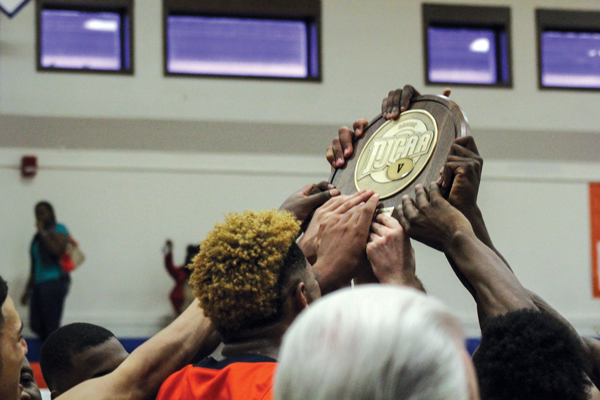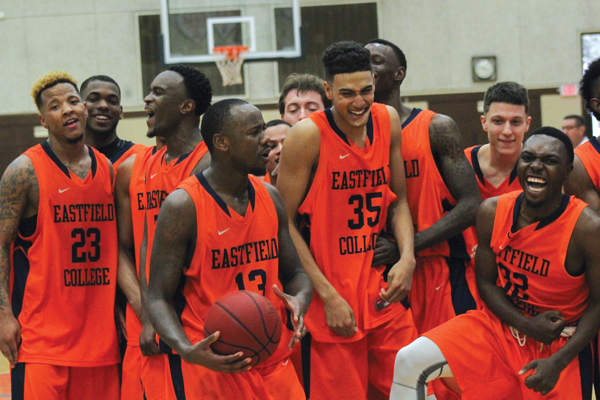 By Brianna Harmon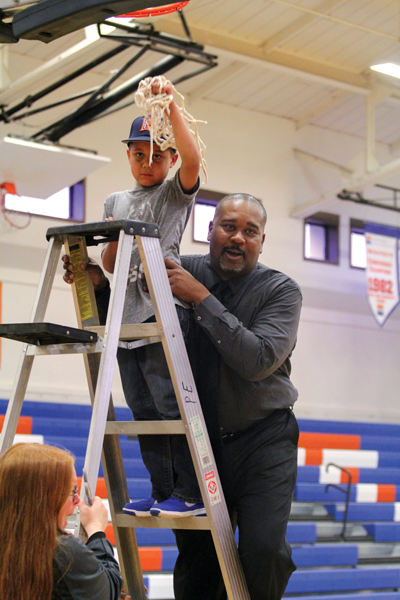 Chase Fletcher climbs a ladder toward the basketball goal, his father, coach Anthony Fletcher, following close behind. Chase uses scissors to snip away the last pieces of the net.
This was a new experience for 6-year-old Chase, but not for his father. Fletcher has cut down three nets after games that sent the Harvesters to the national tournament, including the day Chase was born — Feb. 27, 2009.
Eastfield won the Metro Athletic Conference tournament with an 83-68 win over North Lake on Feb. 20, which advances them to the National Junior College Athletic Association Division III championship tournament in Loch Sheldrake, New York. This will be the third appearance in four years for the Harvesters.
"I wanted his name to be Champ," Fletcher said. "My wife didn't agree, so the closest thing I could get was Chase. I wanted it to be something I could share with my son, and I think he has been a big part of that, especially if you're superstitious. There have been a lot of championships since he was born."
Eastfield held the lead against North Lake the entire game, starting with an 8-0 run. The Harvesters' biggest lead was 43-29 with 1:26 to play in the first half.
Two time MAC player of the week shooting guard Tre Anderson led the way for the Harvesters with 22 points and four rebounds.
"I feel like I was a spark," Anderson said. "Somebody has to step up on the team. I fed off my teammates and how they were going at it. When I feed off them, they feed off of me and we get rolling."
Anderson also played a key role for Eastfield's defense. His assignment throughout the tournament was to guard the opponent's leading scorer. Anderson's goal this season was to make it to New York.
"It hit me that we were going to New York the day I signed here," Anderson said. "The grind doesn't stop because we are going to the top."
Freshman shooting guard Zack Duncan felt like he couldn't miss a shot.
Duncan was standing with his hands in the air in defense when an opponent hit him in the face with an elbow. He bit his lip, opening a gash. He continued to play but left the game with five minutes to play to get stitches.
"My adrenaline was running so much that I didn't feel it," he said. "The pain wasn't really that bad until I had to get the stitches."
Before leaving the game Duncan followed Anderson's lead with 21 points and six rebounds.
"I never played for anything this big before," he said. "Being able to go up there and play for the school and possibly win the whole thing and have a banner up, then come back 30 years from now with your kid to show them is something special. Honestly, I'm really looking forward to it. It's going to be a great experience."
Shooting guard Din Androk, who came into the game with a torn meniscus and a partial ACL tear, was able to clock some minutes in the game before reinjuring his knee.
Ed Williams, who is ranked third in the nation in 3-pointers and averages 16 points a game, only scored nine in the championship game but added nine assists and eight rebounds.
"If I'm not hitting shots, my teammates have to hit shots," he said. "I was trying to get them the ball more. They were scoring; I wasn't. I was fine with that."
The Harvesters lead the nation in points scored (2,978), points per game (102.7), and field goals made per game (38).
Eastfield's defense also stepped up, holding North Lake to 12 points less than its season average. The Blazers, who were playing without injured starting guard P.J. Escobar, were also outrebounded 39-27.
Harvesters forward Danzel Whitemon sacrificed his body the entire game by diving for loose balls. He finished with seven points and seven rebounds.
"They were giving their bodies up for their teammates," Fletcher said. "That is something they really bought into the last week or two."
The NJCAA tournament will be held March 10-12 at Paul Gerry Fieldhouse in Loch Sheldrake, New York.
"This is what we try to do every day of the year is try to get there," Fletcher said. "It is just a great feeling that you work your tail off and then kind of get a reward. It's very exciting. I'm happy for the young guys on the team."
Manning slam-dunked the ball the final second of the game to solidify the win.
"I wanted to make sure the fans have fun and enjoy seeing us play our last game here at Eastfield," he said.
Manning said it likely won't hit him that he is going to New York until he gets on the plane.
"We expect to come back with a ring," he said. "We are going to go out there and have fun. A lot of us haven't been, so we want to go sightseeing."