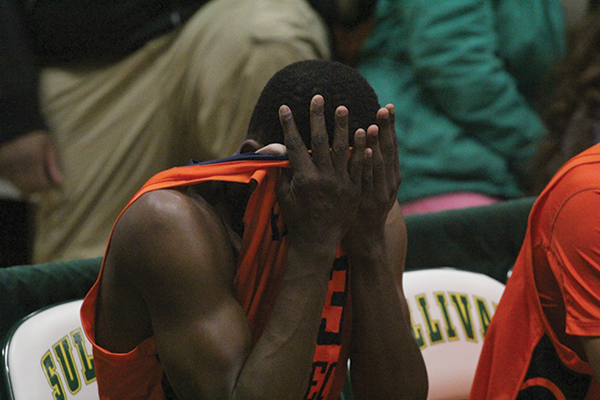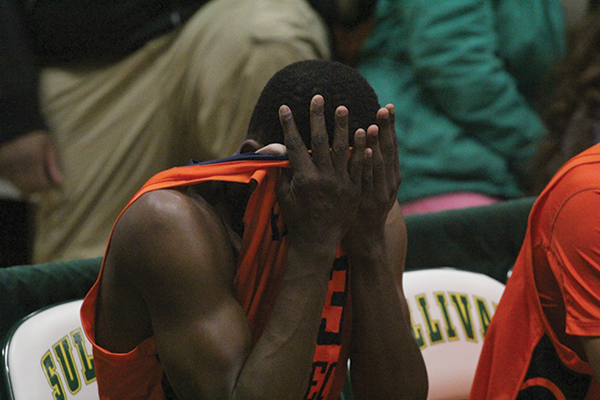 By KEVIN CUSHINGBERRY JR.
LOCH SHELDRAKE, N.Y. — Freshman forward Ricardo Artis slumped in a chair with a towel over his head, hiding his sweat-drenched face and watery eyes.
The Eastfield Harvesters had just lost 72-68 to Caldwell (N.C.) in the Final Four, and Artis wasn't ready to accept what that loss meant.
"My mind is going crazy," he said. "But what hurts the most is knowing that my team worked too hard not to be named national champions."
One year after finishing as the national runner-up, the Harvesters (27-8) finished fifth at the NJCAA Elite Eight tournament.
Following the game, in which the Harvesters shot 36 percent from the field, and 24 percent (8 of 33) from three-point range, coach Anthony Fletcher said the team wouldn't have won as many games this season had they shot so poorly.
"I'm still proud of this team," Fletcher said. "No, we didn't make it to the national championship, but trust me, a lot of other teams would love to trade places with us."
T.J. Wilson led Caldwell with 21 points and seven rebounds, followed by Lawrance Jackson with 17 points and three rebounds and Justin Parham with 15 points.
Sophomore Andrew Maxie had 15 points and seven rebounds for Eastfield while Artis had 14 points and seven rebounds. Sophomore guard D.J. Jordan contributed 13 points.
"It was right there in our hands," Jordan said. "Man, this is the worst feeling ever. I've never been a part of something so great."
The Harvesters advanced to the Final Four after Artis scored 31 points and added 10 rebounds in an 88-73 first-round win over Anoka-Ramsey (Minn.).
Freshman guard Tevin Corprew, who scored 11 points in the first half, finished with 13 points, five rebounds and four assists. Sophomore forward Sheldon Yearwood added 11 points and four rebounds, and Maxie scored nine points.
The Harvesters held the Rams to 36 percent shooting and 10 points less than their average.
The Harvesters were one of five teams that returned from last year's Elite Eight tournament, including defending national champion Brookdale. The Jersey Blues lost their second-round game against Rock Valley (Ill.), setting up a rematch of last year's championship game in the third-place game.
Artis led the Harvesters with 17 points and nine rebounds in the first half, helping Eastfield build a 53-36 lead. However, the Jersey Blues went on a 46-21 run in the second half to win the game 82-74.
The Harvesters had trouble from the field again, shooting 5-for-28 from three-point range, and they also turned the ball over 15 times in the second half. Eastfield shot 52 percent from the free-throw line while the Jersey Blues shot 74 percent, making nine more free throws than the Harvesters.
Joe Nickerson, the MVP of last year's championship, finished with 24 points for Brookdale. Jaimik Moore added 23 points and nine rebounds and received all-tournament honors following the game.
Artis paced Eastfield with 19 points and 15 rebounds and also earned all-tournament recognition.
"We put our heart and soul into this season," Artis said. "It hurts not to have reached our goal of a national championship, but I love my team and wouldn't trade any of them for anybody else."
The team will lose four sophomores from this year's team, including Maxie and Josh Shockey. They are the only two players who played in the national tournament the last two years, which was the most successful run in Eastfield history.
Jordan said being on this team was different than teams he played on in the past. Those teams folded under pressure when things got rough.
"Man, I'll never forget this team," Jordan said. "We did great through all the adversity we faced throughout the season. We're a team full of Division I talent. Everybody on the team could be the man at a big-time program."
The freshmen will meet with Fletcher next week about their basketball futures and whether they will play for Eastfield next season. Some gained attention from other colleges following the Harvesters' successful season.
"I don't know where I'll play next year," Artis said. "I'll always remember Eastfield, though."