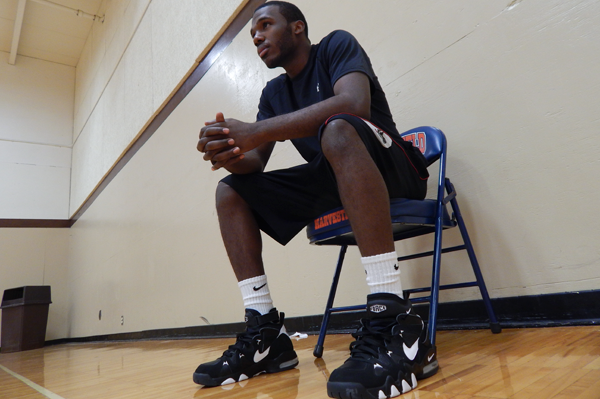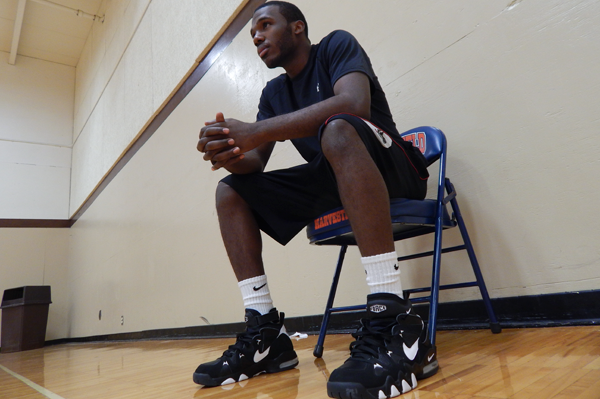 By Kevin Cushingberry Jr., Editor in Chief
When it came time to decide who was the toughest guy on the basketball court during the preseason, it was an easy choice for Sheldon Yearwood's new teammates.
The transfer from Paris Junior College was a unanimous pick as Eastfield's junkyard dog: gritty, determined and willing to do whatever it takes to win.
Yearwood acquired this passion at a young age. His desire comes from his early years in Trinidad, when his only entertainment was running along the beachside with other children who, like him, didn't have much. His grit was crafted on the concrete courts of Queens, N.Y.
"I guess that's why I play so hard on the court," the sophomore forward said. "It's because of what I've been through."
Yearwood said he has memories of his birthplace, but not all of them are pleasant.
"I remember things like the prices in Trinidad being [high]," he said. "It was hard for us to live there. My grandma paid for us to come to New York to have a better life for ourselves."
When Yearwood moved to Queens at the age of 7, it was a culture shock. He had no knowledge of basketball, and neither of his parents had a college education.
"I'm the first one [in the family]," he said. "My mom just wanted me to go to school and do good and make sure I get a better life for myself."
Basketball played a big role in Yearwood's new world, but he didn't pick up the sport until the seventh grade.
"I was kind of chubby," he said. "I only found the love for it because I never got girls before. But I did when I started playing."
As time passed, he wasn't just trying to get girls. He was trying to get better. He began watching the NBA on television and developing a passion for the game.
"The more I played, I found the love for it," he said. "I modeled my game after [Miami Heat guard] Dwyane Wade. I try to attack the basket how he does."
Although his life on the playground was livening up, his neighborhood wasn't a game at all. Drugs and violence were all around him.
"Growing up in New York wasn't easy," he said. "I stayed across the street from the projects. My best friend stayed in the projects, so I used to be in there a lot."
Yearwood said some people in the projects gave him a pass because he played basketball.
"They would tell me 'Stay out of trouble. You don't want no part of this,'" he said. "We used to get shot at just playing ball at the park. There were times where a bullet ricocheted and barely missed us."
Yearwood was also struggling in the classroom and at home.
"It was a hard time for me and my mom," he said. "She had a two bedroom, and we didn't have a kitchen or anything like that. It was me, my little brother, my younger sister and sometimes my older sister. It was hard. That distracted me."
He used basketball to take his mind off those struggles.
"I started playing in park tournaments in New York," he said. "The better I got, coaches started putting me down for AAU summer tournaments. When I got to high school, I started to love the game even more because of my coaches."
However, by his sophomore year, Yearwood knew he needed a change. His best friend was moving to Texas and asked Yearwood to join him.
It was difficult to leave his mom, but he knew Queens was nothing but trouble.
"I've never been apart from her," Yearwood said. "She was the only one there for me throughout everything I was going through. When I left I told her 'This is going to be the best for me.'"
Yearwood enrolled at Dallas Kimball and began playing AAU ball in the Metroplex. That's where he met Eastfield assistant coach Antonio Richardson.
"He was the same guy he is now," Richardson said. "He always had toughness and tenacity. He always had a good nose for the ball."
At Kimball, Yearwood experienced the ultimate success in the sport he picked up five years earlier, winning back-to-back state championships. He's hoping that championship momentum will carry over to Eastfield. The Harvesters fell in the title game last season.
"I know I can help them get back there," he said.
Coach Anthony Fletcher said Yearwood has a chance to be a special player.
"I've already told him this, I think he can be a legitimate all-American candidate if he scores around the basket," Fletcher said. "That's where he gets his money."
If Yearwood does lead the Harvesters to the national tournament again, he will be back in his second home.
"Every time I get a break I try to go back to New York," Yearwood said. "Sometimes I want to stay, but then I think about how important me playing basketball is and what it's going to get me."
Yearwood said his goal is to play at a four-year school in New York.
"It's always been an interest to me, playing close to home so my family can see me play," he said. "I'm going to try my best and work toward making that happen."