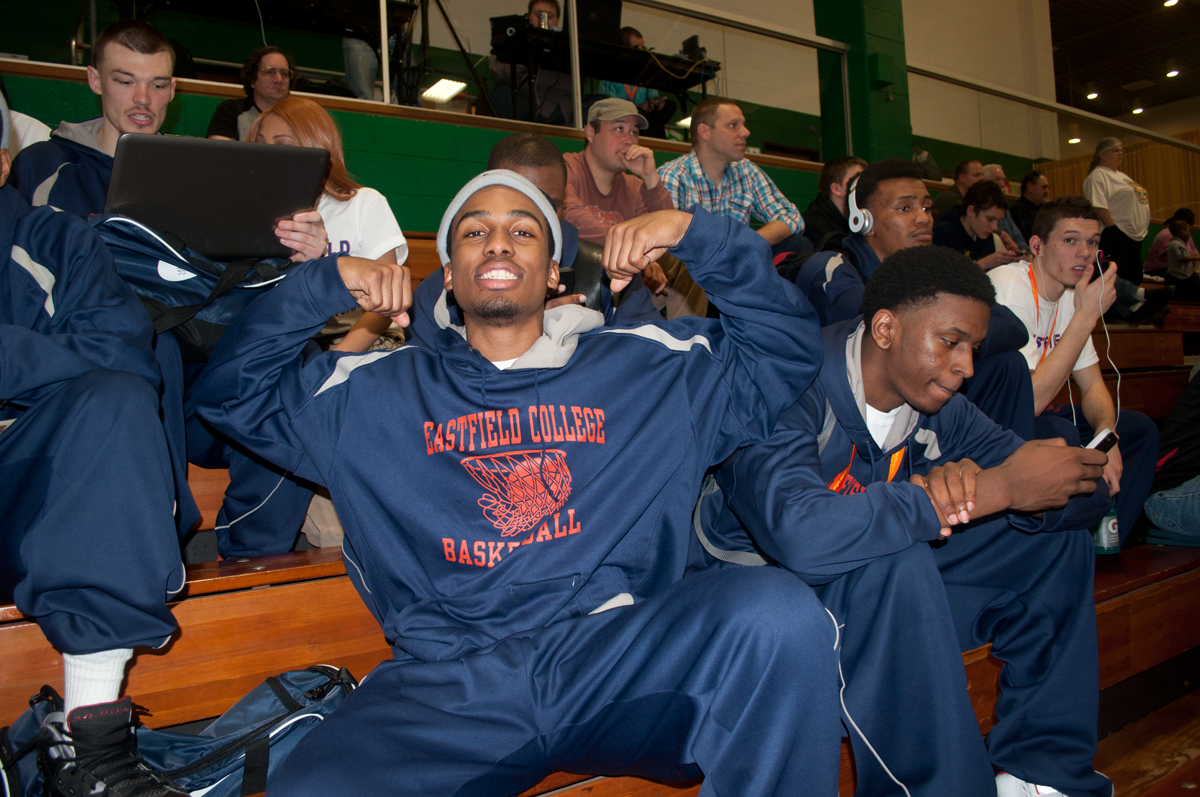 BY KEVIN CUSHINGBERRY JR., EDITOR IN CHIEF
Captain Brock Hunter (pictured above) scored 27 points and added 12 rebounds to lead the Harvesters in the win. Hunter said Eastfield won't be satisfied until they win the national title.
"I'm not losing," he said. "We've come too far to lose now."
Hunter scored 15 of his points in the first half to lead Eastfield to a 38-30 halftime lead over the Buccaneers. It was a much better start than the first round, when the Harvesters fell behind by 12 points in the opening half.
"We usually star out slow," Hunter said. "I just had to demand the ball. We had to win, so I just demanded the ball early."
MassBay kept the game close early in the second half. With Eastfield up 51-42 with 14:00 left, Harvesters coach Anthony Fletcher called a timeout.
"Let's turn it up," he said.
The Harvesters continued to have trouble with MassBay's fullcourt press, so Fletcher called a full timeout six minutes later and screamed at his players to sit down.
"He just wanted us to take care of the ball," Hunter said. "We got too comfortable. Even I started turning the ball over. We had to get it together."
Eastfield turned up the intensity on defense and began to pull away, taking an 80-61 lead with eight minutes left.
With 3:12 remaining in the game, a fan in the stands needed medical attention, so the game was stopped temporarily. Both teams were sent to their locker rooms, but returned soon afterward when the fan was taken away in a wheelchair.
A dunk by Mike Love put the Harvesters up 86-65 with 1:30 left, and they went on to cruise to a 26-point victory.
"It felt good to close it out," Love said. "Yesterday we had a close game, and it's still not over yet. We have to get it tomorrow."
Hunter added a three-pointer with 26.6 seconds left, sending Eastfield to the championship game, where it will face the winner of the Brookdale (N.J.)-Herkimer County (N.Y.) game, which is being played now.
"I've never played in a national championship," Hunter said. "I want that ring."