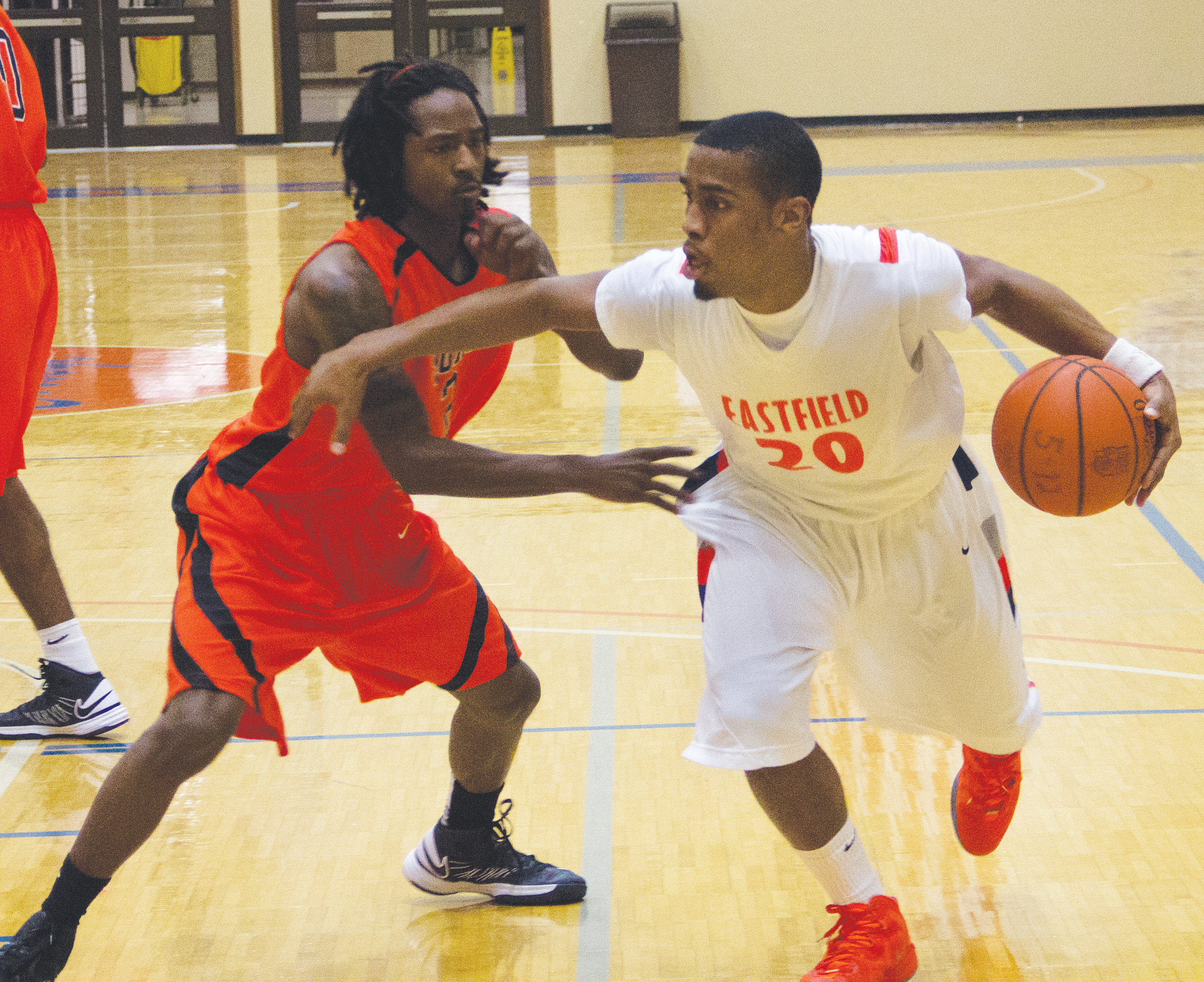 BY KEVIN CUSHINGBERRY JR., EDITOR IN CHIEF
When he came to Eastfield in the fall of 2010, Brock Hunter wasn't sure if he would ever play the game he loved again.
After playing the past two years for the Harvesters, the sophomore guard hopes to end his career with an NJCAA Division III basketball championship this week in New York.
Hunter, who played for Naaman Forest High School in Garland and graduated in the spring of 2010, said he was unsure of his future when he first enrolled in classes at Eastfield.
"After high school, I didn't have any offers, so I quit," Hunter said. "I was just going to school. I still practiced because I love the game, but nobody wanted to give me a chance."
Hunter's father convinced him to try out for the basketball team at Eastfield.
"He just said, 'Try out for the team and see what happens," Hunter said. "[Coach Anthony Fletcher] told me, 'I can't promise you anything, but I'll let you try out.'"
More than 100 students try out for the basketball team every season, but Hunter's work ethic stood out.
"He was always in the gym, working out," Fletcher said.
Hunter made the team and, after starting several games during the second half of his first season, gained honorable mention all-conference recognition. This season, he was elected captain and was named second-team all-conference honors.
"It's a lot more responsibility," Hunter said on being captain. "It's positive, though, because people listen and respect me because of it."
Hunter averaged 10 points, six rebounds and four assists this season, placing in the top three on the team in all three categories. He scored 27 points against Cedar Valley, helping the Harvesters clinch the Metro Athletic Conference title. He then helped Eastfield secure a berth in the national championship tournament, with 13 points, nine rebounds and six assists in the Region V tournament championship.
Hunter said this season was much different than his first, when he had to prove himself to a new group of teammates.
"It was real tough," he said. "Nobody really liked me, so I was just out there. I was just playing as hard as I could until I made each and everybody respect me."
Fletcher said Hunter's determination to succeed fueled his improvement that first season.
"It doesn't just happen overnight," Fletcher said. "There's a lot of hard work that goes into it. Brock really used that year to get better and work. Guys get better with age when you're talking about mental maturity, physical maturity, being around the game and playing more and more. He's been really good because he really wants it a lot."
Hunter wasted no time preparing for his sophomore season. He was in the gym the same day his freshman season ended, and then he gathered teammates David Bonner, Andrew Maxie, Quinton Jones and Mike Love to talk about their goals for the 2012-13 season.
"Over the summer we did nothing but play basketball," he said. "We bonded a lot. Basketball is more than just a sport. It builds friendships that made us all come together, which is why we gel so much on the court."
Love said Hunter is someone he would want on his dream team.
"He's the type of player that, if everything's going wrong, he's going to bring the team back," Love said. "He always boosts the morale of the team and helps keep us on track."
Fletcher said the way the team bonded during the offseason was crucial to winning the Region V championship.
"The work the players put in over the summer is huge," Fletcher said. "During those three months, 90 days of just putting in work, you can come a long way as a player."
Hunter said the team's ability to work together has changed drastically since last season.
"Last year we had good players, but we really didn't share the ball," he said. "This year, we don't care who takes the credit. If [sophomore guard Demarcus Metcalf] scores 30, we're proud. If I score 30, we're proud. We just want to win the game."