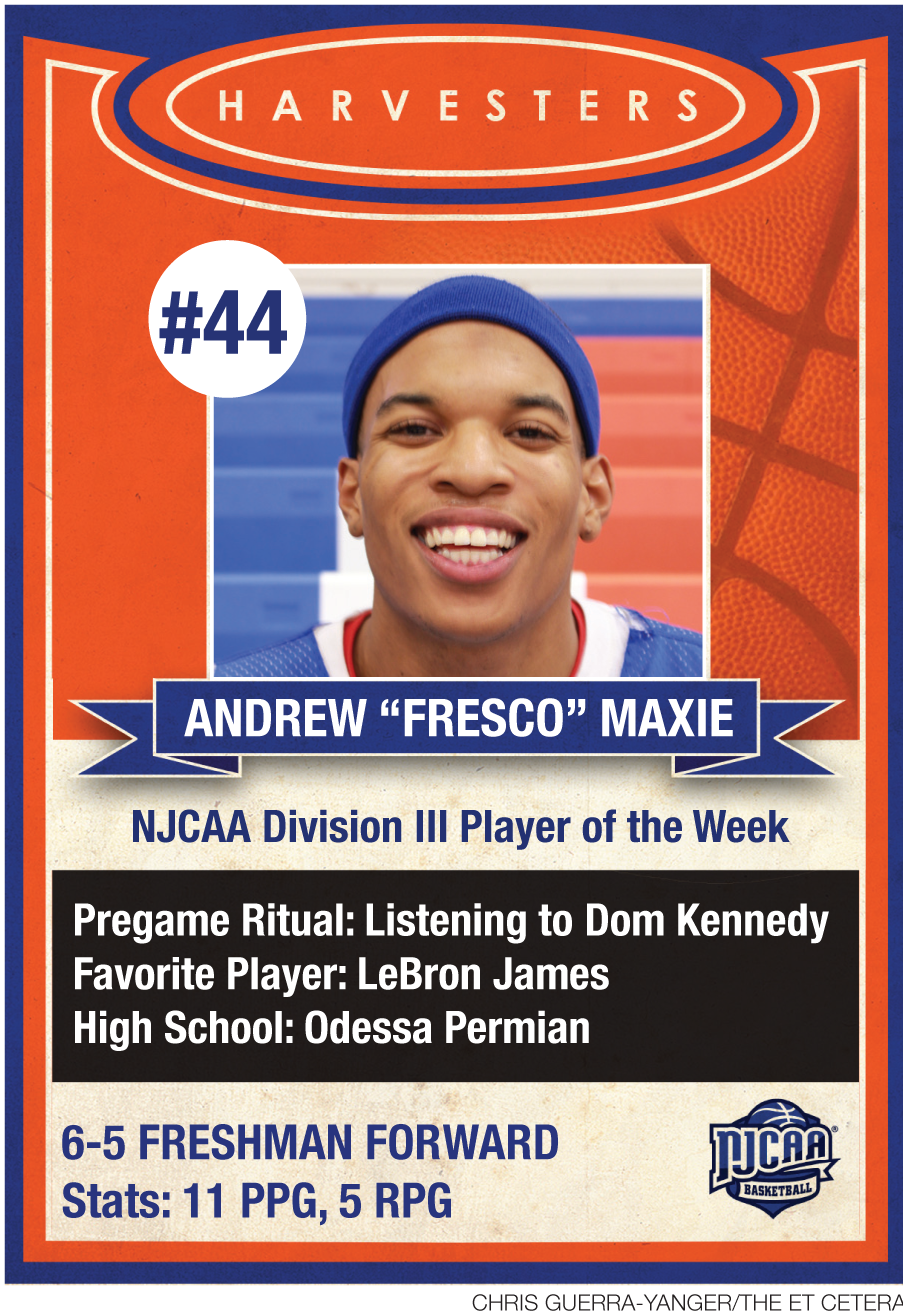 BY KEVIN CUSHINGBERRY JR., EDITOR IN CHIEF
The way the Harvesters' basketball season started can be summed up in one word: winning.
The team is off to a 9-2 start, blowing out its first four opponents by an average of 44 points and scoring 143 in its best offensive game against Paul Quinn on Nov. 5.
Sophomore point guard Semar Farris, who is second on the team in scoring at 10.7 points per game and first in assists at 5.6 per game, credited the team's early success to its ability to move the ball and get scoring from many sources.
"Everyone on the team can score," he said. "We have a really good program this season."
Aside from his offensive presence, Farris has lived up to his anchor role on defense as well. He is leading the team with almost three steals per game.
Head coach Anthony Fletcher said Farris' play on both ends of the floor has impressed him.
"Semar has been playing really well starting at the point guard slot for us," he said. "He's so fast and so quick with the ball, when we get it we're off and running."
The Harvesters' first loss was a 77-72 setback at Kilgore on Nov. 17. Eastfield shot only 16 free throws while Kilgore attempted 37.
"It was a [good loss,] if there is such a scenario," Fletcher said. "We had to go out and play a Division 1 opponent, a scholarship school, and we gained experience on the road."
Despite the loss, freshman forward Andrew Maxie was named the NJCAA Division III Player of the Week.  Maxie, who scored 26 points in the game, said he was flattered to receive recognition, but wished the team could have pulled out a victory.
Maxie leads the team in scoring with 11 points per game and is on the heels of sophomore shooting guard Brock Hunter for the team lead in rebounds at five per game. It's rare that a guard leads a team in rebounding, however, and Fletcher said he would like to see an improvement in that area by his post men.
"I would like to see a guy that's not a guard be our leading rebounder, just be a glass cleaner," he said. "It makes it easier if one of your post guys [rebounds]."
Eastfield bounced back from the Kilgore loss with its largest win so far, posting a 62-point win over Northwood on Nov. 19. The Harvesters had six players score in double figures, including Farris, freshman forward Dimari Porterfield and sophomore forward David Bonner, who all came off  of the bench.
The Harvesters will play four more games prior to the semester break, the last of which is Saturday, Dec. 15, against Cy-Fair Community College. Cy-Fair's only loss came at the hands of MAC member Brookhaven.
"We like to compare and contrast the scores [of other MAC teams]," Fletcher said, "to see how everybody else is doing against our opponents."
The Harvesters will also play seven games over the semester break, including three versus conference opponents.
"Hopefully, we'll be more focused," Fletcher said. "Guys don't have to worry about the classroom at that point. It's just basketball."
On Jan. 23, after the spring semester begins, the team matches up with defending Region V champion Cedar Valley.
On Cedar Valley's basketball website, there is a banner depicting the team returning to New York to play in the national championship. However, the Harvesters believe they can upset the Suns' plans.
"It's a new year," Farris said. "That banner motivates us. We have a real tough team this year, so they'll have to come with a lot."
The Harvesters, who were unranked at the beginning of the season, have been ranked as high as third and are currently ninth in the nation. They will look to continue their strong play into the second half of the season.
"It's going to be quite interesting," Fletcher said. "Hopefully, we can keep doing the same things that we've been doing."