Feminists need to step it up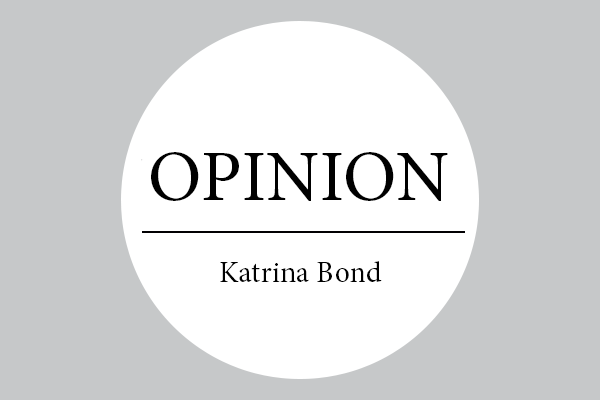 By KATRINA BOND
As American women, we've come a long way from not being able to vote or go out in public when we were on our periods. But despite the advances of modern feminism, we still have a lot of work to do.
Now more than ever, women must stand together in solidarity.
One of the major issues with mainstream modern feminism is the specific focus on rejecting traditional gender roles instead of validating all women for all the things that make up their identities.
For whatever reason, some women will try to draw a line between themselves and other women, as if being a feminine woman is bad thing. I used to be one of them.
Previously, I was delighted when a man would tell me that I was "not like other girls." I was so proud that I didn't participate in traditionally feminine activities and considered women who did inferior to me.
Since those days, I have come to realize that I rejected traditional femininity because society had taught me that interest in makeup, clothes, cooking, shopping, needlework or anything pink automatically made me vapid and spineless. I learned to associate femininity with inferiority, and in my quest to find  myself, I rejected my identity as a woman.
For other women who do subscribe to the traditional idea of femininity, animosity toward "tomboys" can arise. This is illustrated by that Taylor Swift song, "You Belong With Me," where the T-shirt-wearing girl next door is pitted against the cheerleader as they fight over a boy.
The truth is, every woman is worthy of respect, whether she is a scientist or a makeup artist — and who said the two are exclusionary? I know plenty of women who are intelligent, kind people, and their preference for masculine or feminine things have no bearing on their worth as a person.
I ask you to stop demonizing femininity and instead validate it. A woman working as a hairstylist deserves the same amount of respect as woman working as a nuclear physicist.
Another concern with modern feminism is the idea that when in a group of mostly men, it is acceptable for women to disparage one other.
If you become "one of the guys" in a social group, it is your responsibility to call out sexist behavior. If a male student in your study group refers to another woman as a "bitch" or a "slut," you must stand up for that person. Silence only tells him it is OK to disrespect other women, and agreeing with them causes even more issues. It's OK to dislike someone or critique them, but calling them vulgar names based on their gender is wrong.
In a world where women are held to impossible double standards, demonized for being female and disparaged no matter what we do, we must be able to count on one another.
I'm talking about women of all backgrounds. I'm talking about left-wing and right-wing women, women who are immigrants and women who have never set foot outside Dallas. I'm talking about white and black and brown women, women who speak 18 languages, women who wear hijabs and women who wear miniskirts. I'm talking about lesbians and straight women and girls who are asexual. I'm talking about transgender women and cisgender women and intersex women alike. We have to stand together.
If we spend all our time and energy focused on demonizing other women, we lose resources that could have been better spent focusing on the real threats to our existence, such as poverty, abuse, racism and sexism.
In order to tackle these issues, women must stand united.
I ask you to make an effort to reach out to other women because small actions can lead to huge results. Smile at your fellow female students and faculty in the hallway. Speak out if you see a woman being treated with disrespect.
Women must focus on a common goal and show bigots that we are a force to be reckoned with. If we stand together, supporting and building one another up no matter what, we can make real changes in the world.