Traditional gender stereotypes should be broken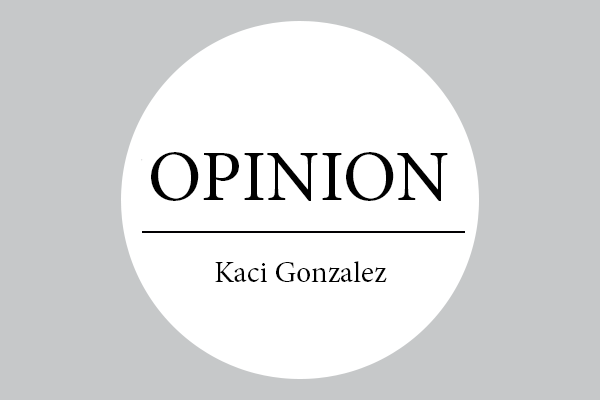 By KACI GONZALEZ

@TheEtCetera
In just the past century, women have altered the stereotype that they cannot do a man's work.
We can think of the obvious and suggest that women are not built with the same strength, nor stamina, nor capacity to have free thoughts and ideas as a man would.
But through the years, this has been proved otherwise.
In the 2016 Rio Olympics, we had women making history in every event, breaking and setting new records.
Women have been launched into space and have been awarded for their monumental discoveries. Women are now involved in politics when only 96 years ago, we could not even vote.
Women needless to say, have crossed milestones.
Being a woman myself, I feel a sense of pride and I do not accept the thought that I may be second choice to a male in any circumstance. We are evolving to an equal-opportunity society.
In 1981, President Ronald Reagan named Sandra Day O'Connor the first female Supreme Court justice. Today three out of the nine justices are women.
In 1996, Madeline Albright was appointed the first female secretary of state, since then two more women have held that position, one of them being African-American.
In less than a moth, we might elect our first female president.
We are a growing democracy, we are elevating our standards and pushing the so called prejudice aside.
Female police officers, are not only appreciated by the majority, but are also redefining a man's work.
Women in some ways bring a unique character and persona to difficult situations unlike any other male could.
Woman are tough, yet agile and sensitive that could help diffuse a scenario such as this one. We are everything in one package.
I spoke with a male Dallas police officer who said that women are absolutely able to do the job as well or better than men.
From 1910 to 1968 female police officers "were often viewed as mothers with badges." I am grateful that they are now valued and make up 13 percent of the police force with growing numbers. Ladies are going for gold and no size, law or person will stop them.
Women are advancing in areas society did not deem appropriate for them in the past.
We are coming out of the stereotypical shell, and creating a social stance that women can do anything we set ourselves to.
More than 200,000 women serve in active-duty military roles, according to the Pentagon. Women could serve as conventional nurses, until 1948, when President Truman signed the Women's Armed Services Integration Act that allowed them to enlist as soldiers.
Just 68 years later, we can reflect on the history, pride, and servitude that all ladies are equipped with.
Though women may have conquered many battles, there are a lot of individuals who would disclaim their success and integrity.
We need to maintain the fact that we are not less than anyone else.
We need to take a stand, and present ourselves as equals to those who want to discredit our capabilities.
A sex-based wage gap still exists. Recent updates to the International Labor Organization calculated that in the United States, "Women's participation in the U.S. labor force climbed during the 1970s and 1980s, reaching 60 percent in 2000.
However, in 2010 this figure has declined to 46.7 percent and is not expected to increase by 2018."
To this day, men in the U.S. are being hired more than females not by just a small 3 or 5 percent margin, but by 13.3 percent.
We have the tools, and most importantly, the numerous female leaders who can bring us to a better period for everyone.
We should not see gender, much as we should not don't see race, as a source of incompetence.
Our nation has seen turmoil, but the outcome has made us truly the greatest country in the world.
All of us have skin, bones, hearts and brains that makes us the same.
We are all equals.
Women are built with the same components, and the same livelihood as any man.
Women are continuously gaining a reputation for our hard work.
I am proud to stand with my fellow ladies and represent the positive change that has
happened and what will continue to follow.
I embrace my womanhood, and I give my honor and respect to those women who have paved the way to the diversified nation I call home.
The women before me have made mountains out of mole hills. Women are making the change.
We are the change.