'Ideal student' receives DCCCD scholarship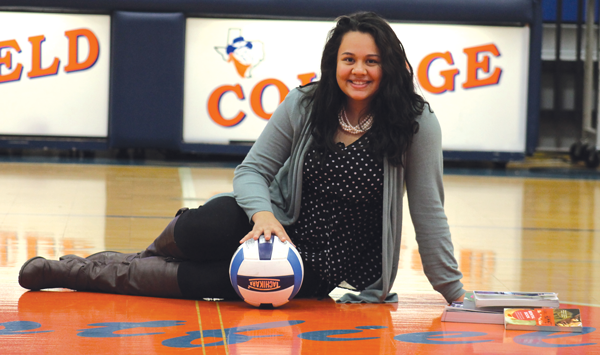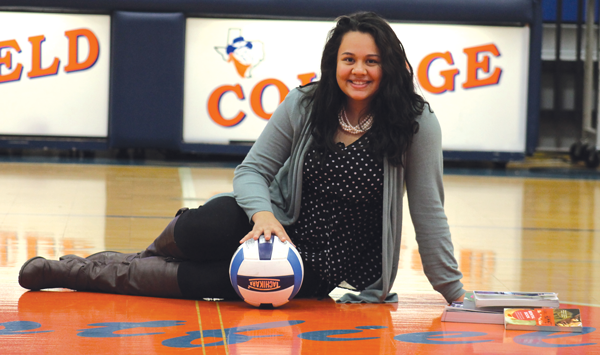 By Brianna Harmon
At 7 a.m., English professor Nina Lambert walks into the computer lab and sees Myka Morehead already with her head in her books studying and grinding through her homework.
Morehead is a full-time student and plays on the Harvesters volleyball team.
"She pretty much is an ideal student," Lambert said. "She does all the work and never complains. She pursues additional knowledge and somehow manages to have fun. If she taught me how to do that I would be forever grateful."
Morehead is taking 26 hours this semester and will take 18 next spring.
"You have to have goals, and part of that is the reason why I am in 26 hours now," Morehead said. "I like having the overload and accomplishing things."
The deciding factor for Morehead to attend Eastfield was the LeCroy Scholarship.
The LeCroy Scholarship is Dallas County Community College scholarship that only eight people in the district received this academic year.
The LeCroy Scholarship is a leadership scholarship that covers the scholars' full-tuition and books for up to six semesters.
Two Eastfield students were chosen as LeCroy scholars for 2015-16: Morehead and Andrea Carrizales, president of Eastfield's Rotaract Club, vice president of Phi Theta Kappa and Student Government Association and managing editor for the Et Cetera.
Returning LeCroy scholars at Eastfield are Michael Heggie and Rachel Quiroga Hugo.
The LeCroy Scholarship was Morehead's first major scholarship, and she said it inspired her to apply for more.
She has received scholarships from, Bill J. Priest Endowed Scholarship, Ronald McDonald House Charities, Max W. Schlotter Region 6 Education Board, American Red Cross, National Honor Society, Navasota Valley Electric and several scholarships from Milano High School.
While at Milano High School, Morehead served as vice president of Future Farmers of America, editor of the yearbook and was a member of the National Honor Society.
She was also the salutatorian of her graduating class.
"I was in the top 10 percent growing up," said Morehead. "It was pretty much expected. I was valedictorian in middle school and in high school I was up there."
Morehead credits her success to having to grow up quickly as a child. When Morehead was 5 years old her father had both legs amputated due to diabetes. Morehead said that her and her father were very close.
"It makes you stronger; it makes you decipher what is a priority and what you can live without," she said. "This is when volleyball came into play. I just preoccupied my time with that, and it helped."
During Morehead's freshman year of high school her father died. Morehead turned to volleyball for comfort.
Morehead was named First All-District, All-State and the Regional All-Tournament Team in high school.
"Looking back now it [volleyball] makes you stay disciplined," she said. "There is definitely a love for the game."
Alyssa Jimenez, one of Morehead's teammates, called her a "social butterfly" and said that she is constantly happy.
Jimenez also said Morehead is leader and that while she was injured she was there con- stantly encouraging the team.
"She was there through all of the practices and was still very encouraging," Jimenez said. "She is a great person and she is a leader."
Morehead came down on her ankle wrong earlier in the season and was out for a couple weeks.
She was named honorable mention this year for the Eastfield Harvesters and Coach Brandon Crisp said that Morehead is a great player on and off the court.
"To me it's a leadership quality how she is out there serving the team," said Crisp. "She is out there not complaining and giving it her all. To me that's a great quality in itself."
Crisp has said Morehead has always been a great player, and always wants to help everyone out there.
"To me that's a dream having a player like that on the court," said Crisp. "Someone nobody has problems with, she goes above and beyond, works hard, has a great attitude. To me that is a joy to coach someone like that."