SATIRE: Journalism dead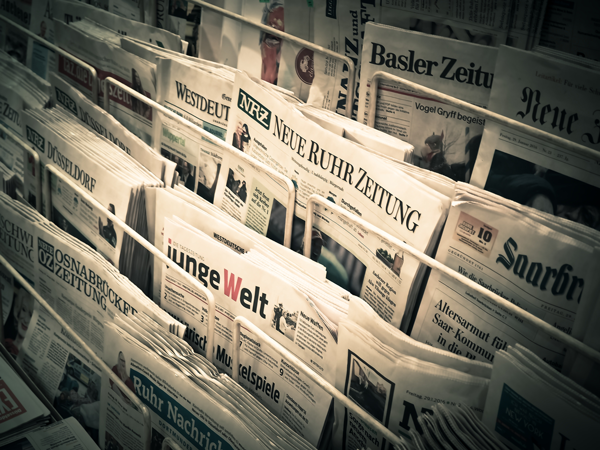 By James Hartley
Professional independent journalism in America died Nov. 2, 2020, after a decades-long battle against decreasing public support, financial crisis and, most recently, attacks by elected officials. It was 285 years old.
The independent press in America was born during a sedition trial in 1734 to John Peter Zenger and his wife, Anna Catherina Zenger.
John Zenger and Anna Zenger gave birth to freedom of the press in America when John won his sedition trial.
The jury decided he did not commit libel against the British governor of New York because the statements made in the New York Weekly Journal were true, and Zenger was released.
Independent journalism in America has since been responsible for reporting the truth to audiences.
The reports offered by professional journalism have exposed corruption, told tales of war, shared the significant stories of average people and informed a nation through good times and bad.
The first signs of real trouble for uncensored news in America came with an infection of low revenue in the 1990s, as newspapers started losing advertising and classified postings to the internet.
The free press in America amputated thousands of newspaper reporters, photographers, copy editors and managerial staff due to the money troubles over the past two decades.
Doctors said things became truly dire when professional journalism in America suffered casualties of entire publications.
Community newspapers and intra-city competition began disappearing in the '90s and 2000s.
This decline in revenue not only impacted community papers, but larger publications. With the breakdown it suffered, journalism in America struggled to cover news across the world and to offer in-depth news for its local community. The free press was hospitalized.
When the recession hit in 2008, news organizations suffered further complications from financial crisis.
Near the end of its life, professional independent journalism in America was assaulted for its work to expose wrongdoing and inform the American people.
President Donald Trump berated ethical journalism as "fake news" and the journalists as enemies of the state.
Trump's first indication that he would deliver the fatal blow to freedom of the press when he suggested he would "open up the libel laws" so newspapers could be sued and considered revoking broadcasting licenses to news organizations he didn't like.
Ultimately, the independent journalism permanently stopped the presses as the American public and the courts allowed government officials to bring treatments to a halt.
Independent journalism was moved to hospice care as more newspapers across the nation shut down.
Without content-producing newspapers and wire services, radio and TV news also suffered a debilitating lack of news to report.
The free press is survived by limited freedoms and what's left of the constitution.
However, doctors say both are in critical condition following the death of journalism and are not expect to survive much longer.
The deterioration of their condition is blamed on the loss of their protector, strong and ethical journalism.
Doctors said that, in hindsight, freedom of the press in America could have been saved.
Had the American public looked at media critically to determine its reliability, not bought into the fake news, been willing to pay for news and not bought into the government propaganda about journalists lying for political gain and sales, independent journalism could still be alive.
Those same Americans who were not interested in ethical journalism have been rumored to find themselves wondering what's going on in their neighborhoods, the nation and the world, unable to find clear and reliable answers.
These rumors could not be confirmed, however, because all journalists are either in prison for unsanctioned news reporting and treason or unemployed, unable to chase down the story.
It has also been "heard through the grapevine" that some Americans are curious as to why their constitutional rights have been revoked or why they were unaware any such attempts against their freedoms were being made.
Rights notably missing, or at least limited, from American lives, include free speech, petition government, peaceably assemble, worship whoever they want however they want, the right to a fair trial by a jury of their peers and the right vote.
In lieu of flowers, send letters to the editor.
— James Hartley is editor in chief and a journalism major.