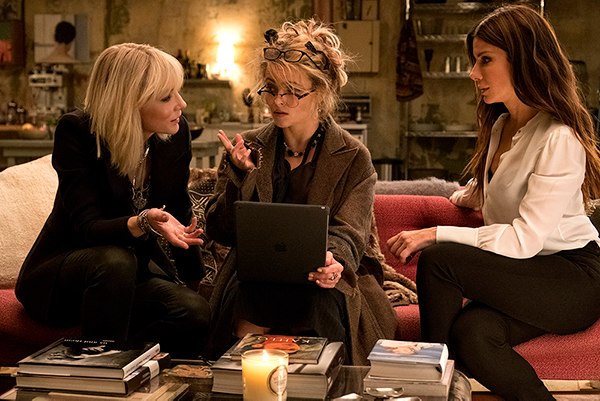 Warner Bros has recognized the power of a strong female lead movie and saved us from the typically lackluster films of the early summer with "Ocean's 8."
Heist films as a whole, are stories of stealing something epic and rising up and sticking it to the man in the process. The timing for this film could not be better, as proven with the success of the NBC show "Good Girls."
And now, it could be no better or more fitting that posthumously Jerry Weintraub ("The Karate Kid," "Westworld" and the "Ocean's" films) helped birth an Ocean story of a different flavor.
Fans of heist flicks receive arguably one of the genre's best-to-date from a majority female-led cast, at least since Queen Latifah and Jada Pinkett-Smith starred in "Set It Off" (1996).
[READ MORE: 'Deadpool 2' hard on the outside, soft on the inside]
In "Ocean's 8," we are introduced to more of the Ocean tribe. Debbie, Danny Ocean's younger sister played by Sandra Bullock ("The Blind Side"), has spent "five years, eight months and 12 days" time devising this elaborate theft.
With the assistance of her right-hand woman, Lou, interpreted by Cate Blanchett ("Lord of the Rings"), the team sets into action the plan to steal the legendary Cartier Toussaint necklace, worth a whopping $150 million.
The Ocean's gang must take the necklace from the neck of Daphne Kluger, an "it" actress portrayed by Anne Hathaway, while Kluger is attending the Met Gala.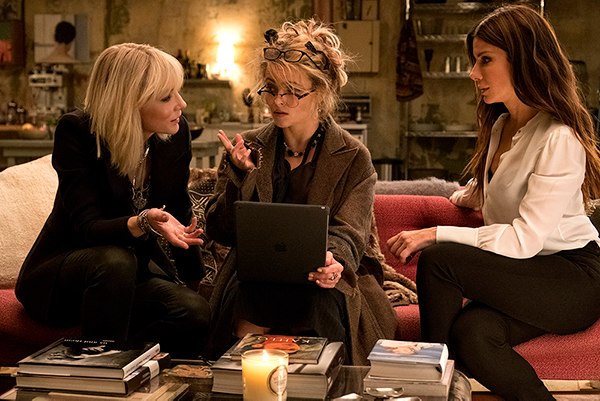 Rounding out the eight requires the assistance of designer Rose Weil, bared in typical odd fashion by Helena Bonham Carter ("Fight Club"), jewelry designer Amita played by Mindy Kaling ("The Office"), Hacker Nine Ball delivered by Rihanna, Constance, the quirky pickpocket refreshingly styled by Awkwafina ("Neighbors 2: Sorority Rising") and Tammy the neurotic housewife, portrayed by Sarah Paulson ("American Horror Story").
Elliott Gould refreshes his representation of Reuben from the first three Ocean's films, and look for others out in the open and hiding in the shadows.
Bullock and Blanchett have great chemistry in the same manner that worked well with Rusty (Brad Pitt) and Danny (George Clooney) in the first film, "Ocean's Eleven."
The character of Tammy adds to the dynamics between Debbie and Lou, and it is their relationship that drives the sub-plot.
[READ MORE: Marvel's Greek tragedy you'll tearfully watch a thousand times]
This triumvirate between Debbie, Lou and Tammy is required for the story's misdirection. Both Debbie and Lou's characters are played with an overindulgence of cool that requires the existence of Tammy to showcase any depth within the story.
Writer/director Gary Ross' story ("Free State of Jones") is a good companion to the trilogy helmed by Steven Soderbergh. Ross may have been tasked to make a paint by numbers film to fit well within the Ocean's world.
Though he did a masterful job matching up the Ocean's product, he may have stunted the film's growth, making it good rather than great.
However, "Ocean's 8" was a fully enjoyable movie with fun chemistry lacking from the mainstream of Hollywood's recent offerings. This is a great film to see on a Sunday afternoon with your parents, who may enjoy it more than you.