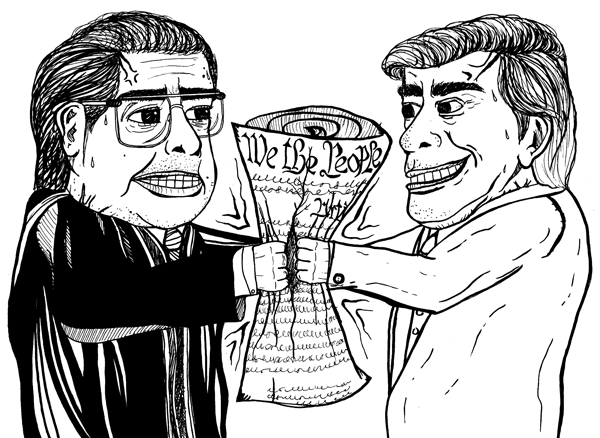 With seemingly unrelenting attacks on the judicial branch of government — both courts and individual judges — President Donald Trump has set an ominous precedent for the next four years.
His comments on court decisions and judges show a lack of respect that bodes of an administration that will ignore or do anything possible to undermine the power of the judiciary.
The checks and balances within the federal government are essential building blocks of freedom in our republic.
But the attitude Trump has taken toward the courts and his Twitter attacks on judges show that he holds little to no respect for those checks and balances, instead taking the stance that anyone who disagrees or finds any of his actions to be less-than constitutional is either working against America or a "fake judge."
Trump's reaction to the recent decision of the 9th Circuit Court of Appeals on his immigration moratorium is the latest example of this mindset put in action.
The president, of course, wasted no time before responding to the ruling, calling it "political" and "outrageous" with his usual sense of decorum.
"SEE YOU IN COURT" the president tweeted Feb. 9, though his administration was quick to request a postponement for the hearing not five days later.
While the legality of his order has not yet been determined, his contempt for the courts could lead us into a constitutional crisis, and the people of America would be caught in the middle.
After his crusade against the press late last month, which he renewed last week, it's hard not to worry over just how little concern President Trump has for the foundation of the country he's supposed to be leading.
Though far from perfect, the three-branch system of American government is crucial to maintaining constitutional democracy. No branch of the government may overtake the others, and no political power should be kept to the hands of a single group.
President Trump is certainly not the first president to disapprove of a judicial ruling. Former President Barack Obama openly criticized the Citizens United decision during a State of the Union Address in 2010.
But Trump is the first to so openly defy the linchpin of our justice system, and he seems to be under the impression that a three-branched government is undermining the American people, and, more importantly, him.
For the president, an ideal America is not one governed by freedom.
It is a country without a free press, a country without free speech or the freedom to choose a side.
It is clear that President Trump desires an America where only he has power, and he has proven himself more than willing to demean both the judicial and executive branches to do it.
Perhaps the president should brush up on his history while he's waiting on that summons. The last time we had a single figurehead governing our country, we were wearing powdered wigs and chucking tea into the Atlantic.